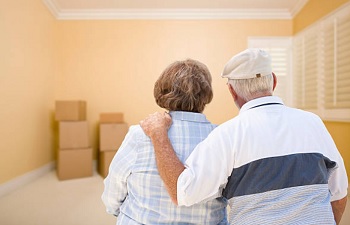 Moving to assisted living can be a big transition, and it's important to prepare ahead of time to ensure that you have everything you need. Whether you're moving to assisted living yourself or you have a loved one who is, there are many things you can do to make the transition to senior living easier and more efficient. It's a stressful time for everyone, but know that you will get through it and assisted living will become more normal with time. Here's the ultimate checklist of everything you need to do when moving to assisted living:
1. Find the best assisted living facility for you.
There are so many different assisted living options nearby nowadays, so the first step is to find a facility that you like and feel comfortable with. Visit several different options in your area, and be sure to both tour them and talk extensively with the staff to get your questions answered. In addition to the comfort level and amenities offered, you'll want to find out about the price and any payment plans they offer.
2. Prepare yourself for the move.
Once you have chosen your assisted living facility, the next step is to start learning about the assisted living facility. They will provide you with some reading material about the facility, the amenities offered, their policies, and more. It's important to take time to read this material and go over it with your loved ones to make sure everything is clear. You should also have a conversation with the staff at the assisted living home to ensure that all your questions are answered before you move in, and to find out more about the moving process. The staff is very experienced with these transitions and will be happy to help you.
3. Clear out your old house.
Moving to assisted living is an ideal opportunity to get rid of stuff you don't want from your home. There won't be room for you to bring everything with you into assisted living, so the first thing to do is clear out your old living space. Start by sorting things into groups to determine what can definitely be thrown out, what you definitely want to keep, and things you're unsure about. You should also create a pile of items that can be donated or given to family and friends. It is important to start this process well in advance of moving to assisted living to make it less stressful.
4. Find a new tenant/owner for your old residence.
The next step will be to deal with the legalities of transitioning out of your old home. If you're renting your home, this is easier. All you'll need to do is talk to your landlord and inform them that you are moving out. In some cases, you may have to find a new tenant, but typically the landlord would do this for you. You may need to sign some paperwork, particularly if you are breaking a lease, but other than that, the transition to assisted living should be fairly simple. This is much more complicated if you are selling a house that you own. You'll need to find a realtor to help you put the house on the market and find potential buyers. They will work with you to show the house, come up with an ideal asking price, and finalize all the paperwork once the sale is complete. They can also work with you on transitioning your mortgage, if you have one. Once this process is complete, you are ready to move to assisted living.
5. Decide what to take with you.
The next step is deciding what to take with you when you move into assisted living. If you can, start moving things into the space gradually to give yourself time to adjust the layout and make things as comfortable as possible. Ideally, you'll want furniture that is comfortable, but doesn't take up too much space, as assisted living rooms will typically be smaller than regular senior apartments near you. Furniture necessities include a bed, a nightstand, a dresser, a kitchen table, a couch/armchair, and a coffee table. You'll also want to bring some decor items from your old home, such as your favorite wall art and important family pictures. You'll need your clothes, kitchen and bathroom items, and some items to stay entertained during the day, such as your favorite books or games.
6. Make things feel homey.
After living in your own home, moving to assisted living is always going to feel a bit strange. However, there are things you can do to make your space feel more personal and more like home. Ensure that you have your favorite items set up in ways that are easy to access - this will make things seem more familiar and less confusing. You should also make sure the layout of your space is safe, without any obstacles you could trip over, and that the furniture is comfortable so you can easily relax. If you are helping a loved one set up their new space in assisted living, be sure to give them some choice in where things go. The more personal their space is to them, the more comfortable they will feel.
7. Take inventory and label your items if necessary.
Depending on the size and type of assisted living facility you are moving to, you may be spending some of your time in shared quarters or use shared services. Although you'll always have privacy when you need it, it is still helpful to make sure your things are properly labeled just in case. For example, if you are sharing a kitchen space, make sure your tools and food are organized to avoid confusion. If your facility provides laundry service, you also may want to label your clothes to prevent them from getting lost or mixed up. Keeping your things organized will prevent confusion for yourself and for other residents.
8. Tour the facility.
Once you have moved in, the next thing to do is familiarize yourself with your surroundings. Assisted living facilities can be very overwhelming at first, and it's tempting to want to just stay in your room. However, by touring the facility, you can discover all of the helpful amenities that you now have access to. The amenities at the assisted living facility are designed to help you stay healthy and develop a routine, so taking the time to become familiar with them will ensure you get the most out of your stay. There are certain amenities that can also be very helpful if you have health issues, such as physical therapy. Taking advantage of everything the retirement facility offers will help you live a longer, healthier life.
9. Get to know the staff.
The staff at your assisted living facility will be your biggest help and allies during your stay there, so it's important to take the time to get to know them and become comfortable with them. Determine what staff members you should see for various concerns, and make sure you get to know the caregivers that will be helping you the most during the day. The staff are there to ensure that you are comfortable and happy, so they'll be glad to answer any questions that you may have.
10. Develop a daily routine.
This is an important step, but it's one that may take a while to do. Having a daily routine is very helpful for anyone, but it is particularly helpful for seniors in retirement who have just moved to an assisted living facility and who don't have the daily structure of work or family obligations. To a certain extent, your caregivers will help you develop a routine by setting a schedule for check-ins. However, you'll also want to find things to do that you really enjoy in assisted living. There are many group activities offered at the facilities, and they also offer help with individual activities as well. Retirement is the perfect time to try something new you have always been interested in. Finding a new hobby or making new friends is a good way to stay engaged and give meaning to your days during retirement.
11. Give yourself time to adjust.
It is very normal to feel lonely when you first move into assisted living. This is okay - moving is always a big transition for anyone, and it's important to give yourself time to settle in. Take things one step at a time so that you don't get too overwhelmed. If you are feeling stressed, be sure to call a trusted family member or friend for support. Chances are, they will be happy to listen and may even want to come spend time with you. Having people you love around is a great way to make the transition a little easier. If your loved one is moving into assisted living, give them time and space to adjust. Don't expect them to be completely comfortable right away, and be available for them if they need help adjusting to this new senior living community lifestyle. They will be very grateful for your support, and will be settled into their new space in no time.
12. Help your loved one adjust.
It's difficult for seniors to move into assisted living, but it also can be quite difficult for their friends and family. There are plenty of things you can do to make the move easier for your loved one and make the process a bit easier for you too. Here are some things to keep in mind when your family member moves into assisted living.
- Be available for your family member, but don't force yourself on them. Every family is different, so you will need to decide what an appropriate dynamic is for your relative. Some people may benefit from having family visit them at the assisted living facility every few days, while others may want a few weeks to themselves to settle in first. Communicate openly with your family member to determine what is going to be the most effective for them.
- Allow yourself to feel uncomfortable, but don't project your feelings onto your loved one. Moving to assisted living is a big transition, and it can be difficult to watch, particularly if your family member is struggling at first. Instead, focus on being a good listener and being supportive for your parent or loved one. They will really appreciate you being there and continuing to care about them. Don't try to be overly cheery, but instead gently acknowledge that things are uncomfortable, while knowing that things will also get better with time.
- Keep an eye out for your family member and make sure any concerns you have are addressed. There may be times where you need to be an advocate for your loved one to make sure they have what they need. Keep asking questions and be observant when you are visiting the assisted living facility to make sure they are getting the best care possible. You should also communicate with the staff when possible to form a good relationship with them. This will make the whole transition to assisted living easier for everyone. If you feel like the facility ultimately isn't the right fit, you should also be there to help find another assisted living home that works better. Your senior's needs may change over time as well, and the support they receive may need to change with time.
- Recruit help when necessary. It can be difficult to take on the process of helping your family member move to assisted living when you are also working, taking care of kids, and managing other responsibilities. Don't be afraid to ask your siblings, children, friends, or other people who know your senior family member for help. Most people will be understanding and happy to help with the transition when they are available.
The process of moving to assisted living is stressful for everyone. To make it easier, take a lot of time to plan everything before the move, and be sure to communicate as well as you possibly can to make sure your senior's needs are addressed. With time, your senior will adjust to their new assisted living home. It may not quite feel the same as their old home, but they'll come to appreciate the resources available to them and feel comfortable in their new living situation.