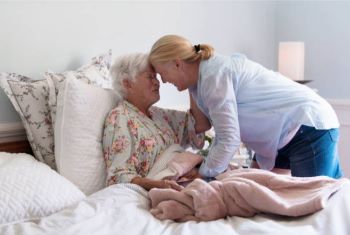 Sometimes, we may just get the shock of life when our loved ones are diagnosed with chronic illnesses or conditions. Their doctors may suggest we consider palliative care, and may provide a referral to certain palliative care options for consideration. The doctors may explain that our elderly loved one's chronic condition is life-threatening and could potentially lead our elderly loved one to their final days, and eventually their passing. These chronic conditions that justify for palliative care are commonly known as life-limiting illnesses. However, various people use different definitions regarding the same conditions. It's therefore important to confirm with your doctor about your elderly love one's medical condition and their needs for palliative care.
What is Palliative Care for the Elderly?
Palliative care is considered as an appropriate care option for patients of any age and for any stage of a serious sickness. Senior palliative care refers to a specialized nursing approach and the medical care to provide curative medication and relief management for elderly adults with chronic illnesses and conditions. This interdisciplinary approach aims to provide relief from pain symptoms, by providing physical, spiritual, and psychological support. Palliative care is intended to improve the quality of life for elderly adults and the families.
Although palliative care may transition into end-of-life care and hospice care, it is still possible for an elderly adult who receives palliative care to be cured. Senior citizens who receive palliative care are still medically treated, in addition to receiving holistic biopsychosocial and spiritual support from their palliative caregivers and other healthcare professionals. Palliative care services can be provided in a variety of senior care services, such as at home, local assisted living homes, outpatient palliative care clinics, hospitals, local nursing homes, or expert skilled-nursing facilities. With palliative care, our elderly loved ones are cared for by a team of nurses, physicians, speech-language pathologists, occupational therapists, and physiotherapists alongside other healthcare professionals. The core palliative care skills may be performed by skilled physicians. However, specialty palliative care consultants are the ones who are consulted in complicated cases.
These various healthcare professionals collaborate with the primary care doctors to coordinate the patient's care for the optimal palliative care outcomes. The palliative care team also works closely with the patient and his or her family to clarify the main aims of care as specific to the needs of the patient, to strive for a cure, and to support with symptom management and biopsychosocial and spiritual support.
Which Healthcare Conditions are Eligible for Senior Palliative Care?
There is no single disease that is considered life-limiting or significant enough to qualify for palliative care. However, it is also important to remember that senior palliative care should be provided for conditions that a cure may still be possible for, while hospice care should be provided for conditions that are not curable. Both options should continue to focus on ensuring the elderly adult feels comfortable and enjoys a quality life. An elderly adult who receives palliative care may transition into needing hospice care for an improved quality of life during their final days, if a cure is not possible.
Most palliative care elderly adults may have a single critical chronic condition, or multiple chronic conditions. Examples of such chronic conditions that would justify palliative care may include the following health care conditions.:
Lung illnesses
Chronic obstructive pulmonary disease
Cancer requiring chemotherapy
Motor neuron diseases
Parkinson's disease, Alzheimer's disease, or Dementia
Systematic lupus
Diabetes and heart diseases
Human immunodeficiency disorder or acquired immunodeficiency disorder
How Long Can Elderly Live Under Palliative Care?
On average, elderly patients who are hospitalized may receive palliative care for about seven days, but palliative care scenarios in other care settings may have a length of palliative care treatment for a few weeks, months, or even years. It's therefore difficult for physicians to tell how long a senior citizen patient will live under their care, and whether and when a cure would be possible. The length of duration under palliative care in hospitals and other settings is entirely based on the disease diagnosis, the toll of the disease on the elderly adult's health and body, and the care that is provided. Even if a cure may be possible, it is important to consider the life quality of your elderly loved one. Is your elderly loved one continuously suffering? Is it time to consider helping ease their pain, accepting the painful reality, and allowing them to transition and enjoy a quality of life during the final stage of their life?
Elderly loved ones' experiences of chronic and terminal illnesses are different. No two elderly adults will share exact similar experiences of their journey with their health condition. Sometimes, an elderly adult's condition will gradually progress, resulting in an uncurable terminal illness. Terminally ill seniors may have cyclic experiences; they sometimes find themselves feeling better and feeling worse at different times during their illnesses.
How Should I Care for Elderly with Life-Limiting Illnesses?
Humanity is all about respecting one another's wishes, and improving the quality of our loved ones' lives. This is what palliative care aims to focus on. Palliative care ensures that our ailing loved ones feel supported, cared for, provided with the proper quality of life, and live as comfortably as possible while healthcare professionals strive to provide relief and determine a cure.
If our senior loved ones are suggested to consider palliative care, then this is not necessarily a precise death sentence. As their caregivers, it is our responsibility to help our elderly loved ones continue to live their life as actively to the fullest, and alleviate their pain and symptoms, while supporting the healthcare professionals who provide the expert senior care management.
We must also understand the emotional, physical, social, and spiritual care that our elderly loved ones may need during this difficult stage of their illness. The senior caregiver healthcare professionals concentrate extra efforts to ensure that family and friends of the elderly adults are able to find the assistance and support they need for their ailing elderly loved one. It is also important that we help our elderly loved one determine their final wishes, and that we do so that their wishes may be taken into consideration when their condition progresses and they are unable to make decisions for themselves.
It's quite emotional to know whether a cure would be possible, and you would continue to enjoy a few more decades, or if you will only have a few months or weeks left. It is particularly heartbreaking when a senior citizen comes to realize that the cancer they have been trying very hard to fight isn't responding to treatments and can't be cured. Consulting a physician or palliative care healthcare professional may help, as they are able to provide sound advice based on their expertise about how to find the right medication, care, and biopsychosocial and spiritual assistance.
When our senior citizens are diagnosed with cancer or another progressive condition, we must remember that there is still hope for them to regain their health. However, we must also understand that if cancer progresses and metastasizes to the extent of a terminal illness, then it will not be possible to cure with medications or therapy. Terminal cancer is quite different from advanced cancer. Despite the fact that both are incurable, patients with advanced cancer may be provided with treatment to extend their longevity and to alleviate their stresses. However, in the case of a terminal cancer, our elderly love one's care will shift from palliative care to hospice care.
What Are Frequently Asked Questions that we Should Know About Palliative Care?
As far as we still hold our hope that our ailing senior citizens will recover, the following are important aspects we should know about palliative care.
How is Palliative Care Different from End-Of-Life Care?
When we see ads about assisted living facilities or nursing homes for our seniors who mostly suffer from chronic conditions, we may have the misconception that the elderly adults as good as dead. Most of us find it difficult to overcome this myth and stigma.
According to most caregivers, palliative care is purely meant for elderly adults who are struggling to cope with the pain and fallout of their diseases, as healthcare professionals strive to identify a cure. Palliative care is different from hospice care, as hospice care is end-of-life care, while a cure is still possible with palliative care. For instance, the palliative care team may closely work with the ailing elderly to clarify their aims and expectations for care, make prior plans for the future management of the disease pain and symptoms; whether emotional or physical. Palliative care really helps families whose loved ones are facing unique and challenging health circumstances.
The health experts also suggest that palliative is not synonymous with hospice care as most of us may be tempted to believe. While hospice care is purely meant for specialized terminal care for seniors with less than six months to live, elderly adults under palliative care may live longer. They even continue to live for years or decades before being pressed by another life-limiting illnesses. Health experts are encouraged to provide consistent clarification about the significance of palliative care on seriously ill seniors regardless of the treatments being provided.
How Can Seeking Palliative Care Benefit Elderly Adults?
Serious illnesses sometimes subject our elderly loved ones to serious life challenges. Palliative care is therefore intended for patients; especially the elderly who might need assisted living to ease their misery. This includes the elderly with dementia or falls, who may require frequent emergency visits, prolonged ICU stays or hospital readmissions. Palliative care helps ease the burdens of challenging symptoms for the elderly.
Furthermore, palliative care is designed to provide the necessary biopsychosocial and spiritual care for elderly adults with serious conditions. Palliative care focuses on offering senior citizens with pain relief, symptoms, and stress management of serious illnesses. The personnel offering these palliative care services are specially trained about how to best care for elderly adults with chronic conditions. The goal of the palliative care team is to ensure that our elderly loved ones have an improved quality of life as the healthcare professionals strive to identify a cure.
How Does Elderly Palliative Care Reduce Financial Burdens Without Denying Treatments?
Elderly palliative care does not aim to ration care or deny patients of treatments. Palliative care ensures that our elderly adults feel as comfortable as possible, receive a full array of treatment services, and are supported with the financial burdens. Most insurance providers, Medicare, Medicaid, and the Veterans Affairs support with covering palliative care costs for elderly adults, either partially or in full. To be certain about the coverage of these expenses, it's important to consult with the payer and a member of the palliative care team.
Palliative care significantly reduces hospital costs, as average hospital costs for those receiving palliative care services is about $95.30 per day, as compared to $212.80 for those not receiving palliative care services.
Palliative care offers cost-effective senior care for elderly adults with a chronic condition. Elderly adults are empowered to partake in their senior care decision planning, and to take a driver's seat in their care management.
How to Discuss Senior Palliative Care as a Family?
When our elderly loved ones are diagnosed with life-limiting illnesses, we need to schedule meetings to allow most of the family members to attend. We also need to invite our elderly loved one, relevant specialists, and the primary care team. During the meeting, the palliative care expert should educate the family about the importance of and benefits from palliative care and the status of their elderly loved one's healthcare condition. The family should then consider the best treatment option for their elderly loved one, and a hospice option in case the healthcare condition progresses, and should ensure a clear understanding with documentation about the elderly loved one's wishes.
A family meeting is an essential component of palliative care planning, so that all family members may feel involved and informed. Such a family care planning meeting will foster shared planning and decision making, which will help the elderly adult feel more comfortable with the healthcare decisions and senior care options.
It is important to continue to have meetings with the palliative care team so that the family may understanding the elderly adult's progress and healthcare condition. Also, as the palliative care team would benefit from continuing to receive extensive information about the elderly adult, they would consult with the senior's family and caregivers for their input about senior care management decisions.
How to Find the Best Palliative Care for Your Elderly Adult
If your elderly loved one has been diagnosed with a serious curable life-threatening disease, then palliative care may be a recommended option for you to consider. As we have discussed, palliative care services may be provided at an array of senior care settings. For example, palliative care may be provided at an assisted living facility alongside with other assisted living care. While assisted living facilities aim to ensure a comfortable life for the elderly in need, palliative care focuses on relieving pain and other challenging symptoms and helping seniors meet their spiritual, practical, and emotional needs. In other words, the cooperation between the assisted living facilities and the palliative teams is aimed to improve the quality of the senior's life. However, caregivers and family members are the ones to define the needs and identify the best palliative care options for their elderly loved ones.
When searching for the best palliative care option for your elderly loved one, it is important to examine the palliative care service's medical care, social care, cultural care, spiritual care, and psychological care. These principles should be recognized as appropriate clinical practice, regardless of the patients' conditions, place of care, social status, creed, education, or socioeconomic status.
It is also important to ask the elderly adult's primary care physician for a referral, as your doctor may be working alongside other palliative care teams and may be aware of reputable local palliative care treatment options. For example, if an elderly adult has been hospitalized and the attending physician recommends palliative care, then the doctor may recommend particular local palliative care options to consider. However, doctors may sometimes hesitate to refer their patients to palliative care. If you come across this problem, request your doctor to explain and to suggest alternative recommendations to help guide you on this senior care management journey. You can also consider interviewing palliative care teams about why they may be the right palliative care option for your elderly loved one.
Factors to Consider When Identifying the Best Palliative Care Option for the Elderly
When your elderly loved one is facing a life-limiting condition, you may find yourself suffering from information overload. You may have just been suggested to consider palliative care and now you need to learn about the illness, different palliative care options around you, and juggle physicians' appointments. As you may be surrounded by a plethora of palliative care options, it may become a challenge to choose from the myriad of options. Family members and relatives can help elderly adults review and narrow down from an array of limitless suggestions, but ultimately the elderly adult must determine the palliative care option that would best match their needs and would help them feel more comfortable as they continue to live a quality life. As comparing and deciding between palliative care options may be challenging, it is important to consider the factors that matter the most to you and your elderly loved one. Ensure you consider the palliative care options' reviews and patient satisfaction scores so you regard those options with scores that rank above national averages. The patient satisfaction scores are based on patients' feedback about how well the palliative caregiver cares for them.
Palliative care staff work closely with the senior's doctors and primary care physician. It is important to ensure that the palliative care staff are trained and have the proper credentials. Remember that your elderly loved one may develop a medical emergency that will require urgent medical attention. It's therefore important to consider this factor so as to prevent further complications in the patient's health.
It is also important to consider whether the palliative care staff have the needed resources to cater for the spiritual and psychological needs of your loved ones to support with the grief and emotional distress. It is also important to ask about the average length of care, and how the services vary if the condition progresses. Also, as the location your elderly loved one may wish to live in may vary, it is important the palliative care team will continue to provide care. Consider whether the palliative care team provides care at a skilled nursing facility, a hospital, the senior citizen's own home, or an assisted living facility. With the various changes that your elderly adult may endure, it would be beneficial for them to have a consistent team of palliative caregivers whom they and you trust and have maintained a rapport with.