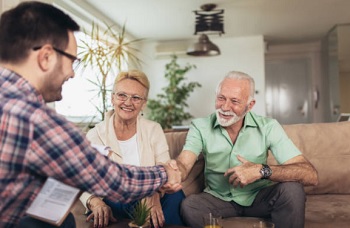 By opting for senior living placement services or using the service of a senior living advisor, you will have the opportunity to work with professionals who have great empathy and expertise to guide you through the senior living aging process. Together, you will identify the home you will feel most comfortable aging in place, with senior caregivers you trust.
Aging comes with life-changing circumstances that make it challenging to live alone without the need for extra support or specialized senior care services. When a senior's mind or body is no longer able to perform the daily tasks it used to take for granted, the elder adult is faced with such life-changing situations. The need for assisted living care to support with activities of daily living can be overwhelming, and most times, our emotions may becloud our sense of logical reasoning. We are faced with selecting among a plethora of senior living options. Families may feel regret for needing to consider older care alternative options, and the seniors may be reluctant or even outright refuse to consider such possibilities. Discovering the right senior living placement that is best for the elderly adult's needs may not be as easy as it seems.
Fortunately, senior living communities recognize the growing need to compassionately care for senior citizens who may be experiencing the adverse effects of aging. Thus, these senior living communities strive to provide high-quality senior care through expert senior caregivers and professionals that are adequately trained.
Despite the natural aging process, we have the desire to maintain our independence and create decisions according to our own preferences. Unfortunately, the aging process may take a toll on our abilities sooner that we expect. As a result, we might not be able to perform the specific day to day activities, remember and make decisions like we used to, and move as flexibly as we did before. The natural aging process may cause our abilities to be limited, strength to be reduced, and our cognitive abilities will be significantly impacted. Thus, the need for expert senior care services will become imminent.
How Can A Senior Placement Service Help Me?
When you realize that you yourself or your aged mom or dad need to consider transitioning into a senior care facility, you may have a variety of questions. You may wonder if the senior care facility will genuinely provide access to a better level of senior care, how soon you need to make the decisions, and the best route to take on your journey during this dicey moment. In most cases, health deterioration is the primary reason for why your aged loved one will have to consider transitioning from home into an assisted living facility nearby, a local retirement community, nearby nursing home, or a memory care unit near you.
It is natural to desire the best senior living care for yourself, or your elderly loved one. You will want to ensure that your loved one receives the quality care they deserve, as according to their unique needs and lifestyle preferences, so they may age in place comfortably. Even with the variety of information available on the web, you may still struggle to identify the most appropriate senior living facilities in your state or region. There is no alternative to scheduling a day or two to tour the facilities, meeting the community members and caregivers, and determining which facility would have the proper care services that would best match the elderly adult's needs.
Also, as much as you try hard to find the best senior living community near you, you may discover soon that you may greatly benefit from professional help and a company that will help you navigate the waters and choose the perfect senior living community for your loved one. Senior living placement services will be knowledgeable about the array of options available and will help you connect with the place for you or your loved one to age in place much faster than if you were to embark on this journey independently.
A senior living placement service provides professional assistance and support to families that need help finding the right place for their older adults. These senior placement services know hidden facts that you may not be able to come across about the senior living communities. These professionals know which facility treats their residents better, always have beds and care service available, the most entertaining resident recreational activity schedules, and offer the best care services for a moderate fee. Based on the available information, the senior living placement service advisors have regarding each community, they can suggest recommendations to ensure you receive the senior care guidance you seek. Then, after you together decide about which senior community may be best, the senior placement advisor will help you facilitate the moving process, negotiate the contract, and ensure your transitioning process is as smooth as possible.
Who is a Senior Living Advisor?
A senior living advisor is also referred to as a senior living professional or senior care consultant. This title refers to a person that is responsible for guiding families through the process of finding a suitable senior care or assisted living community for their aged loved ones. A senior living professional works for a company offering senior placement services and they understand the various senior living care options and senior care communities in the region or entire country. They typically do not charge the families but are instead paid for their referral by a participating facility. However, as they have connections with a variety of senior living communities – and generally almost all communities in the area, they will be sure to help you identify the best senior living community for your family. If you need help to find a senior living advisor in your state, then you may consider searching online or using popular search directories or a senior living advisor guide.
What Are the Benefits of Using Senior Living Advisors and Senior Placement Services?
Senior living advisors are your guides to help you navigate the process of transitioning your loved one from home into their senior community residence. Here are some of the duties of senior living advisors that make them highly sought after by families seeking the best senior living care options.
Senior living advisors will take their time to understand the needs and preferences of the elderly adult and family, searching for the best senior living community. A senior living advisor will also ensure that he or she understands the emotional and care needs of your aged loved one before making any recommendations. As a result, you will enjoy a personalized experience and consultation.
After helping you review a plethora of senior living care options that are available, a senior living advisor will also help you narrow down those options, so you make the right choice more efficiently.
Similar to a real estate agent or a job placement advisor, a senior living advisor will patiently and compassionately navigate you through selecting a senior care facility, touring your interested facilities, and settling into the home to age in place.
What Services Do Senior Living Advisors Not Provide?
If you are searching for a senior living advisor guide, you need to know what a senior living advisor does and does not. As a result, you will be able to create your expectations so that you may partner with the most qualified senior living advisor. If you interact with a senior living advisor who does any of the following, then you should consider identifying another senior living advisor:
Expert senior living advisors should not rush you through the senior living search process
Professional senior living advisors understand how emotionally, psychologically, and physically exhausting this process can be. They know that families need to take their time to find the best eldercare solution for their loved one. For this reason, they will not rush you to make a decision. If the need to find an appropriate senior care residence is urgent, they will match the urgency with the available assisted living community that can fulfill such demand at that moment. You may also consider beginning your process as early as possible and consider in-home care services and companion care so you may take your time to identify the most appropriate senior living community for your older adults with expert care at your own home.
Qualified senior living advisors do not act as a salesperson
A senior living advisor is neutral to the business goals of senior care facilities, and they work according to the core needs and in the best interest of the individual in need of such senior living services. If you notice that a senior living advisor is actively encouraging you towards a specific senior care community without providing information about a variety of options, then you may consider whether they are doing so due to the referral fee they will receive from the community.
Professional senior living advisors do not ask clients for payment
A senior living advisor should never ask you for payment. The senior living community pays these advisors a referral fee after a successful transition, but they should not be biased.
Thus, it is essential to do primary research and have some knowledge about these senior living communities before seeking the services of a senior living advisor. You should also consider the reviews about the senior living advisor and ask the members of your community about suggestions; in case they have dealt with senior living advisors or senior placement services in the past.
Questions to Ask a Senior Living Advisor or Senior Placement Services Company
Whether you want to find a senior living advisor or the right assisted living community for your elderly loved one, you will discover that it can be a draining process if you do not have the proper resources. So, whenever you reach out to a senior placement service, you need to ensure that they have senior living advisors that will assist you in making the entire search process a breeze. Here are some questions you may ask a senior living advisor or senior placement services company so that you may assess their professionalism and expertise, and learn more about the assisted living facilities near you.
What are the financial programs and resources that are available?
Do you anticipate needing some financial assistance or aid to support you with paying for the services of the senior living community? You should ask the placement company or assisted living advisor about resources that may be available to you so that you may learn more about funding options. As a result, you will be able to plan financially. You should also ask the senior placement service about how your costs may increase if additional senior care is needed at a later point. Most funding sources may require a lengthy process that may span into several weeks or months. Your senior living advisor may connect you with resources so that you may become aware of your supplemental or alternative payment options, and begin the application process early to allow you to make plans for the transition.
Can the senior living advisor recommend any moving company that specializes in the senior move?
Although you may focus first on identifying the right senior living option, you may also consider asking your senior living advisor about resources to help relocate the belongings of your aged parent. Your advisor can assist you in finding reputable moving companies that specialize in senior moving. You should also consider asking your senior living advisor about the types of belongings the senior living community may allow, and if there are any restrictions or limitations.
How long does the senior living community search process tend to take?
First, your advisor will have to learn and understand your unique situation. Then, he or she should be able to furnish you with relevant information regarding the estimated time it will take to complete each search milestone. The answers to these questions will also help you understand how much of a priority your search process is for the senior living advisor. Do they delay beyond reason, and thus your case may not be as important to them, or do they rush as if they are interested in the referral fees? However, you should also consider the factors in play such as the geographical area, weather and climate changes that may delay touring, the time of the year such as if it is a busy holiday season, the specifics of the senior care needs you require and your preferences, and your budget limitations.
Can the senior living advisor share more about their experience with senior care?
It would be beneficial for you to know about your advisor's professional and personal experiences regarding senior living placement. This question will enable you to build a measure of confidence and trust in your advisor. It will also help you to find common ground as you may be able to relate to their own story or the stories of other clients.
Are there cost-effective senior living options outside my location or zip code?
The senior placement service may also be able to recommend options in other geographical locations than the zone you may have limited your search initially. You should consider sharing your location preferences and ask questions about whether you could find cost-effective senior housing options outside of your zip code. Thus, you are recommended to be open and allow fluidity, and avoid streamlining your location preferences to just a few regions or geographical areas.
Why Should You Consider Partnering with A Senior Placement Service?
Are you searching for a senior living place for your elderly loved ones? At first, the search process might seem like a breeze, but as you proceed and commence each search milestone, you will discover that it requires much more than you considered initially or bargained. Most people searching for a senior living place for their aged loved one may decide to do it all by themselves. They may feel as though they do not need any assistance since they are already familiar with most senior care facilities within their zip code. They may search online for senior living communities in their region, book a tour with a few of them, embark on the journey, and finally become lost and confused about the plethora of senior living options thrown at them. Not knowing what best step to take next, they may resort to seek professional help. Rather than delaying the process, consider using senior placement services early so you may identify the best senior living community for you.
Here are some of the reasons why you should consider collaborating with a senior placement service and a senior living advisor:
Your senior living advisor can save you time and costs
Instead of searching through a long list of senior living communities in your geographical region or touring an endless list of facilities, a senior living advisor can help you streamline your search according to your needs and provide you with the best care options that suit you. Consider how the senior living advisor can help you become more efficient and save you more time and even additional costs. You will not need to spend your resources touring communities whose services do not align with your needs and lifestyle preferences.
Allowing your aged mom or dad to transition into an assisted living community due to circumstances beyond your control can cause emotions to run high. At such a moment, when we are overwhelmed with the feeling of anger, sadness, fear, and stress, we cannot make our best decisions. So, it may be best to entrust the search process to an expert who is independent of our family affairs.
You receive personalized help
This is the primary reason why many families consult a senior living advisor and senior placement services to help them find the best place for their aging loved ones to call home. One of the duties of a senior living advisor is to evaluate your family's needs and provide you with the best information that is centered around those needs. You do not have to spend some time doing a bunch of research that may yield little or no results. Advisors are ready to keep you informed throughout the entire search process and are willing to answer any of your questions as they arise.
Your senior living advisor is a qualified expert
There are several senior living placement services throughout the different areas in the United States. The most well-known and trusted senior placement service is called "A Place For Mom", who can be reached at (888) 948-8352. Senior living advisors can provide you with an accurate insider view on elder care options and local senior living communities. They have worked with many communities in the past, and they visit different senior living facilities regularly. They are aware of your doubts, fears, and expectations when it comes to senior living care and housing. They are indeed experts and can provide you with the valuable information you need to enable you to find a safe place for mom or dad.
They provide services that are free to you
Would you prefer to opt for senior placement services, especially when they come at no cost to you? The senior living search service is offered free of charge to families. Hence, you should not hesitate to seek the free services of a senior living advisor, as you will benefit from personalized service at no cost.
Senior living advisors are well trained and experienced
When it comes to senior living placement, there are a lot of factors an advisor may point out to you that you might not even remember to consider. These senior living advisors are well trained, and they have years or decades of experience. They are well trained to guide you throughout the senior living search process.
Why Do Many Seniors Prefer Senior Living Communities?
Many seniors who were once reluctant to transition into an assisted living community later confessed that they now prefer aging in place in their new home as compared to living alone. Here are some of the reasons why:
Residents of senior living communities feel at home knowing that they are completely safe and in good hands. They enjoy peace of mind because they have access to 24/7 senior caregivers and emergency care services.
Reduced stress for family caregivers
Many seniors feel at home in these facilities because caregivers and professionals have taken over most of the activities and home chores that once made daily living challenging for them. They may also appreciate that their relatives may no longer experience caregiver burnout and fatigue.
One of the reasons for elderly depression is loneliness and the inability to spend time bonding with peers. Rather than the senior feeling lonely and isolated, they may enjoy socializing with the caregivers and other members of their generational cohort. By surrounding themselves with other senior folks, they will enjoy a sense of belonging, will boost their self-confidence, and find a new meaning and purpose for life.
Consider contacting a senior living advisor or a senior placement service today to help your elderly loved one enjoy a better quality of life. Senior placement services will ensure your search for senior care is as stress-free and efficient as possible.