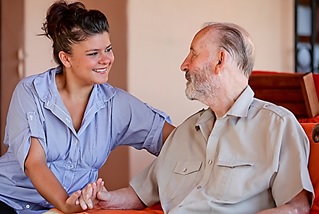 Is it difficult to perform the home duties you used to do? Home duties like shopping, self-care, and driving? Or, have you been struggling more because of forgetfulness? Don't worry, aging tends to come with these challenges, and it is common for elderly people to face health and mental challenges. However, it doesn't mean that
independent living
is over. The good news is that progress in medical equipment and technology is making it convenient to enjoy benefits from in-home care and assisted living facilities.
With the growing senior population worldwide, there's high accessibility of senior living and assisted living services. These services aim to help the elderly stay healthy, safe, and independent as they age. To make the right decision, you must know in detail about various services such as assisted living and in-home care so that you are able to compare the two and decide which one is the right one for you or your loved one.
In this informative article, we will provide a detailed comparison of assisted living and in-home care.
Overview of assisted living and home care:
What Is Assisted Living?
Assisted living is defined as a senior home care facility that offers support with daily living activities. However, the resident would need to relocate from home into that facility. These locations are like private apartments or dormitories, and a few are situated on extensive campuses that can supply a variety of needs. Assisted living facilities generally provide a home-like setting and are designed to promote the independence of seniors, while ensuring the senior has the necessary support for optimal aging.
These facilities have staff, such as trained nurses and helpers who are available round-the-clock to assist in the event of an emergency. There are a variety of services, such as providing meals either in the communal dining hall or room, social events, and other activities.
Here are a few of the many examples of services provided by assisted living facilities:
1-3 nutritional meals each day
Medicine monitoring
Self-care (including bathing and dressing)
Laundry
Room cleaning
24/7 Emergency care
Medical services for special needs
Social events
Recreational activities and excursions
Security and safety of seniors
Intensive memory care
Transportation
Intellectual stimulation
Supervision
Help with daily life activities
Note: We have mentioned general services, as the services provided by assisted living communities differ from facility to facility.
How to Identify Which Services You Need?
Assisted living facilities offer a wide variety of special need-based services. There may be a number of facilities to consider in order to identify the facility that can best provide help according to your specific needs. It is important to discuss your requests and preferences with your caregivers so that you may together select your new home that would be best for you. You can ease your transition by thinking about these questions:
Why do I want to move into an assisted living facility?
What routine activities do I need assistance with (dressing, bathing, toileting, food intake, financial management, moving, remembering medications)?
Do I have a medical condition that needs special care?
How often do I need assistance?
The answers to these questions will help you decide whether an assisted living facility will be better for you than in-home care.
What is Home Care?
In-Home care is a service in which agencies provide at-home care for different needs, from simple companionship to personal care and supervision. Aging in place rather than shifting to an assisted living facility, nursing home, or other senior living facility is important to many seniors. In-home care services typically differ because they are need-based. This option may allow you to age from the comfort of your home along with family members instead of moving into an assisted living community. The in-home care services are suitable for the elderly who prefer to live in their homes, but may also benefit from special care with routine activities that other family members may not be able to provide.
Sometimes, in-home care plans consist of a combination of assisted living, non-medical services, and skilled health-care services. Previously, there was no difference between In-Home Care and Home Health Care. Nowadays, people use the term In-Home care when non-medical care is needed and Home Health Care when skilled nursing care is required. Some home health agencies may provide both types of services. They may provide a team of clinical caregivers who provide support for the more medical and health care concerns, and companionship care from companions who would support with activities of daily living.
These differences between in-home care and home health care may seem trivial, but it is important to understand the level of care offered by both of these types of services. The in-home care usually involves non-medical care services including:
Companionship
Supervision
Personal care
Laundry
Meal preparation
Housekeeping
Medication management and reminders
Errands/ Shopping
Transportation
In-home care agencies determine individual needs as according to assistance with Activities of Daily Living (ADL). These ADL ratings include activities based on six areas of self-care, including:
Bathing
Walking
Eating
Dressing
Transferring
Use of toilet
In-home agencies use these activities as an assessment tool to identify the services and charges for each client. They also appoint qualified caregivers based on these activities. Here are six tasks that define the ability or inability of a person to live on his or her own:
Taking medications
Managing personal finances
Food or clothes shopping
Using the phone
Meal preparation
Housekeeping
Assisted Living Facility vs In-Home Care:
It is important to understand the difference between in-home care and an assisted living facility because your health and safety will be based on it. Even if you completely understand the detail of how in-home care and assisted living work, that doesn't make it an easy decision. This is going to be an important decision, so be sure you make the right decision for you.
Which Option Is Better?
As each individual's situation is different, the best option depends on the individual's needs and case. You may find an assisted living facility to be a better option for a friend and in-home care better for a relative. So, selecting the best option is need and persona dependent. The better you understand about your various available choices, the better you can prepare for the important decisions you will need to make.
Both assisted living and in-home care have their pros and cons. To decide which one is better for you, you will have to carefully consider your needs and weigh them against your financial and safety concerns.
Assisted Living vs In-Home Care: Safety Concerns
Safety is a significant factor to decide if home care is a better choice than an assisted living facility. If a senior prefers to age in his place, then it may be better to install safety bars and grab bars in the shower and other potentially hazardous home locations. These safety measures will prevent falls and accidents. If a senior experiences challenges with climbing stairs, a stair lift can be installed to assist him or her. Moreover, if cognitive concerns, such as Alzheimer's begin to surface, then fitting extra locks or handles can be a helpful adaptation to avoid wandering out of the home or going into danger. These changes can make a home safer and will make it easier for seniors who prefer to live at home to keep living at home and not go to an assisted living facility
Relocating to an assisted living facility may not be a consideration until the senior's safety situation changes. The purpose of an assisted living facility is to promote the independent stress-free life of senior citizens so, it can be considered when at home care is no longer adequate for your senior's needs and you think the quality of life starts to suffer at home.
For security concerns, aging in place at your own home has many pros, such as no adjustments or shifting from one place to another. Also, the changing environment will be challenging for individuals who may face cognitive decline.
At Home Care vs Assisted Living: Significance of Socialization
On the other side, when you stay at home, there are chances of loneliness and isolation, especially for elders. As a person, you will still have duties such as shopping, home maintenance, cooking, paying bills, yard work, and more. Also, in-home care is not always available in the time of need. In comparison, care is available 24/7 in an assisted living facility.
24-hour care and support are the main advantages of an assisted living facility as compared to in-home care. In-home care lacks in providing social activities with a community of other seniors, thus one-on-one socialization may be limited in such a setting. However, home care services could include the opportunity for the senior to socialize with the caregiver.
Socialization is an important component and shouldn't certainly be ignored, especially for seniors. By surrounding ourselves around like-minded people and socializing with others in a golf or book club, we will be able to live a healthier and happier life with fewer ailments. Socialization is proven to be important for health and it is very difficult to create an appropriate socialization environment at home using a caregiver provided by a home care agency.
Connecting with other people can also improve medical care because when you share your medical and health improvements, you inspire others to better address their own health concerns. The experts in an assisted living facility can coordinate with each other to come up with a comprehensive plan. The coordination involves discussing your dietary concerns with your physician, cognitive level issues with the psychologist, and many more. These kinds of services are rarely available in an in-home care setting.
Let's suppose these services are available at home, but it might be only one time or short-term. However, in an assisted living facility, socialization and care are ongoing. With assisted living, you can easily adjust your needs as they change.
Assisted Living and Home Care: Cost Comparison
A major issue in deciding about the right time for assisted living or asking for or continuing in-home care is cost. Most people use potential sources of funding such as retirement savings, veteran's benefits, home selling, health insurance, or long-term care insurance to pay for senior care services. The cost involved is based on a person's individual situation and differs greatly from one senior to another.
It is very important to consider that there will be noteworthy financial differences between living at home and going to an assisted living facility.
While Medicare may cover in-home care, Medicare may not always cover assisted living facility care. However, a few studies found that that cost of assisted living will be approximately $48,000 annually. However, in-home care will cost you more than $50,000 annually without a skilled nursing service. Adding up a nursing service at home will cost you more than $100,000 per year.
Note: These prices are a rough estimate of comparing costs of different senior care services but it depends on many other factors, such as your county, assisted living facility and its services, and the type of special services you will ask for.
In-home care tends to be based on hourly fees and may depend on the structured care contract. Generally, in-home care expenses and costs will be calculated for each service, but in an assisted facility, they will provide different services as a whole package.
Additionally, it is important to discuss costs and financial matters before taking the important decision of senior living services. You are recommended to research and determine whether in-home care is best for the case or whether assisted living will be a better option.
In-Home Care Affordability
As needs demand, our requirements to live at home may also change. There may come a time when you may need to move into a nursing home or assisted living facility. Our caregivers may not be able to provide extensive in-home care for years. Home care also lacks a major component of a senior's life, and that is socialization. If he or she will be taken care of at home but has no friends around, the senior might get bored of living in loneliness. So, sooner or later, there may be a need to transition into an assisted living facility.
Knowing when is the time for moving to an assisted living is a tricky question that needs careful analysis.
Assisted living should be considered when home care may become risky. For example, if a senior is taking the wrong medications, falling and having accidents, visible decline in health, eating unhealthily, or developing cognitive deficits. Even if a relative was to consider in-home services for a loved one, the relative may still share some responsibilities. For example, what if the caregiver becomes sick, has a personal matter to attend to, or takes one day off? Most home care agencies may be able to offer services of another caregiver for that time period depending on availability, but what if you contract with an independent caregiver? It could become very problematic for the senior to manage his or her routine tasks that day with a stranger.
We have provided a detailed comparison about assisted living and in-home care. Let's further evaluate the pros and cons of both services.
Evaluating the Pros & Cons
Both options offer some great benefits. However, they also have a few disadvantages that could be a con based on your specific situation. After the aforementioned comparisons, a simple pro and con analysis will be more helpful.
Assisted Living vs In-Home Care: Pros
| | |
| --- | --- |
| Assisted Living | In-Home Care |
| Assisted living provides several services in one place at an affordable price. | Live in the comfort of your own home as you age. |
| Support services are available 24/7, which makes it the best option in an emergency. | The benefit of one-on-one care based on needs and preferences. |
| Seniors from various backgrounds live in these facilities which enable ample opportunities to socialize. | The seniors can live independently or with family members with social support from the caregivers. |
| Family members do not have a lot of stress when a parent or loved one needs special care. They can be relaxed and stress-free. | The burden of routine life responsibilities will be lower, as the senior can live a stress-free life from the comfort of their own home. |
| The level of care can be increased on-demand and as per needs. | Many seniors love their possessions such as pets, plants, and other belongings. They don't have to leave those behind or donate any of their favorite possessions or personal belongings. |
Assisted Living vs Home Care: Cons
| | |
| --- | --- |
| Assisted Living Facilities | At Home Care |
| Some assisted living facilities allow you to take your possessions with you. For other options, you may need to let go of a few of your favorite possessions, such as plants, pets, etc. | In-home care doesn't always guarantee 24/7 health care. If you are interested in such an option, there could be too many increased fees and expenses. |
| The changing of staff is not as much a concern. A few seniors may become accustomed to the setting and staff. It could be difficult for seniors with cognitive decline to adjust to new routines or staff members. | Continued family involvement may be required to manage caregivers and backup care options. |
| Homesickness and not seeing family members daily could be challenging. This could be an adjustment, to no longer see children and grandchildren daily, and instead potentially only a few times a month. | Living at home could cause loneliness and isolation, due to conflicting priorities and busy schedules. |
| A senior may become upset about attributes and qualities of individuals different from them. Seniors may get confused by changed treatment packages, which are according to different individual needs and services requested. | The in-home care doesn't provide the level of social activities available in an assisted living facility, as it is more so based on a caregiver assisting with routine tasks. |
| If your parent or loved one does not enjoy living in a group, it can be problematic. | Several home modifications will be needed to avoid falls and accidents at home. |
| Luxury assisted living facilities may get very expensive, depending upon the option you select. While Medicare may cover in-home care, Medicare may not always cover assisted living facility care. | As you will be paying hourly or monthly wages to the caregiver, this option could be very expensive. To avoid many expenses, you might exclude home maintenance or basic home duties for which the senior has to struggle again. |
Home Care or Assisted Living? Bottom Line:
Deciding between in-home care and an assisted living facility can be difficult, but after reading the detailed comparison and better understanding the pros and cons of each option, we hope you are more prepared to understand the consideration for your important decision. In the first step of deciding between these options, you have to determine the needs and requests of the situation. Once you understand the preferences and needs, you can compare both assisted living and at home care to identify a service for the betterment of your loved one's health, happiness, and safety.
Have you created a check-list about your important considerations and the services you may require assistance with on a daily, weekly, and monthly basis? This will help you draw a clear picture of the exact level of care required. Then, you need to consider your funding options. As needs may evolve over time, you are recommended to plan for the long-term. The current situation may be quite different from the situation in six months or maybe in two- years. Each case is different, but what are the long-term objectives and long-term potentials? Would you consider beginning with in-home services and then transitioning into an assisted living facility as the needs may involve? Would you consider an in-home service that has a strong relationship with an assisted living facility to ease the potential future transition?
Either way, both options will be very helpful to help ensure the senior receives the best care possible, as tailored to the individual situation. After deciding the right option, you should prepare for the transition.