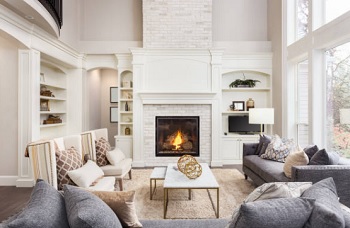 Many people think of senior living as being somewhat boring or depressing, but there are many facilities out there that are aiming to change this perception. Luxury senior living communities are becoming increasingly popular, and if you have it in your budget, a luxury retirement community can be a wonderful place to spend your later years. Luxury senior living facilities offer high-quality amenities that you might not find in other communities, and they provide a level of comfort you might not find in other facilities. Here's everything you need to know about luxury senior living.
How is luxury senior living different from other senior living options?
There are many different forms of luxury senior living you may find nearby - there may be luxury assisted living centers near you, where residents receive help with their daily tasks and may receive medical assistance as well, and there are luxury 55+ retirement communities, where residents live independently but have access to resources that are helpful for seniors when they need it. Luxury is not a standard term, so many facilities market themselves as 'luxury' but provide different amenities for their residents. In general, luxury senior living facilities differ from other facilities in that they provide a number of high quality amenities that may not be available at other facilities and communities, and the amenities they do provide are of better quality than other facilities as well.
What amenities can I expect to find in luxury assisted living communities or retirement homes?
Although amenities vary widely among communities, there are certain things you're likely to find in luxury assisted living communities. The first is access to very high-quality medical care - these facilities may partner with a prominent medical group in the area, or they might have doctors on site available to see patients. The nurses are also typically very experienced and well-trained, and many facilities offer specialized medical or dementia care for conditions such as Alzheimer's, cancer, or diabetes.
Upscale senior living communities also offer many amenities that are designed to help keep you healthy. They may have pools and spa facilities on site to help you relax, and some offer physical therapy and workout classes to their residents as well. Many luxury retirement homes have gyms in the building as well, and most have beautiful outdoor spaces where you can relax or go for a walk. Additionally, some luxurious senior living facilities have a focus on mental health and offer therapy sessions and counseling. Most communities offer luxury dining options on site as well, whether that's having food delivered to you or eating in a restaurant style dining hall.
Luxury senior living communities also offer assistance to their residents with tasks they may need help with. For example, many seniors struggle with cleaning and personal grooming as they get older, and luxurious senior communities will have staff on hand to help with those tasks. Luxury senior communities also provide opportunities for residents to socialize with each other and try new things. Events are often held on-site, and opportunities for seniors to take field trips and experience things in the community are provided as well. Many upscale senior care facilities also offer transportation to help seniors run errands as needed.
How much do luxury retirement communities cost?
Luxury senior living costs vary depending on several different factors. For example, the cost of upscale senior living often depends on the location of the facility or community, how convenient it is to a major metro area, and what the going rents are in that neighborhood. Luxury senior living costs also often depend on the amenities offered. Different senior living facilities have different payment structures - some offer just one flat monthly rate for everything, while others have a base rate and then charge extra fees on top of it depending on what services you decide to use. For example, some facilities may charge extra for medical care on-site. If your facility does provide medical care, your insurance may cover a portion of the cost of luxury senior care, but it is important to check with your provider to confirm this. Most insurance plans do not cover luxury care. In general, you can expect to pay rent of around $5,000 or more for luxury senior living, depending on your location. Most luxury senior complexes will also expect you to pay an entrance fee, which can run well over $100,000, sometimes even up into the millions. You'll likely also be expected to sign a contract agreeing to live in the retirement community for a certain period of time.
Who is a good fit for luxury senior living?
Luxury senior living is a good option for well-to-do senior singles or couples who feel they can benefit from the extra amenities that luxury living provides. Transitioning into senior living can be very challenging for many people, and having luxury amenities at your disposal can make the transition into a new home easier. Seniors who struggle with difficult medical conditions can really benefit from luxury care, because there are so many preventative care options available in addition to treatment.
Because of the costs of luxury senior living, seniors who are struggling financially are typically not good candidates for this type of facility. There are many less expensive options for seniors on a budget, and there are even facilities out there that provide subsidized senior housing options for seniors.
What are the benefits of luxury senior living?
There are many benefits to luxury living for seniors. The biggest benefit is just the pure wealth of amenities available on site. Having so many resources available to you at any time makes it much easier to manage your health and well-being, and it makes senior living much more enjoyable as well. As a family member or friend of a senior in luxury living, you'll be able to rest assured that they'll have whatever they need at their disposal. It's also very helpful to have preventative healthcare available, particularly for seniors who are already struggling with health conditions. With exercise facilities, spa treatments, mental health therapy, and preventative screenings available on site, it's much easier for seniors to stay healthy into their later years.
Luxury retirement living is also just more comfortable than other senior housing options. Luxury accommodations are usually larger than the average senior apartments near you, and they usually feature top-of-the-line technology as well. They are designed to let in lots of light while still being very private, and there's typically access to beautiful outdoor areas as well. Living in such a comfortable space is very good for seniors' mental health. Luxury amenities typically offer cleaning and laundry services as well, which are very helpful for keeping seniors healthy and safe. The meals provided are often chosen by nutritionists and designed to be very healthy and enjoyable.
It's very important for seniors to stay social as they get older, and to have access to enriching activities that they'll enjoy, and upscale senior living facilities offer plenty of ways to meet other people and try new things. Activities such as group workout classes, hobbyist clubs and field trips are offered on site, and there are typically plenty of communal spaces where seniors can relax and interact with one another. Having meaningful relationships in old age is very enriching and good for both physical and mental health. Luxurious senior facilities also make it very easy for seniors' families and friends to come visit, so it's easy to maintain relationships from earlier in life as well.
For seniors who struggle with dementia or mobility problems, luxury senior living facilities are very safe. The facilities are designed to be ADA compliant and everything is well-maintained and clean. The layouts of the facilities are typically designed to be simple and are well-lit, so there's less of a chance that seniors will experience injury or confusion while walking around. Many luxury senior communities have memory care specialists available on site, so seniors can easily access the care they need at any time.
What are the downsides of luxury senior living?
The biggest downside to living in a luxury senior facility is the cost. These facilities usually have very high entrance fees and monthly rents that are quite limiting to many seniors, particularly for those living off a pension with a fixed income every month. There are many more affordable options for senior care available that still provide the assistance that you need, they just may not have the extra luxury amenities on site.
The other potential downside to luxury senior living is that these communities are normally very large and can feel somewhat impersonal. While the care and amenities are very good, it can be difficult to get personalized care, and the staff are normally not as flexible in the services they offer as they might be at smaller facilities. Seniors may also deal with tens or hundreds of staff members during their time there, which can make it difficult to develop a rapport or relationship with any of them.
What should I look for in luxury senior living?
Because luxury senior living offers so many different amenities, there are many things to consider when making a decision about which facility you would like to live in. The first thing to consider is the price. Since upscale living facilities can be so expensive, it is very important to check and make sure a facility is actually in your budget before getting further into the process of moving there. The next thing to look at is the location. You'll want to choose a location where family members and friends can easily come visit you, and where you feel comfortable and at home.
After narrowing down options based on price and location, the next thing to look at are the professional services offered. You should decide what kind of services you need first - some seniors need full-service medical care facilities, some need basic daily assistance, and others are just looking for a senior-friendly independent living space. There are luxury versions available for all of these options, it's just a matter of choosing the one that's the best fit for you. You should make sure the services are professional and have the specialties that you need available - for example, if your senior struggles with Alzheimer's, there should be an Alzheimer's specialist on staff to help care for them.
You'll also want to consider the amenities available and decide which ones are most important to you. For example, some seniors want access to health-focused amenities like exercise classes and spa treatments, while others may be more focused on what social opportunities are available. Making a list of what you really want and what you can live without is a good way to help narrow down options.
It's important to take a full tour of the senior facility and talk to several different staff members before committing to live there. Since the luxury senior living community will be providing all of your services, it's very important that you feel totally comfortable and at home there before you move in, and that any concerns you may have are addressed ahead of time. It also may help to talk to other seniors that live in the community to see what the culture is like and how they feel about it, and to read reviews of the facility online as well. While it's important to take these opinions with a grain of salt, they can give you a good understanding of what it's like to live there and of any potential downsides you may need to be aware of.
How can I find a luxury senior living facility for me?
There are plenty of luxury senior living facilities located around the country. Starting with a simple web search can help you put together a list of potential candidates. If you're looking for medical care at your facility, it may also help to talk to your doctor. They can recommend facilities that work with doctors they trust. It also may help to ask friends who have seniors in their families for luxury senior care recommendations.