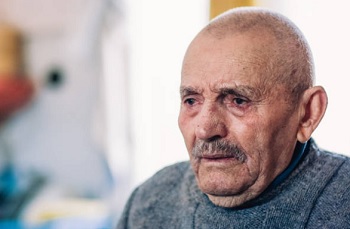 The term "Dementia" is often used to describe loss of memory. But dementia is basically not a single disease or disorder. It is a group of conditions denoted by a decrease in the ability to remember, poor understanding and expression of language and a reduced ability to analyze and solve small problems that affects mostly elderly members of our family. Severe dementia can very badly affect our family member's ability to perform even very small daily tasks like eating or bathing. One of the most common causes of dementia in the elderly is Alzheimer's disease. According to the data from Word Health Organization (WHO), Alzheimer's disease occurs in about 70% of the elderly people having dementia. Alzheimer's disease and dementia associated with it are among the most-costly and most-distressing types of dementia and medical conditions for our elderly family members. Since the families and caregivers of the elderly patients have to provide constant physical, emotional and intellectual care to the affected individuals from within their home, they get equally affected as the patients and run the risk of caregiver burnout or fatigue.
Behavioral disturbances in Dementia
Although dementia in elderly is often thought as a disorder related to memory, it has a psychological component also. About 50% of older people with dementia can have several disturbances in their behaviors. These disruptions in the behaviors may range from mild to moderate and severe and can be seen in all forms of dementia. The psychological symptoms may develop at any stage of dementia and they can occur throughout the course of illness. They may go away and come back anytime. Delusions and Hallucinations are the two most common types of behavioral disturbances seen in older people with dementia. The main reason behind occurrence of these behavioral changes is that the Alzheimer's disease and dementia damage the cells of the brain and that fundamentally changes the structure of the brain. This cell damage then affects the areas that control memory, cognition as well as emotions in the brain. Unfortunately, these changes are irreversible and cannot be reverted back to the original. This dementia-related, permanent damage to the brain areas can impact our elderly family member's ability to think critically, acquire new knowledge and change their ability to interact with their own acquaintances. This makes our elderly vulnerable to even small stressors in the environment such as a particular sound or smell, a change in orientation of furniture at home or even presence of a particular person.
Delusions and hallucinations may have different triggering cause but in general, they occur at the later stages of Alzheimer's or dementia progression when our elderly already have a significant impairment in the thinking, reasoning and processing knowledge. This can change the entire course of care for our elderly as these kinds of disturbances in the behaviors can lead to a faster progression of their disease and can trigger the relocation of our elderly in the nursing homes, memory care facilities or induce a longer duration of stay at the hospitals. These behavioral and psychological symptoms can also be extremely stressful for the family members and the caregivers of the affected elderly as they need to provide constant attention to the elderly and have to input a constant effort to help the elderly in coping with their conditions. The caregivers and the family members may thus perform very bad in their jobs and may also go into depression themselves.
Dementia and Delusions
Delusion means a confused state of mind or confused thinking. It is the most common disturbance that is observed in the behavior of the elderly with dementia. Occurrence of delusions in our elderly indicates that their awareness has been hampered and their ability to perceive their surroundings has been compromised. In such confused state, they may perceive any false belief as real, e.g. they may think that they are not loved by us or they may feel cheated. 70% of patients having dementia with Alzheimer's disease develop delusions over the due course of their disease progression. The two most common types of delusions that occur in such elderly patients are Paranoid Delusions and Delusional Misidentifications.
Paranoid Delusions
Paranoid delusions in dementia patients have been known to occur due to cognitive deterioration, so that the patient cannot grasp and interpret the reality in an appropriate way. Most of these dementia patients have reduced activity in the front part of their brain which is involved in critical thinking. Though these patients still have relatively preserved cognition, elderly with paranoid delusions, commonly referred to as paranoia, show unfounded thinking i.e. thinking without any basis or fact. They often show fear and consider themselves as being victimized and may feel suspicious or jealous of people.
Our elderly family member with dementia and paranoid delusions may feel that he or she has been abandoned and is not being properly taken care of by us. It is also common to believe that the family members or caregivers are not good, mean and unfair and tend to harm them. Patients with delusions are also suspicious about the nature of their residence. They may believe that they are at a home other than their own. It is also very common for our elderly family member with dementia to believe that a deceased relative is alive or that they have a job when they are not in fact employed. The main problem in dealing with the elderly family members who have dementia with paranoid delusions is that it is difficult to engage them in treatment or any intervention, as they mostly perceive their doctors or family members or caregivers as if they are attempting to mislead or harm them.
Delusional Misidentifications
Delusional misidentification means believing that a person has more than one identity or behaving as if someone has been replaced by someone else. Elderly dementia patients having delusional misidentifications generally have more cognitive disruptions and severe disturbances in the areas of the brain that are involved in familiarity and recognition and processing of vision and speech. Our elderly family member with delusional misidentification can mistake a caregiver with an imposter and an unfamiliar family member with a familiar one. The most common complication in the elderly with delusional misidentification is aggression. As our elderly family member may have trouble recognizing us and others, they may get aggressive. Sometimes, these kinds of aggression lead to homicidal attacks on family members, caregivers, innocent bystanders and others.
Hallucinations in Dementia
Hallucinations are associated with more severe forms of dementia and cognitive deterioration. Our elderly with dementia may apparently perceive someone or something that is not present in reality. Patients with hallucinations usually confidently endorse their experiences and expressions as real. They may hear, visualize, smell or feel things that are not really there. They may see and talk to the children playing in the room when there are no children at all. They may see flashing lights or animals and many other forms of hallucinations.
Visual hallucinations are very typical features of Lewy Body Dementia and depict a worse cognitive status and brain damage. Visual hallucinations also involve a damage in the areas of the brain controlling our vision. Usually, these hallucinations are not upsetting for the patients and they may be pleasant and provide comfort. For instance, an individual may find comfort in visualizing and talking to a deceased loved one. But we should be very careful with the elderly who have frequent visual hallucinations as sudden visualization of persons or objects may startle them and cause aggression or irritation. Also, visual hallucinations like seeing flashes of lights may cause confusion. Some hallucinations provide comfort and happiness to the person. Auditory hallucinations may also cause confusion, distress and irritation in our elderly, especially if they hear someone speaking and believe that the person speaking is intending to harm them.
What to do when your elderly loved one has delusions and hallucinations?
Provide compassionate care. It is very important for the family member or the caregiver to be empathetic and sincere towards their elderly loved one with delusions and hallucinations. You have to understand that your elderly loved ones are going through an irreversible change in their brains and thus, their personalities and the road is only downhill from here. You should do your best to help them in coping up with this change. Consider using validation therapy when speaking to your loved one. Make sure that you yourselves do not show them any signs of stress, anger or depression. Caregiver's stress or depression can provoke behavioral disturbances in the patients. You can contact dementia care groups to discuss and share your problems with others who are experiencing similar issues. This can help you in overcoming your own anxieties and will aid in making the right choices for your elderly loved ones.
Rule out the role of any medication. Sometimes, delusions and hallucinations are caused by some medication that your loved one's is taking. Discuss with your physician to remove or change any medicine that might be causing a confused state of mind in your loved ones.
Investigate the claims that they make. You should not use negative communication styles or anger or an overly harsh tone with your elderly loved one when he or she shows reaction towards any particular delusion or hallucination. Just listen to them with patience and analyze the situation. Don't argue with them or try to correct them and see what you can do best in order to help. Assess if they are really having a delusion or hallucination or if you are not understanding them properly. For example, your loved one may not be having a delusion, he or she may be just not remembering facts correctly. He or she may be telling you about an event that occurred in the past but is feeling as it just happened. Evaluate the cause of their confusion. Sometimes, our elderly loved ones with dementia just forget to ask for water and become dehydrated, which can lead to their confused state of mind.
Identify precipitating factors. Identify the triggering cause and frequency or pattern of your elderly loved one's delusion or hallucination. Sometimes, it is just a small thing that can be tweaked like a particular smell or presence of certain individuals. Change your loved one's schedule, move them to another room or take them for a walk. Plan the day to include activities such as exercise, recreation or socialization in predictable routine. This may help minimize the risk of delusion and hallucination episodes.
Give them as much comfort and safety as you can. Ensuring that your loved ones are in safe and comfortable surroundings can help them to cope up with confusion and anxiety. Comfort them if they are scared of some person or belief. The more they stay in a familiar and comfortable environment with friendly and trustworthy faces, the more they will feel secure.
Consider hospitalization in serious behavioral disturbances. All hallucinations do not have a negative impact and usually do not require treatment. Hospitalization should be considered when the disturbance in the behavior of your elderly loved one is so severe that their safety is compromised.
Disturbances in the behavior in the elderly with dementia such as delusions and hallucinations are very hard on them and they can be equally difficult for their family members and caregivers. But rather than stressing out about the situation, the caregivers and the family members should calmly try to provide overall wellbeing-oriented care to their elderly loved ones. We should aim at improving the physical, mental, emotional and social functioning of our loved ones who are suffering from dementia-induced delusions or hallucinations and do our best to help them live a good quality life.