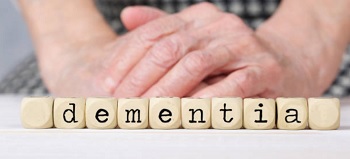 The word "dementia" confuses a lot of people for several reasons. Most often misunderstood is the fact that the word "Dementia" refers to a category of diseases. The easiest way to understand this is to compare the word Dementia to the category called Automobiles. Automobiles have many things in common with one another, but there are also many obvious and not so obvious differences in how they appear on the exterior, how they work internally and how it feels to drive them. Dementia is also a category, and like the word "automobile" refers to a list of specific diseases that affect different parts of the brain and with very different symptoms and effects on the person.
Alzheimer's Disease (AD) is the most common type of dementia, but it is only one type of dementia. There are different treatments available at different stages of the disease. Thus far, there is no cure. This article will provide information about some of the other types of dementia.
While we all lose some neurons as we age, people with dementia lose more. In all of the dementias, brain cells are damaged and unable to communicate with other brain cells. Most (not all) of the various dementia diseases tend to start out slowly and gradually get worse. They usually include a decline in memory, language and other thinking skills that impact daily life. Depending on the type of dementia, some people cannot control their emotions. Their personalities change. They can have delusions (ex: insisting someone is stealing from them). They may also hallucinate (ex: carrying on conversations with someone in the room who has passed away).
Memory loss, though common, is not the only sign of having dementia. To receive a diagnosis of dementia disease, one must show impairment in two or more functions that include the following: memory, language, visual perception, ability to focus and pay attention, reasoning and problem solving. Also, one must not be able to do normal everyday tasks (paying bills, getting dressed, etc.).
Dementia diseases differ based on what part of one's brain is impacted. Also, the part of the brain that is impacted determines the symptoms one has. Someone may have several types of dementia at the same time, symptoms may overlap and treatment differs. It is complicated.
Is it really dementia?
Just Because It Looks and Smells Like a Rose, Does Not Mean It Is A Rose.
To make things even more confusing, it is crucial to be aware that classic symptoms of dementia (memory loss, confusion, hallucinations etc.) sometimes mask entirely unrelated medical situations. In these cases, there ARE cures. If the causes of dementia-like symptoms are correctly identified, the symptoms will be halted or reversed with treatment.
Below are several examples of causes of dementia that can be reversed when correctly diagnosed:
Excess cerebrospinal fluid causing brain pressure
Infections
Vitamin deficiencies (ex: B1, B12)
Alcohol abuse
Poisoning
Substance abuse
Brain tumors
Medication side effects
Metabolic problems (examples: thyroid, hypoglycemia, low or high levels of sodium or calcium)
Delirium and Depression (see below)
Depression: Always Treat this No Matter What
In a perfect world, everyone with memory problems and depression would be correctly evaluated.
Dementia can be reversed if depression is treated correctly and found to be the cause of the dementia symptom (memory loss). When that is the case, dementia will disappear.
Even when depression is not the cause of the dementia symptoms, it must always be treated whether or not there is irreversible dementia!
More times than not, however, depression in older adults is found to be the earliest symptom of the types of dementia caused by Alzheimer's Disease, Vascular Dementia (strokes) or Parkinson's Dementia (see below).
People with Alzheimer's disease (AD) or Vascular Dementia (VD) often have these symptoms of depression in the early stages in particular: tearfulness, hopelessness, poor appetite, restlessness or refusal to do activities they previously enjoyed. They also tend to be forgetful, have language and even motor skill issues. When this is the case, they may have both depression and Alzheimer's or Vascular Dementia. Often, the MD may not recognize these dementias at this early stage via the presenting depression, despite the fact that the symptoms of depression are usually easily recognizable.
Do not dismiss depression and do not allow any MD to do this either.
Treating depression even when someone has irreversible dementia often relieves misery, increases enjoyment of life, improves appetite and can even reduce annoying behavioral symptoms. It will not, however, bring back memory loss due to dementia.
Delirium: Sadly, This Condition Is Often Confused with Dementia
Unlike dementia - which takes months or years to show up, delirium is sudden.
Similar to someone with dementia, delirium symptoms may include extreme forgetfulness, disorientation and inability to care for oneself. The person with delirium may develop incoherent speech, hallucinations and a host of other strange behaviors out of the blue. They may exhibit extreme off the wall behavior that was never there before, such as walking around an assisted living facility or memory care home with no clothes on. If they also happen to have dementia, you may observe a worsening in confusion or sudden constipation, an infection or cold.
Often, this occurs when an older adult is hospitalized. Most unfortunately (and mistakenly) ER or hospital personnel may assume the extremely crazy behavior is further evidence of a worsening of the dementia. They may mistakenly increase their behavioral related medication or attempt to sedate the individual. The causes of the sudden changes in the individual may be a physical problem such as a Urinary Tract Infection (UTI). It is possible that the delirium started when they were mistakenly given too much medication. If they started taking a new medication, there may be a reaction between other medications they were previously taking (medication interactions). They may be extremely dehydrated or even over hydrated. Actually, there are many causes and it is very important to make sure the real medical problem is uncovered immediately. Do not assume that the person with this sudden off the wall crazy behavior needs psych meds. If the behavior suddenly started out of nowhere, there is most probably an underlying medical issue.
5 Types of Dementia That Have No Known Cures
This is a list of different types of Dementias that have no current cures:
Alzheimer's Disease
Frontotemporal Dementia
Vascular Dementia
Lewy body dementia
Mixed Dementia
Alzheimer's Disease (AD)
Alzheimer's is caused by the buildup of two abnormal protein structures in the brain called amyloid plaques and neurofibrillary tangles that disrupt communication between brain cells. You can read more about Alzheimer's stages, symptoms, signs and care.
Frontotemporal Dementia (FTD)
There are several types in this dementia category including the following:
1. Behavioral FTD
Caused by degenerating brain cells that control personality, judgment, emotion and language.
The affected cells are located in the frontal and temporal lobes of the brain.
Symptoms of Behavioral FTD create personality changes, but memory may still be fine. Adults afflicted by FTD may act impulsively and out of character (ex: steal, be rude to others). They may start singing or clapping a lot or even start repeating what others are saying. Additionally, they may overeat compulsively, lose their inhibitions (sometimes sexual in nature), exhibit extreme sleepiness and apathy.
2. Primary Progressive Aphasia (PPA):
This is another form of (FTD) that shows up as a language disorder but not caused by a stroke. Someone with PPA will have difficulty finding or expressing thoughts or words. Memory, reasoning and judgment problems may not be apparent at first, but can progress over time.
Occasionally, someone has this condition and it is not actually considered to be a "Dementia", but this is fairly rare.
3. FTD with Parkinsonism
This version of FTD is quite rare and most likely passed on by a defective gene from one of the parents. Adults suffering from FTD with Parkinsonism frequently experience delusions, hallucinations, and move slowly with tremors (similar to the symptoms of Parkinson's disease). Interestingly, they do not necessarily have traditional Parkinson's. Yes, it is confusing – please see a Neurologist.
Vascular Dementia (VD)
This type of dementia is caused by repeated strokes causing brain cells to die. The cumulative effect leads to a dementia. Dementia risk can be significant even with tiny strokes. Compared to Alzheimer's disease that comes on slowly, Vascular Dementia often shows up rapidly. The reason for this is because cognitive impairment is immediately obvious once someone suffers a stroke. Memory, coordination or speech may be affected, but symptoms vary depending on which area of the brain that is being damaged. Sometimes, VD gets worse as time passes, and sometimes it may not get worse for many years. The good news is that if the cause of these repeated mini strokes can be identified and treated, further damage may be prevented.
Some of the risk factors for this type of dementia include atrial fibrillation, hypertension, diabetes and high cholesterol.
Lewy Body Dementia (LBD)
Lewy bodies are balloon like structures that form inside of the nerve cells within the brain's cortex that are responsible for thinking, perceiving and understanding language. Initially, symptoms for Lewy Body Dementia can be different from person to person, but after some time passes, adults with LBD will start noticing similar behavioral, cognitive, sleep-related and physical symptoms. Depression is common and this type of dementia accounts for approximately 5-10% of dementia cases. This dementia is complicated and needs to be correctly diagnosed in order to receive the right treatment for the specific symptoms. The correct diagnosis will help with understanding how the disease will most likely progress.
To diagnose correctly, medical professionals often apply a one-year rule. If cognitive symptoms start to show within one-year timeframe after movement problems developed, the person will be diagnosed with dementia with Lewy bodies. On the other hand, if cognitive issues start to appear more than one year after the movement problems originally began, the person will be diagnosed with Parkinson's disease dementia.
Types of Lewy Body Dementia:
1. Dementia with Lewy Bodies
Dementia with Lewy Bodies can be difficult to diagnose, even with the one-year rule described above. It is often misdiagnosed initially as a psychiatric problem due to problems falling asleep or sleeping through the night, lack of a proper sense of smell, as well as visual hallucinations usually appearing as many as 10 years before this is even recognized as dementia. Other signs are similar to Parkinson's and include problems moving around and maintaining good posture, a shuffling walk and deviations in staying alert or keeping proper attention on things. There is no cure, but there are medications that help to control some symptoms. Unfortunately, these medications can inhibit proper motor function or result in additional hallucinations.
2. Parkinson's Disease Dementia (PDD)
This type of dementia is also related to Lewy Body Dementia and may afflict adults who have Parkinson's disease. PDD can have an effect on social judgment, memory, reasoning and speech.
Most of the adults diagnosed with Parkinson's disease will also develop dementia. The beginning of symptoms associated with movement compared to the beginning of symptoms associated with dementia may be varied. In the later stages, symptoms often involve REM sleep behavior disorder and include frequent vivid nightmares as well as visual hallucinations.
Neurologists are doctors who specialize in disorders of the brain and nervous symptoms. They generally have the expertise needed to diagnose Lewy Body Dementia. A neuropsychologist, geriatrician or geriatric psychiatrist could also be able to diagnose Lewy Body Dementia. In case you cannot find a proper professional nearby, you may be able to get assistance from the neurology section of a medical school nearby.
Mixed Dementia
Mixed vascular-degenerative dementia is the most common cause of dementia for senior citizens over 80 years of age. With this type of dementia, one version combines with another condition or dementia and causes brain damage. An example would be Alzheimer's disease and Vascular Dementia or small vessel disease. It is not always clear how many of the symptoms are due to Alzheimer's or some other form. The symptoms are similar and risk factors for AD are similar to those with Vascular Dementia.
Over 6 million people have some form of Dementia. The physical, emotional, familial, economic and general societal demands are often devastating. Proper dementia care is needed if you have a loved one who has been diagnosed with any type of dementia. It is important to understand that dementia is not a result of aging. There is a lot more to learn about Dementia and we hope this has been an eye opener. If your loved one is suffering from dementia, we urge you to also consider reading about validation therapy for dementia.