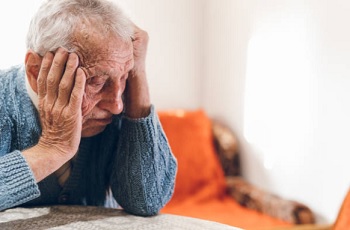 We may occasionally feel sad, but this may not necessarily constitute as depression. Depression is more than a feeling of sadness or unhappiness. Depression is an ailment or illness that is diagnosed with the presence of specific symptoms. As we grow older, we are more susceptible to loneliness and senior isolation. We may also struggle with our psychological and physical disabilities and no longer be able to perform the daily activities as independently as we once used to. Depression has been found to occur more commonly in the elderly adults than younger adults.
However, it is essential to understand that the diagnosis of depression is not to be overlooked and considered as a standard elderly diagnosis. If you or your elderly adult feel depressed, then it is essential to visit your healthcare provider immediately. Depression usually involves symptoms that affect your attention, concentration, and your general well-being. This psychological condition may affect how you sleep, eat, feel, and how you direct many of your daily activities. The symptoms of depression may be diverse and extensive. Also, each elderly individual may react differently when diagnosed with depression so two adults with depression may have different symptoms.
Also, many factors interplay to predispose an elderly adult to depression. Such factors can range from genetics, poor nutrition, physical health conditions, medications, stress, other healthcare conditions, brain chemistry imbalances, and certain events (e.g., the loss of a loved one, loneliness, and separation from friends and family members).
Fortunately, senior depression can be prevented and treated. There are many ways in which depression can be prevented, which would be explicitly outlined. Treatment for depression could be non-pharmacological therapy and medications. The mode of treatment would be tailored to the individual need of the elderly adult depending on how the elderly presents the symptoms of depression and the severity of his or her condition.
Depression Symptoms in Elderly Adults
The first step for diagnosing a disease or an ailment is the initial recognition of the illness. So, elderly adults and their family members need to be aware of the symptoms of depression. However, it may be more challenging to diagnose elderly adults with depression due to the interplay of other healthcare conditions.
Elderly adults usually have concurrent medical illnesses together with depression. These medical illnesses may be the cause of the depression or may have symptoms similar to those of depression. For example, consider how the symptoms of Alzheimer's disease often also include memory challenges, poor attention, inability to concentrate, and confusion.
Although the symptoms of depression may vary for each elderly individual, the symptoms may include:
• Loss of Interest in previously pleasurable activities: Elderly adults may lose interest in activities and hobbies they used to enjoy passionately.
• Reduced energy and lack of motivation: Older adults with depression may also have reduced energy and a lack of motivation. They may lose their purpose for life. They may disengage themselves from other community members.
• Sleeping difficulties: Depression may contribute to sleep disturbances in seniors. This may either be difficulty in falling asleep or excessive challenges with waking up in the morning due to a lack of motivation. These older adults may also experience increased daytime sleepiness and a lack of freshness after sleeping.
Other symptoms suggestive of depression may include:
• Evident and apparent weight loss.
• Loss of appetite.
• Feeling of confusion.
• The feeling of hopelessness, guilt, and helplessness.
• Awkward and unexplained body pain and body or joint aches.
• Feeling of being an unnecessary burden on others, worthlessness, not amounting to anything, and having no value or self-worth.
• Slurred speech and slow body movements.
• Negligence of personal care and hygiene. This may include not taking baths, not brushing the teeth, forgetting to wash your clothes and comb your hair.
• Difficulty remembering things, having other memory problems, and impaired attention and concentration.
An elderly adult may be considered as having depression if their symptoms have lasted for at least two weeks. Caregivers, family members, and friends need to encourage their loved one to visit the healthcare provider as the elderly adult may not speak up if they feel depressed.
Causes of Depression in Senior Citizens
Different health problems have been identified as significant causes of depression in the elderly - especially the more severe, debilitating and life-threatening ones. The significant causes of depression in the elderly may include:
Medical Illnesses: These may consist of medical illnesses with chronic and severe pain, cognitive impairment and, loss of memory. Other chronic medical Illnesses that could correlate with increased risk of senior citizen depression may include cancer, diabetes mellitus, stroke, dementia, Parkinson's disease, heart diseases, systemic lupus erythematosus, and other autoimmune diseases.
Medications: Case studies and research have proven that some drugs, either in single-use or in combination with other medicines, may elicit side effects or drug-drug interaction predisposing older adults to depression.
Examples of such medications may include drugs used for high cholesterol, sleeping pills, steroids, blood pressure medication, Beta-blockers, heart drugs containing reserpine, some ulcer medications, calcium-channel blockers, tranquilizers, painkillers, anticholinergic drugs, especially those used in treating gastrointestinal disorders, arthritis drugs, and estrogen replacement drugs to treat against osteoporosis as a complication of menopause.
It is, therefore, a better practice for the healthcare providers to adequately test the senior for depression before recommending medications.
History of Depressions: It is known that once something has happened before, the probability of its recurrence is very high. This also holds for depression, as the occurrence of depression in the early stages of life is a good predisposition of having depression in old age. Many seniors with grief in their later years may have a history of depression at a previous time in the past.
Reduced Feeling of Purpose: For an individual whose status in the community has been known to be linked to his or her place of work, retirement may prove to be quite tricky. This increased isolation from society, lack of a daily routine, and lifestyle change may later lead to a questioning of identity and societal role. As such, it may also be associated with elderly isolation and loneliness as the senior citizens may be increasingly isolated from others or experience reduced social circles due to the death or moving away from friends or acquaintances.
Fear and anxiety over death: As an older adult ages, the reality of death may start to dawn on him or her. This may be due to internal recognition of the fact of death or the passing away of very close family members or friends. Most senior citizens who fear death may usually have an increased risk of anxiety and grief about death.
Social Supports Helps Eliminate Depression in the Elderly Adults
These are various factors that increase the chances that an elderly adult may be diagnosed with depression. For example, if an older adult is exceptionally emotional, then they may have an increased susceptibility. Also, every older adult who undergoes stressful life events has an increased risk of depression.
Therefore, older adults need to be surrounded by robust social support systems. Quality social support is vital for preventing depression symptoms. Friends and loved ones can help an elderly adult maintain his or her purpose and motivation after a stressful life event.
Prevention of Depression in Elderly Adults
By getting involved in new activities, creating new friends and spending time with family members, an elder adult can prevent depression symptoms. It is also crucial for senior citizens to learn coping mechanisms and strategies to adapt to changes. An elderly adult may consider getting more involved in activities that they enjoy to elevate their mood. Regularly exercising, eating nutritious, balanced meals, and sleeping adequately can also decrease the predisposition to depression.
When you start having uncomfortable or troubled feelings, it is essential to open up to people and share your concerns and opinion. You may prefer to spend time alone, but this is not healthy or beneficial. It is vital to spend time with a loved one so that you socialize and feel more energized.
Also, with retirement, many senior citizens may question their identity, status, and purpose in life. However, senior citizens need to consider the legacy they want to leave behind, the impact he or she wants to make in this world, a skill they always wanted to learn, and to create an action plan about a bucket-list. You may consider baking, singing, dancing, playing a musical instrument, traveling, or learning other languages.
You are also strongly encouraged to exercise daily. Exercising can decrease your risk of depression and unnecessary medications. Getting your body moving and blood flowing will help you feel alive once again. Have you considered starting with simple stretches, brisk walking, swimming, or playing golf? You may even consider integrating stretching into your daily routine and activities, like watching the television or cooking. There are also physical exercises that elderly adults with disabilities can also do. The goal is for you to move that body and enjoy the feeling of liveliness it gives you.
How to Cope with Depression Diagnosis in Senior Adults
It can be challenging to understand how to cope with a depression diagnosis, but fortunately, there are various resources available to support you with your emotional pain. You may consider a non-pharmacological approach, such as counseling, psychotherapy, group therapy or cognitive behavioral therapy.
Pharmacological approaches may involve the use of medications. As needed, there is also electroconvulsive therapy, or other means of stimulating the brain via physical treatment methods. These therapies depend on the severity of the symptom and the presence of other medical illnesses. Sometimes, a combination of these therapies may be necessary. Treatment options are usually individualized depending on the cause, risk factor and severity of the depression in a particular elderly adult.
When to Consider Assisted Living Facilities for Elderly Depression Care
Caring for a depressed elderly adult may cause caregiver burnout and fatigue. Have you considered how the caregivers of assisted living facilities can compassionately provide the depression care your aged parent may deserve and require? There is no reason to feel guilty as you are making decisions that are best for your elderly loved one. You may consider transferring your loved one to an assisted living facility when you start noticing symptoms of depression. Moving your elderly loved one can benefit him or her and your family in the following ways:
Reduce Loneliness and Promote Social Interaction: Living in an assisted living facility near you will help your elderly loved ones interact with other senior citizens that reside there. Thus, the transition will help to eliminate loneliness, which is a risk factor for depression. By socially interacting more with caregivers, and other generational cohort members, your elderly loved one will feel as though they are an essential part of the senior living community.
Increase Self-Worth: Reduced self-worth and self-esteem is one of the symptoms of depression among elderly adults. The senior residents who reside in assisted living facilities are encouraged to maintain their sense of dignity, self-worth, life purpose, and motivation. They are greeted and treated with positive affirmations, and as a result, are encouraged and supported to improve their self-esteem.
Identifying the Best Senior Care Option for Your Elderly Loved One with Depression
When touring assisted living facilities, it is crucial to consider the services that the facility would provide. It is essential to ensure that the caregivers will create a unique care plan for each elderly adult. It is also vital to assess whether the assisted living facility caregivers are experienced with caring for elderly adults with depression and how the caregivers have helped these older adults recover. Quality senior care provided at assisted living facilities should be individualized. There are various factors you should consider to help you ensure the best quality for your elderly loved one:
You Can Consult the Elderly Ones About Affairs That Seem Difficult: If your elderly loved one refuses to consider transitioning into an assisted living facility, then it is crucial to understand the reason for their hesitancy. By acknowledging their thoughts, feelings, attitudes, and perceptions, you can together create an action plan to identify assisted living facilities that would address their needs and preferences.
You can discuss with your elderly loved one about his or her depression and other healthcare conditions, why you feel the best option for them is the assisted living facility care, and aspects they may look forward to. Then together, you can ensure you identify the best senior care and the living option for your elderly loved one. This promotes bonding, makes the senior feel valued, and loved. You should also help them accompany you on your tours so that they may select the assisted living facility where they would feel most comfortable aging in place.
Educate Yourself About Depression: It is also crucial that you educate yourself about the depression signs, symptoms, causes, and prevention methods. You should bring your concerns and questions to your elder adult's healthcare provider, who can then educate and consult you. As they say, education is power, and the more you know about depression or another healthcare condition, the better equipped and prepared you will be to handle such situations effectively and better perform your caregiver responsibilities.
It is also vital to ensure that your elderly loved one is not subjected to unintended elderly neglect or abuse of any kind. You may not realize that you are losing your temper and failing to provide them primary care or needs. As a result, you may subject your elderly loved one to additional distress, relapse, or worsening of their depression symptoms. It is also crucial for you to consider these factors when you tour assisted living facilities to ensure that the caregivers are qualified and can be entrusted and would not subject your older parent to ill-treatment.
How to Find the Best Assisted Living Facility for an Elderly Adult with Depression
Seeking expert depression care from the best assisted living facility for an elderly adult requires deliberate and intentional efforts and actions. It is essential to ensure that you have an excellent knowledge about the following factors so that you may identify the best assisted living facility that is qualified to care for your elderly loved one as he or she ages in place:
Awareness about the senior care services your depressed elderly loved one needs
Services the assisted living facility offers for elderly adults with depression
Proximity of the family to the assisted living facility for frequent visits
Leadership ability of the administrators of the assisted living facility
The qualifications, experience, and personalities of the caregivers
It is essential to search for these factors to ensure that you help your elderly loved one who has been diagnosed with clinical depression transition into the assisted living facility that is best for their needs and lifestyle preferences. It is crucial to ensure that the senior caregiver team is aware of the symptoms of depression and other healthcare conditions to enable early identification.
The following are what to look out for in the assisted living facility caregivers when selecting the best assisted living facility for an elderly adult with depression:
• The senior caregivers' capability to maintain or promote a better quality of life.
• How knowledgeable the caregivers are about depression, its signs and symptoms, risk factors, and strategies for prevention of depression.
• The senior caregivers' ability to know when to present the senior for proper medical care and provision of transportation to healthcare appointments.
• The senior caregivers' ability to identify with expertise what type of management option is best for an elderly adult with depression.
• How the senior caregivers provide support, care and spend quality time with the seniors
An assisted living facility may help reduce the occurrence and risk of recurrence of depression in an elderly adult if appropriate measures are taken. Dietary monitoring, garden walks, and regular exercise, energizing residential, recreational activities, and socialization interactions to bond with other seniors in the assisted living facility may promote optimum senior health and add more quality life to your elderly loved one.