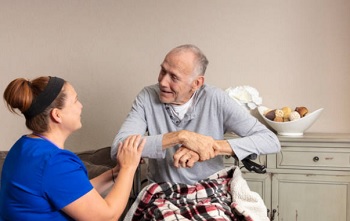 When one of our loved ones gets diagnosed with an uncurable terminal illness, we tend to feel the impact in all life aspects. The diagnosis not only affects you as the caregiver, but it also affects everyone who has a close connection with the elderly adult. It may feel like all the attempts to seek a curative treatment were in vain, as the outcome is different from what was hoped for. However, it is important to remember that everyone involved did the best they could, but sometimes there are alternative plans that are above our control. Sometimes, rather than trying to request a loved one to continue suffering for a while longer as the doctors strive to find a cure, it may be best to allow the elderly adult to enjoy the final days of their life. To ensure maximum life comfort, you and your loved one may collectively decide that it is best to allow the elderly loved one to focus on pain relief in hospice care. When viewed from the aged adult's perspective, we may realize that hospice care may be what is best. We may not wish to let go and say goodbye, but we do want our elderly love ones to feel at peace and comfort during their final moments.
What is Hospice Care?
Hospice care refers to an interdisciplinary approach to specialized nursing and medical care for seniors with an uncurable terminal illnesses, such as terminal cancer. Hospice care is the care provided when a curative treatment is considered as no longer possible. This approach aims to provide relief from pain symptoms and both physical and mental distress. The main aim of hospice care is to improve the quality of life for both the elderly adult and his or her family and close friends. The hospice care teams work closely with the elderly adult and the family to clarify the main goals of care and to help with holistic biopsychosocial and spiritual support and symptom management.
The Difference Between Palliative and Hospice Care
We sometimes become confused when trying to consider the differences between the two interdisciplinary approaches. Although palliative and hospice care may similar in various, the intent of the care provided is different. Both palliative and hospice care similarly offer social, emotional, and spiritual care to elderly adults. Contrastingly, palliative care does involve the intent to cure. When doctors feel that a cure may no longer be as effective, possible, or may significantly limit the quality of life of the elderly adult, they may ask the elderly adult and his or her family to consider hospice care instead. It is therefore important for the family of an elderly patient with a life-limiting condition to understand these differences so they may together make informed decisions about the the most suitable senior healthcare option for the elderly adult.
Ultimately, while elderly patients at palliative care may have chances to regain their health, hospice care focuses on elderly patients who are considered as having entering the final six months of life. The hospice care team strives to help the elderly adult feel as comfortable as possible by managing their illnesses symptoms alongside attending to the elderly patient's spiritual and emotional issues. Essentially, hospice caregivers offer physical, mental, and spiritual support to terminally ill patients, so that they can live comfortably at the end of their lives.
Both palliative care and hospice care may be provided at the elderly adult's home, assisted living homes, nursing home, or hospital. There may also be a hospice facility near you that specializes in providing hospice care for your elderly adult. Therefore, you can continue to age in place and receive hospice care as well, or you may consider relocating to a hospice facility to be surrounded by other elderly adults who share similar experiences as you. Sometimes, it may be challenging for us to be surrounded by others who do not quite understand what it is like to know that you are expected to pass away within six months. Sometimes, it can be challenging for an elderly senior citizen to watch others continue with their lives, while knowing their final moments are here. Consider whether relocating to a hospice facility is what is best for your elderly loved one.
Healthcare Conditions That Are Eligible for Hospice Care
Any disease may progress beyond a curable level. Most patients with serious illnesses may have single or multiple illnesses. Some of the illnesses which can eventually become terminal and result in hospice care include lung illnesses, advanced cancers, heart diseases, lung conditions, liver diseases, renal diseases, Alzheimer's disease, Dementia, Parkinson's disease, Huntington's disease, stroke or coma, Lou Gehrig's disease, or Amyotrophic Lateral Sclerosis. An elderly adult with one of these or another healthcare condition may become eligible for hospice if specific criteria about the condition of their illness are met. Consider asking your healthcare professionals, insurance provider, and hospice caregivers about the healthcare conditions that they consider as being eligible for hospice care.
Using Hospice Care for Caring for Our Loved Ones Who Are Terminally Ill
Sometimes, we may find it better to relieve our elderly loved ones from pains and managing disease symptoms peacefully, rather than struggling as we pray that their doctors soon cure them. Humanity is all about decency, maintaining and improving the quality of our loved ones' lives. This is the main focus of hospice care. Hospice care ensures that our terminally ill loved ones feel supported, cared for, and provided with the proper quality of life. The main goal of hospice care is to assist the elderly patient to be as active as possible by managing their pain and suppressing any symptoms, as much as possible. Although this is an emotional time, it is also important to help your elderly adult enjoy their final precious moments and for you and your loved one to be able to enjoy quality time with your elderly adult. If there are any bucket-list items that are possible for your elderly adult to check off, then see how it would be possible to help them do so. Consider any final words or conversations you may wish to have with your elderly adult. Help your aged parent plan financially and legally, and consider their advanced directives, wills, and durable power of attorney. As a result, when the time comes, their wishes may be considered and granted.
How to Prepare for Hospice Care
When a hospice care volunteer asked a terminally ill patient what she would like to have for her 75th birthday, she was amazed when the elderly patient said that all she wanted was life. The aged adult was wheelchair-bound, lived under hospice care, and was in the last stage of breast cancer. From such a senior citizen's response, we remember to not take our life for granted. As our elderly adult's caregivers, it is our responsibility to support them in facilitating a smooth transition.
As deciding the location for your elderly adult to receive hospice care can be one mixed with great emotions, it is important to consider the aspects of the hospice care that matter the most to you. The following are a few recommendations about how seniors can prepare better for their end-of-life care.
Before talking your dear aged parents to the location where they may reside for their final days during their end-of-life period, it is important that you educate yourself about their needs. Consider the aspects that matter the most to them during their limited time. How would they prefer to spend their final moments? Would they prefer to spend their final moments living with family or surrounded by others who share similar experiences? What type of environment matters the most to them? Are they searching for a hospice care facility that will feel like home? What type of values should the hospice caregivers embody? Thoroughly research and compare the different hospice care options near you to find the option that is best for you. Ensure that you are well informed and do not solely rely on the recommendations of a few.
Paying for Hospice Care
Consider the benefits that Medicare, LTC insurance, Veterans Affairs, and other options may provide.
Last year, the average hospice care expenses covered by Medicare were as follows:
Continuous Home Care: $976
Routine Home Care: $193 (Days 1-60)
Routine Home Care: $151(Days 61+)
General In-patient Care: $744
In-Patient Respite Care: $173
Also, consider your financial budget so that you may consider a hospice facility with prices that most align with your budget. To start the hospice care search process, schedule tours and interviews with the hospice caregivers so that your elderly adult may select the hospice care option where they would feel most comfortable. Ask the hospice caregivers about their rates and the hospice care services they provide. Ask the hospice caregivers about their admission process and the process for after the elderly adult passes away. Discuss with the hospice caregivers about your expectations, goals, and the elderly adult's symptoms. Such information will help you ensure you select the facility that would best match your needs, both financial and others. Your elderly adult would live as comfortably as possible with care that is provided according to an individualized care plan that integrates their biopsychosocial and spiritual needs.
Common Myths of Hospice Care
As we discuss more about the afterlife and passing away, the fear that we may have once had about death transforms into a normal part of life and aging. We enter this world, and we must also leave. Hospice care facilities have considerably grown and improved over the years, and they currently constitute their own segment of the health care system. Before the coming of hospice, people, especially senior citizens, often died alone in hospitals. However, there are still many myths and misconceptions about hospice care. It is important to understand the myths and facts about hospice care so that you are well educated to help make the proper decisions for your elderly adult.
To begin with, hospice care is not a place, but rather, an abstract philosophy about death and dying. However, hospice care is not restricted to hospice facilities. Elderly adults may receive hospice care at their own convenience, regardless of whether the place they are receiving it at is a licensed senior care facility or their own home. Elderly adults may receive hospice care at an assisted living facility, nursing home, or hospital. An eligibility of most hospice care units is a life expectancy of six months or less. However, there are miracle cases where elderly adults are able to live for longer than six months.
Also, most people may fear hospice and question whether the costs are worth the benefits as they know that cure is no longer emphasized, which could mean hastened death. Even though hospice care focuses on pain relief rather than curative treatment, the decision to discontinue medications and hospice treatment is an option that the elderly adult and his or her family could discuss with the hospice caregivers and doctors.
Varying Levels of Hospice Care
There are 4 levels of hospice care. Each elderly patient has unique hospice care needs. One elderly adult may go through all of the four levels of hospice care within one week, while another may go through the four levels throughout the six months spent under the care of the hospice caregivers. The different levels correspond to varying needs of the elderly adult and his or her caregivers.
Level 1: Routine Home Care
Routine home care is the basic level of care offered under the hospice care benefit. For the patients living in nursing homes, the level is known as a routine nursing home. Routine home care is delivered by a team of healthcare professionals, including nurses, physicians, social services, home health aides, psychologists, pastors, and dietary experts. The routine home care provided includes mediations, therapy and counseling services, laboratory and diagnostics, and provision of medical equipment and supplies.
Level 2: Continuous Home Care
Patients with continuous home care have a companion caregiver or a nurse throughout that is available 24-hours a day to support with symptom management, such as pain management, nausea or vomiting, anxiety or panic attacks, shortness of breath, or coordination of support with the primary caregiver.
Level 3: General Inpatient Care
General inpatient care is the level of hospice care for patients with severe short-term symptoms that would not be adequately treated outside of the inpatient care facility of a convalescent home, hospice, or a free-standing hospice healthcare facility. Nurses are available 24-7 to support with medication management, and support for emotional distress.
Level 4: Respite Care
Respite care is a hospice care service that reflects a more family-oriented than patient-oriented model, and includes a five-day limit. If the patient does not qualify for inpatient or continuous care, but their loved ones are experiencing a difficult time, they may consider respite care as an option. Respite care services are provided if the elderly adult's family needs some time away from their caregiver responsibilities so that they do not experience caregiver burnout and/or fatigue.
Hospice Care's Role In Assisted Living Facilities for the Elderly
If your loved one gets diagnosed with a serious terminal illness, hospice care comes in to ease their life and your life if you are their caregivers. While the elderly adult may be receiving support with medication management and daily activities at his or her preferred assisted living facility, hospice care can also easily be coordinated and provided.
While senior living facilities aim to ensure a comfortable life for the sick elderly residents, hospice care focuses on relieving pain and other challenging symptoms to meet the emotional, spiritual, and practical needs of the elderly. In simpler terms, the cooperation between the assisted living facilities and the hospice care teams aim to allow the elderly to age in place and improve the quality of the senior citizens' life.
It is also important to consider the additional costs that you may incur for the hospice care services to be provided at the assisted living facility. To be certain about the expenses and the services provided, it is important to consult a member of the hospice care team.
Hospice Care: Bottom Line
When an elderly patient faces a life-limiting condition, caregivers may find themselves suffering from information overload in the midst of needing to make a variety of complicated and emotionally tolling decisions. This comes from needing to decide the right hospice care option for their elderly loved one to discuss about the elderly adult's preferences for funeral arrangements and memorial services. There are a myriad of options facing the caregivers and the elderly adult. The family members and friends may come with limitless suggestions, but you are the one who will finally settle on the hospice care that will best suit your loved one's needs. Similar to your search for palliative care, you also need to consider whether your aged parent's doctor will continue to provide guidance about their care management, if the facility has sufficient resources, if the caregivers are trained about hospice care and truly care about forming a relationship with each elderly adult so as to provide individualized care, whether biopsychosocial and spiritual care is provided to support your elderly love one's needs, the reviews and satisfaction scores about the hospice caregivers, and the hospice care team's procedures for a smooth admission and onboarding to a smooth ending of services when the elderly loved one's time comes to an end.
The fact remains that hospice care is meant for elderly patients who have been diagnosed with a terminal illness and are considered as having six months or less to live. Allow your elderly loved to end their final moments peacefully by considering the hospice care option that would be the best match for them. Consider any activities you or your elderly loved one would enjoy engaging in together and any final words or conversations that you wish to share, before it is too late. Remind them about how much you love them and miss them, but that you will stay strong, carry on, and cannot wait to see them again. Do not allow these precious moments to pass by. Do not allow yourself or your loved ones to have regrets later. Do not allow your elderly loved one to feel as though there were certain aspects of his or her life which they could have enjoyed but ran out of time to do so. If your elderly love one would like to learn a new language or hobby, then now is the time to. If your aged parent always wanted to travel somewhere, then see if it is feasible to create those travel arrangements accordingly. It may be a high time for a family reunion and a trip so that all relatives and close friends can enjoy the precious time with your loved one together. Also, discuss with your elderly adult about their preferences for how they would like to pass away, where and how they would prefer for their funeral arrangements and memorial service, how they would prefer for their legacy to carry on, the allocation of their estate, and any final wishes they may have. Even if you disagree with your elderly loved one, it is important that you truly consider and respect their preferences, wishes, needs, and desires.