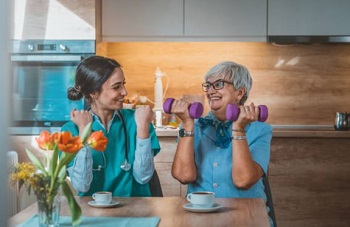 Most caregivers would admit that caring for the seniors, especially the sick ones is one of the most difficult tasks one can ever wish to do. The case may even be harder if the elderly in question is your own parent who cared for you for decades. Now that the tables have turned, taking care of our senior citizens demands a lot, both physically, emotionally, spiritually, and financially.
When we opt to take our elderly loved ones to convalescent homes to recover after a surgery or long-time illness, we first measure the weight of the practical challenges that come with caring for the elderly and compose a plan for how to overcome the obstacles. So, although some elder care fees may accrue from the convalescent homes, the needed medical care is well guaranteed to help our elderly adults recover and rehabilitate from their surgeries or serious medical illnesses.
What Are Convalescent Homes?
A convalescent home is typically a place for short-term stay for patients or elderly who require rehabilitation or skilled nursing care. Convalescent homes often provide skilled nursing care for elderly rehabilitating from a stroke, amputation, brain injury, spinal cord injury, congenital deformation, neurological conditions, Parkinson's disease, Multiple sclerosis, burns, aggressive arthritis, or knee or hip replacement. Convalescent homes generally provide short-term care for elderly adults who are currently receiving medical therapy or rehabilitation services, or are transitioning from a hospital stay back home to their own home, a senior care facility, or another place where they prefer to age in place.
The set up of some of the convalescent homes resembles that of the hospitals. The residents are provided with occupational, physical, and speech therapies, alongside medical care services. Each home has a nursing station. However, some convalescent homes try to create more of a homey atmosphere to help the elderly rehabilitation become more comfortable and with a greater morale. There are some convalescent homes that include an open kitchen and garden for residents to move around. The staff of convalescent homes are highly skilled and trained about how to provide the proper senior care, coordinate with the rehabilitation staff, and develop great supportive relationships with the senior residents.
Patients in convalescent homes also receive support with activities of daily living. Skilled nurses may receive support with maintaining personal hygiene, bathing, dressing, and eating. These nurses also help the elderly adults with ensuring they take their medications on time, as directed.
Staffing in Convalescent Homes for The Elderly
All of the convalescent homes' employees have to be properly licensed and certified. In most cases, convalescent homes are required to have a sufficient array of adequately skilled staff who are available 24-7 and are able to support the recovering elderly adults with their rehabilitation and activities of daily living. Convalescent homes may employ physicians, licensed practical nurses, registered nurses, certified nursing assistants, physical therapists, occupational therapists, speech therapists, and psychologists. The role of these nurses and healthcare professionals is to attend to the elderly patients' health care needs to support them during this period of rehabilitation or preparation to transition back home to continue aging in place.
Patients' Transfers and Discharges from Convalescent Homes
Senior patients often enter convalescent homes after a hospital stay. As stays at convalescent homes are short-stay, convalescent homes often bill patients for each day and for the services provided, similar to the payment method of hospitals. As a result, Medicare may cover the costs of the initial twenty days in a convalescent home, and 80% of the costs for the patient's initial one-hundred days. However, Medicare only covers medical and rehabilitation costs, and does not cover custodial care with activities of daily living. The elderly adults are then discharged back home or into another senior care facility, such as an assisted living facility after they no longer require medical care and have been rehabilitated. It is recommended to minimize the amount of transferring and relocating of the elderly, in order to minimize trauma, disorientation, isolation and stress. The elderly may have become accustomed to the care provided by a specific caregiver and living in a specific atmosphere. An elderly adult with dementia may become disoriented and confused about where they are. They may become afraid if their friends and family are not in sight, and if they have a memory lapse and feel as though they have been abandoned to be left alone with strangers. It is important to ask convalescent homes about their discharge procedures in order to help your elderly adult have a smooth care transition and exchange of information so that the facility your elderly loved one lives in following their discharge or upon their transition is fully informed about their latest care status and medical needs.
Considerations for Convalescent Homes Activities
It is also important to search for a convalescent home to help the patients socialize, not feel alone, and to enjoy their stay together as enjoyment helps promote rehabilitation. Consider whether the convalescent home you are considering provides the following types of recreational activities to support the elderly rehabilitation:
Birthday Parties and Celebrations
Convalescent homes have multiple opportunities for activities, such as opportunities to celebrate birthdays, anniversaries, or holidays together. For instance, the patients may take part in room decorations, praying together, and celebrating the festive occasion. The senior caregiver would support the elderly adults with the planning, hosting, and enjoyment of these activities.
Storytime
Storytelling involves many aspects, and the convalescent home may host storytelling opportunities. This would help the elderly seniors bond, learn from each other, and be motivated to continue staying strong during their own journeys to rehabilitation.
Food Centered Activities
Convalescent homes may offer opportunities for patients to enjoy eating together, or for the caregivers to accompany the patients in their rooms while they are eating. This would promote socialization, and prevent older adults from feeling lonely. The convalescent home may also host opportunities for the elderly to create gingerbread houses or to bake cookies, as this helps with physical therapy and bonding. In addition, making fresh garden salads, popcorn, and coloring Easter eggs can all offer chances for the senior citizens to socialize and interact.
Physical Activities
Walks and other physical activities are specially designed to promote both mental and physical health of residents in a convalescent home. The physical trainers would create care plans to help the elderly strengthen and condition their bodies.
When to Consider a Convalescent Home for Elderly Adults
After our elderly loved one has been discharged from the hospital, we may not prefer for them to continue to live away from us, similar to a new mom and dad who do not wish for their newborn to spend time in the neonatal intensive care unit. However, sometimes the rehabilitation and time in the convalescent homes is needed to help the elderly regain their strength and health.
The decision to help our elderly loved one transition into a long-term care facility after their stay at a convalescent home may never be warmly welcomed by most of us. In fact, most adult children will vow to continue to care for their elderly loved one so the senior citizens may enjoy aging in place at home. In most cases, these vows and promises are sincere; but the elderly adults may end up finding themselves seeking skilled nursing home care after a surgery, medical illness, or hospital stay. Some elderly adults return back home to live with their families after a convalescent home, but some families may feel it is best if the senior transitions into an assisted living facility or another senior care facility where there are trained expert senior caregivers to attend to the elderly adult's daily needs. Thus, our words may sometimes fail us, as they are mostly based on unforeseen circumstances. Life with a senior citizen will ever remain fluid and dynamic. It is thus helpful to consider promises with words such as 'always' or 'never' as unrealistic. The future comes with new things that none of us will ever predict. Sometimes, forgoing our older wishes and promises may just be the best senior care option.
However, even if we may try to offer the needed love, some of the needs required by the seniors are far too much beyond our ability to provide the best care. At times, the senior may be irritable, thus making your work even tougher. Also, as a caregiver, you may fail to have enough sleep or rest. This will, in turn, make you depressed, angry, resentful and even anxious. It's therefore important to discuss any challenging situation with caregivers, friends, or support groups. Besides offering you a listening ear, your helpers may provide you with practical answers to the elderly adult's specific condition. You will also get equipped with new ways to cope with your limitations and weaknesses.
Top Factors to Consider When Choosing A Convalescent Home for a Senior Citizen
If you have to choose a convalescent home for your loved one, the following are some of the crucial factors you need to consider. Do not make a choice that will leave you being tormented by guilt.
1. Type of Care
Ensure that the convalescent home is nationally recognized as providing exceptional care for our elderly loved one's health condition. The care provided in convalescent homes is generally split into three groups: daycare, inpatient care, and then post-care as the elderly is discharged or transitions into their long-term care facility for skilled nursing care. For example, if a patient is bed-ridden, mentally incapacitated or wheel-chair bound, then a convalescent home becomes the most appropriate option to help him or her rehabilitate. As the rehabilitation can be emotionally exhausting, some convalescent homes have psychologists on staff who will provide the necessary things to help the elderly adult maintain a healthy and powerful mind. With healthy thoughts, the elderly senior citizen would be able to rehabilitate sooner than if they were depressed. The mind and body work together in a powerful way, so if the mind is not healthy and powerful then the body may as well not heal quicker.
2. Costs of Convalescent Homes
Depending on the reason for the rehabilitation and the length of the types of services provided, Medicare, Medicaid, private insurance, employer insurance, and the Veterans Affairs may support with the cost burden of convalescent homes. It is important to discuss with the convalescent home's care team about if they feel the elderly adult will continue to need long term nursing care or would be able to transition into a home that does not provide such intensive medical care.
Nursing homes tend to focus more on medical care services than assisted living facilities, and provide daily non-medical care services as well. On average (median values), a semi-private nursing home room costs $7,513 monthly and $8,517 for a private nursing home room monthly. It is important to have a sound financial plan, as annually these costs could equate to $90,155 for a semi-private room and $102,200 for a private room. The average stay in a nursing home may be about 835 days, but seniors requiring short-term rehabilitation services, on average, live in a nursing home for about 270 days. Due to the expensive costs, an elderly adult may be eligible for Medicaid, which also supports with nursing home custodial care with activities of daily living. Medicare, long-term care insurance, and the Veterans Affairs may also support with cost sharing of nursing home costs.
3. Proximity to Other Senior Care Facilities
It may also be important to select a convalescent home located within close proximity to the elderly adult's family and friends so that they may visit often to provide motivation and love to the elderly. You may also consider whether the convalescent home is located close to a hospital, in the case elderly adult's health deteriorates and requires immediate emergency medical care. If your elderly loved one needs to transition into a convalescent home, like a nursing home, after their hospital stay, then ensure that the convalescent home would be close by to the hospital for an easier transition. In case your elderly adult is able to be discharged into an assisted living facility then you may consider the convalescent home's proximity to their assisted living facility to enable a smooth transition back home. Consider, whether there are partnerships with the hospital and convalescent home, or convalescent home and the physician's doctors and the location they prefer to continue aging in place. This partnership would enable a smooth transition of information so your elderly adult may continue to receive optimal senior care so they may enjoy a quality life as they transition between the facilities.
4. The Convalescent Home's Philosophy About the Elderly
Some convalescent home models purely focus on medical aspects more than the quality of life aspects. These are some of the small nuances of the differences among convalescent homes.
For instance, there are those homes that include exercise programs and recreational activities, such as karaoke, board games, bingo, and movie sessions. These activities play significant roles in allowing the elderly adult to become distracted, take time away from the stresses of their healthcare condition, and interact with their fellow other convalescent home patients. It is also important to ensure that the convalescent home's senior caregivers genuinely care about each patient, foster professional companion relationships with patients, and create care plans that are individualized to each patient's holistic biopsychosocial needs.
Even if these convalescent homes cost more than convalescent homes that only provide the basic rehabilitation services, your elderly adult may recover sooner in such homes as their holistic biopsychosocial needs are better cared for. You would also feel more comfortable trusting these caregivers with the care of your elderly adult. When choosing a convalescent home for your elderly loved one, consider these factors and other factors that are important to you and your loved one, as they are the ones that will significantly improve the senior citizen's quality of life. Do not let your elderly loved one spend the days of their later stages of life rehabilitating coldly among unfriendly strangers.