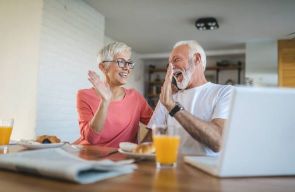 Aging is usually a gradual process, but one morning we may wake up and become diagnosed with a condition that will forever change our course of life. Some of the weaker and frailer senior citizens we see today were once active and energetic.
Unlike the age of eighteen which characterizes us as adults, there is no universal age for which we officially are considered as elderly adults. Also, there is no specific age during which all seniors lose all sense of their independence and cannot function without the support of others. As we age, our immune systems become weaker and we have increased risks of developing health problems; more as a result of old age rather than normal aging. This partially explains the declined functionality of some our seniors who may experience limited mobility.
As we hear on the news, there are some elderly adults who may be in the 90s and can perform all daily functions independently. Then there are some elderly adults in their 60s who require great support and senior care in order to continue with their daily lives.
We all wish to see our seniors living in comfort and enjoy a quality life during all stages of their life. However, there may come a time when we may be unable to care for ourselves and may greatly appreciate the support of our caregivers and companion care services to enable us to age in place.
Such services may prove essential for our loved ones who are used to regular falls or suffer from dementia. We must understand that there may come a time when continuing to provide senior care services ourselves may become a mountainous task, and we may greatly benefit from the expertise of experienced senior caregivers to help provide the best care to our elderly parents.
Our elderly parents need to live in a place where the most appropriate care is well catered for.
As most of the caregivers will admit, the senior citizens may tend to experience various chronic conditions and other health-related issues, especially during the winter season. Hundreds of senior citizens have found themselves being regarded as burdens in such winter seasons. For instance, the slippery conditions result in increased fall risk in seniors, and those who fall regularly may suffer serious injuries, such as broken hips, arms, wrists, and head injuries. These are some of the reasons that make it crucial for families and caretakers to seek in-home care services or it may be a time when they realize it time to help their elderly loved ones transition into assisted living facilities. These expert senior caregivers will enable the elderly to age in place, receive support with their activities of daily living and instrumental activities of daily living, maintain consuming proper nutritious meals, and physically exercise often to ensure balance and stability.
Aging in Place: Overview
Most elderly adults may not need the services of geriatricians and skilled senior care experts for daily living tasks until they become 75, 85, or even 95 years of age. Senior citizens will often wonder if their old age experiences are normal or abnormal. It is important to remember that the same way people grow up differently, people also age differently. However, some of these aging changes are due to internal processes. Although such changes are undesired, they are typical as they result from pure aging procedures. These aging changes are universal and are therefore unavoidable. For instance, elderly adults may have thickened eye lenses, stiff muscles, and eventually be unable to see close objects.
The truth is, if all of us were asked, then we may say that we never wish to become old age, perhaps because we do not want to become a burden to others and we fear the next life that lies ahead. Some changes that come with old age bring along old age disorders, such as memory and cognitive changes like Alzheimer's disease. There may also be physical changes as seniors may lose teeth and require dentures. When we age in place, there are certain actions that we can commit to prevent these old age signs and symptoms. For example, we could regularly visit the dentists, eat less sugary foods, drink less soda, floss, and brush regularly to help reduce the chances of tooth decay and losing teeth.
As we age in place, it is also important that we remain alert to concerning changes which may be due to a health condition. The distinction here seems arbitrary, and that is why it is important to visit a doctor whenever a change is noticed, as healthcare conditions can rapidly progress if not prevented and treated early. For instance, aging comes with increased blood sugar levels due to increased intake of carbohydrates. This is a normal condition in aging. However, the rising blood sugar level above a certain degree constitutes diabetes. This is now not considered normal aging but a chronic condition that must be treated.
Also, as we may consider memory loss and cognitive changes to be due to old age, these may actually stem from dementia which may progress into Alzheimer's disease. Elderly adults may experience a decreased attention span, increased forgetfulness, and increased difficulty with learning and remembering. Elderly adults with dementia may not recall the year or where they are. Elderly adults with dementia may also find it challenging to remember to perform and how to perform normal activities, such as cooking, handling finances, or driving.
In order to adjust to these challenges, it is important the elderly identify the location they would prefer to age in place. That will be the place where they would prefer to continue to live, for so long as possible. Some elderly adults may prefer to move into an assisted living facility so they may be surrounded by other members of their generational cohort. Other elderly adults may prefer to age in place at home. Assisted living facilities and home care agencies can support senior citizens with aging in place by providing the companion care services necessary to provide socialization and support with daily living. Although aging brings along new life puzzles, we do not need to move out of the comfort of our own home if that is where we prefer to age in place. However, in case in the future our needs are modified, we could at least consider short-listing a few assisted living options near us as they may also partner with in-home care services, and this could enable a smooth care transition if the need shall arise to relocate into an assisted living facility.
Aging in Place and How to Ensure Healthy (Successful) Aging
It is possible to take actions to prevent or reduce the undesirable effects that come with old age. By maintaining good mental and physical health, the seniors can definitely avoid old age disorders and remain independent and active as well. For most of our senior citizens, the maintenance of general proper health requires more effort, but as their caregiver, it is important we support them with regularly exercising, following healthy nutritious diets, and staying mentally active by continuously learning. The sooner our elderly parents abide to a healthy lifestyle, the better their aging will become. It is, however, not too late to start living healthier to help you age in place. A healthier lifestyle can greatly help our seniors have greater control over what happens to them during their later life years.
Most people, both seniors and caregivers, consider aging in place at home to be the result of a magic formula. However, you can continue to age in place in the comfort of your own home, even if you require support with daily living, by partnering with a qualified home care agency. You may enjoy aging in place even more at a residential care facility, where there are residential recreational activities and the opportunity to create memories with elderly just like you. Aging in place helps elderly enjoy stability, a quality life, flexibility, independence, and feel as though they may have more control.
Facilitating Aging in Place
Aging in place for our elderly is a decision that needs some planning. To get you started, the term aging in place means having the capacity to reside in the senior care home of choice for as long as you are able to. As there are a variety of options available for you to age in place, we have listed the following factors for you to consider to enable you to facilitate aging in place.
Finding the Right Home for Elderly to Age in Place
Finding the most appropriate home for elderly adults to age in place can be challenging due to the numerous options. Would you prefer to age in place at home, at an adult family home, assisted living facility, or a retirement community nearby? It is important to consider that we age, we may require additional support. It is important to determine whether the homes we seek to age in place have the best features, amenities, and accommodations? Are the homes elderly-friendly and have important safety features for our security?
Proper remodeling and introduction of usability changes in their homes allow home builders to craft homes based on what would be best suited for elderly needs.
Assistive technology
A home with assistive technology can actually offer real benefits to the elderly aging in place. This assistive technology will further assist the caregivers to create a safer, more comfortable, and enjoyable lifestyle for the seniors. These assistive devices range from low-tech to highly advanced technology. All these devices ought to be chosen based on ease of usage and functionality.
Aging in place community
There are multiple options available when creating an aging in place plan. The senior living community where the senior lives is one of these choices. The available resources and features will greatly impact the quality of their elderly life. Getting to know their neighbors and the community's accommodations will allow the elderly to age in place comfortability, and will help ease the planning to alleviate stress.
Financial and Legal Preparations
Making proper legal and financial preparations can either help in creating or breaking the plan of aging in place. The decisions made for an elderly home, senior care, and accommodations provided for daily living are greatly influenced by the financial and legal planning.
Senior Health Care
It is important to consider whether the senior citizen would be able to maintain good health, and easily access senior health care services. Having easy access to adequate health care services in the senior's community can greatly help prevent many obstacles and health challenges for the elderly. For example, consider whether there are services that would escort the elderly to doctor visits, x-rays, lab works, and other routing healthcare appointments. Also, consider whether healthcare professionals would consider visiting your elderly adult in the comfort of their own home where they are aging in place. By ensuring that your elderly adult continues to maintain a proper lifestyle, they will be able to enjoy a brighter life outlook.
Proper Planning
Aging in place planning is one of the best things one you can do to ensure a quality lifestyle and proper senior care as you or your loved ones continue to age. If an elderly does not have an aging in place plan to cover their wants and wishes, recommend they create preparations the best they can, so that their preferences may be considered.
Aging in Place in Assisted Living Facilities
Studies have suggested that assisted living has become an increasingly essential component of aging in place for elderly adults. Due to their homelike qualities and the expert senior caregivers, assisted living facilities have been widely embraced by both the traditional private-pay consumers and the federal and state administrative agencies seeking more non-institutional and economical techniques to care for senior citizens.
Most conjunctive definitions of aging in place in assisted living have emphasized a residential environment, provision of 24-hour senior care services, and a high degree of senior citizens' choices and control. Some studies have suggested that the availability of these quality senior care services is the one thing that distinguishes the services offered in assisted living facilities from those offered in individual homes. In order to help you identify the assisted living facility where you would prefer to age in place, consider the accommodations, facilities, size of the room or senior living apartment, senior care services, the costs if your healthcare condition and whether it requires additional support in the future, privacy level, and degree of autonomy and flexibility.
Assisted Living Facility's Philosophy
Furthermore, the seniors' control of their environment occupies the central notion of the assisted living philosophy. This includes the services received and the time and manner of the senior care delivery service. In some nursing homes and skilled-nursing facilities elderly adults are cared for based on an institutional schedule. Rather, most assisted living facilities are viewed as a more elderly-focused model, and the services are individualized as catering to the varying preferences and individuality of each senior resident. Aging in place seems to be an integral component of this assisted living philosophy, with bright promises to the national assisted living industry. Aging in place in senior living facilities allows for senior care services to be provided in a way that best meets the senior citizens' changing and individualized needs. Also, assisted living facilities strive to help the elderly adults with medication management, chronic condition management, and maintenance of healthy lifestyle habits, in order to prevent the need for more skilled nursing care. Also, among the practices that facilitate elderly aging in place is the "negotiated" or "managed" risk. The practice allows for the negotiation of a written agreement with senior citizens who prefer to receive care services in a nonstandard way, provided that the care offered does not risk the safety and health of others. As a result, elderly adults are encouraged to enjoy their quality life, and live as per their own preferences and wishes, while receiving the important senior care services and encouragement for maintenance of a healthy lifestyle.
Recommendations to Select the Right Assisted Living Facility to Age in Place
Deciding to move to an assisted living facility can be a challenging decision, but identifying the best assisted living facility that best suits your needs to age in place can be quite a journey. As we all can be when we are steadfast in our ways or are concerned for various reasons, seniors may also be reluctant and adamant when it comes to convincing them that it may be the right time to move into an assisted living facility. Once they accept the notion that the transition into assisted living facility may be what is best for their life quality, it is the best time to get serious about finding the most suitable assisted living facility. Before touring these facilities, there are various questions you need to ask. There are those people who will immediately focus on bringing their elderly parents closer to them by convincing them to consider assisted living facilities in their area. However, that may not be the most appropriate choice for all elderly adults.
To ensure that your elderly parent transitions into the right assisted living facility, consider the following recommendations. These recommendations will greatly ensure that your senior is comfortably aging in place. Also, by including senior citizens in their care planning decisions, they will feel more appreciated and will be able to more easily adapt into their new environment of their assisted living home.
Discuss About the Location
The location is one of the most important aspects that you should talk about when addressing the issue of assisted living with your elderly parent. Consider their say about where they want to live. If you live in a different state then they do, would they prefer to move closer to you? Or, would they prefer to live in an assisted living facility which is located in the same town where they spent their past few decades?
Having a different opinion with a loved one about where to stay is not a sign of disloyalty. It is important to consider where the elderly adult would feel most comfortable. For instance, the seniors may not be interested to live away from friends; and these friends may seem as good as family members. If they are used to spending time together with their friends, it may be difficult for them to cope up with moving away and no longer spending time with these friends. It is also important to consider whether they will feel lonely and isolated if they move away from their life-long friends.
Talk About Finances
Aging in place in an assisted living facility is not a consideration to take lightly. Before settling for an assisted living facility, it is essential to first discuss finances, not only for the short-term but also long-term care. Some assisted living facilities are cheaper than others, based on invested resources, the location, and the services provided, while luxury assisted living facilities may be outside of many families' budgets.
If you settle on an expensive facility, consider the time your loved one will be able to live in that environment. Ensure you are understanding your financial budgets and discuss about the finances beforehand, as this will greatly help the family to focus on assisted living facilities that are within their budgets.
Consider the Elderly Adult's Senior Care Needs
It is important to determine the needs of the senior citizen. Consider the physical, mental, spiritual, and emotional support and assistance the elderly adults would need on a daily, weekly or monthly basis; and whether the assisted living facility would be able to provide these services.
It is important to note that assisted living facilities are different, and not all of them will be ideal for your aged parent. Think about the specific care requirements that your elderly loved one would need during the present and future. These considerations will help you narrow down your search to focus facilities that will best help the senior age in place.
Consider the Preferred Elderly Living Atmosphere
Once you begin your search, consider the elderly living atmosphere for each facility. Is the atmosphere elderly-friendly and homey? Do the senior citizens seem open and willing to welcome new residents? Are there other senior residents who are similar to your parent? Also, consider the senior's first impression about this particular assisted living facility.
Do Not Forget About the Food
When everything seems to have gone amiss, food is often left as the last pleasure to an elderly person. Don not take them to a facility where they will either starve as the assisted living facility does not cater to their dietary needs, the unprepared and uncooked food is distasteful and repetitive without variety, or the food is not healthy and nutritious. Also, ask if the assisted living facility has set meal times, snack times, caters to in-room meal requests, and offers all-day restaurants. Double-check the menus and ask to sample the meals during your first assisted living facility tour.
Check for Engaging Residential Activities and Entertainment
Engaging residential activities and entertainment are important factors for seniors to enjoy a fulfilling life. During your assisted living facility tour, keenly observe the residents to see if they are involved and engaged. Does the assisted living facility have a calendar full of scheduled residential entertainment activities and excursions? If yes, do these activities arouse the interest of your elderly loved one? What about their exercise programs? Are there pet and music therapy services? Do they offer transportations for outings, trips, and to doctor appointments?
Considering these factors when choosing an assisted living facility for your seniors will help you ensure you select the most appropriate assisted living facility option. This will, in turn, ensure that your elderly loved one is happily and comfortably aging in place.
Although most people may initially prefer to age in place and remain in their homes through their old age stage, there are great benefits to considering assisted living facilities as an ideal location to aging in place. One defining reason against home care is when an elderly senior citizen would prefer to socialize with other members of their generational cohorts, requires on-call help to assist them 24-7 with their daily activities, and the family caregivers may no longer be the best caretakers to provide the needed senior care. Aging in place in an assisted living facility seems to be the answer, as a safe and social environment with friendly senior caregivers who are happy to provide 24-hour assistance and are readily available.