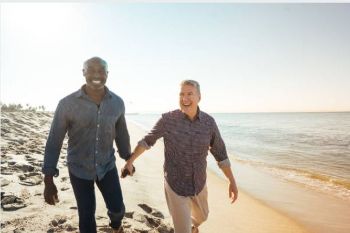 With the increasing number of adults older than age 65, it is not surprising that a large percentage of these seniors can be identified as lesbian, gay, bisexual, transgender, and queer (LGBTQ). How can this growing population find the best assisted living communities that will be sensitive to their needs and provide senior care for them without prejudice, hate, or negative sentiments?
Decades ago, it was difficult for LGBTQ seniors to find the best senior care options that would best suit their needs. Few communities recognized and provided care for their senior needs, while other senior living communities may have even rejected them due to fear and stereotypes. But the story is not the same today. Due to the need to respect the fundamental human rights of all elderly adults, seniors with these special needs can find local LGBTQ senior living and assisted living communities where they will feel loved and welcomed.
Fortunately, many assisted living communities are acknowledging the importance of creating assisted living communities with services and community cultures that support the needs of LGBTQ senior citizens. Even though many of these senior living and assisted living facilities offer the best elderly care for LGBTQ, there are many reasons for the LGBTQ elderly adults to still entertain some doubts, ask questions of the assisted living facilities, and seek guidance before aging in place and spending their golden years in an assisted living facility that caters to their needs.
If you are an LGBTQ senior actively searching for the best assisted living communities to spend your golden years and call home, there are a few options available. Do not worry, this guide will teach you the best ways to find the senior living and assisted living community that will be perfect for you.
Senior Housing Challenges Faced by LGBTQ Elderly
Historically, many LGBTQ seniors have encountered fewer options available for senior living, which might have resulted from social stigma, insufficient retirement savings, or inaccessibility to adequate senior health care. These seniors might have faced severe discrimination while they were younger and throughout their lives, solely due to their LGBTQ status. When the seniors reached the age of 65, they found it challenging to access preventive care and transition into an assisted living facility that was designed for them. It is also pertinent to note that discrimination towards LGBTQ seniors is prevalent in the healthcare sector, and many of them face more health challenges than straight individuals. More so, the high level of social isolation they faced over the years may have resulted in certain mental health issues for some during their golden years.
Retiring in an LGBTQ community free from prejudice is a dream come true for many seniors. It is not always easy to find gay and lesbian assisted living communities in any region you choose to conduct your search. There may also be challenges with which assisted living community to transition into so that you may continue to live with your elderly adult partner, even if you require different senior care needs.
Several challenges are facing these seniors as they prepare to transition into an assisted living facility to seek support with their activities of everyday living. We have listed some of these challenges below. With a greater understanding of the challenges, you or your elderly LGBTQ partner, parents or another loved one can prepare better for their transition into an assisted living facility.
Common Senior Living Challenges by LGBTQ Seniors:
Medicaid does not protect the assets of gay or lesbian partners when they move to a senior care facility.
There are no survivor benefits to same-sex partners.
LGBTQ families may lack support from social programs (e.g., Medicaid, Social Security).
There are different laws in various states with regard to LGBTQ. Some states have few regulations and laws that protect the rights of LGBTQ. For instance, Alabama has no laws protecting LGBTQ seniors against discrimination when it comes to senior care and housing.
Many LGBTQ seniors are denied visitation rights in most communities, while others openly face discrimination, alienation, elderly neglect and even abuse.
Studies have shown that most seniors enjoy care from their family members, but most LGBTQ people are either estranged from their families, single, or divorced.
By understanding the concerns and challenges that LGBTQ elderly face when it comes to senior living, you can identify the assisted living facilities that would be most supportive and welcoming of your needs. Assisted living facilities are long-term senior residences, so great consideration must be attributed when identifying the assisted living facility that is best for an LGBTQ elderly adult or LGBTQ senior couple.
The need to find a community that respects your sexual orientation is paramount to living happily during your golden years. If you desire intensive care for the elderly, and you are wondering "Where may I find LGBTQ assisted living near me?", it is important that you consider the factors to evaluate that will help you select the best assisted living facility for you or for an aged partner or parent. Some signs indicate that your sexual orientation is wholeheartedly welcomed, while other signs may mean danger and indicate that you may face discrimination during your stay in the assisted living facility as an LGBTQ elderly. Here are some factors you ought to consider in any senior living facility you examine.
A Welcoming Assisted Living Facility Environment for LGBTQ Elderly
When you visit an LGBTQ friendly senior living community, you should be able to ascertain the level of warmth from the social setting. Do you notice more gathering of seniors of the same sex or more of the opposite sex? Most LGBTQ seniors who crave for a social relationship with those of the same sexual orientation might be scared of isolation within the senior living facility or assisted living facility due to fear of judgement and discrimination. It can be frustrating to discover that there are little or no social gatherings for LGBTQ elderly in a place you plan to call home or spend your golden years at as you age in place. According to research, LGBTQ seniors cherish an environment where they feel loved, admired, and respected, irrespective of their sexual orientation.
Friendly Assisted Living Facility Community Staff
Most senior living and assisted living communities that provide elderly care for LGBTQ adults may not have the right staff to support their claims. Empathy and understanding are the secrets to providing quality support to LGBTQ senior citizens. Most LGBTQ aged adults may have lived most of their lives in fear and isolation. They might have lost friends, jobs, opportunities, and denied housing and other aspects that we may take for granted because of their sexual orientation. They must not continue to live in such a psychological state during their golden years. Sadly, some assisted living facility senior caregivers lack the necessary LGBTQ training and understanding to cater to these needs.
It is therefore essential to evaluate the level of staff training of any senior living or assisted living place you plan to move to in the future. Are the community staff friendly, especially towards LGBTQ seniors? What are their views on caring for LGBTQ seniors? If you find unsatisfactory answers to any of these questions, it is a sign that you may not get the best experience from the facility should you decide to call it home. Most LGBTQ friendly assisted living facilities offer non-discriminative care to all residents. However, you should ensure you move to a senior housing or assisted living facility where all of your needs will be satisfied without prejudice.
LGBTQ Senior Living Accommodations for Couples
Most senior living and assisted living apartments are built with a single occupant in mind. If you plan to transition into the assisted living facility with your partner, then it is important you seek a senior housing community that would provide accommodations for you and your elderly loved one to continue to live together as you age in place. If you are searching for affordable assisted living for LGBTQ, you must consider these options. Also, many assisted living facilities have stringent rules regarding privacy. Endeavor to ask the senior housing staff any concerning questions bothering you during a typical tour.
The truth is that with retirement savings, LGBTQ seniors have a plethora of quality options when it comes to senior living and assisted living facilities. But one factor that might prevent you from accessing this plethora of options may be the location you prefer to spend your retirement age. Most cities and counties have few or no LGBTQ friendly facilities. Hence, many seniors are left with no option than to search for senior housing accommodations in neighboring towns to enable them to find the best senior living options for LGBTQ.
Questions to Ask an LGBTQ Assisted Living Community
Most senior citizens find it challenging to find a community that will accommodate their unique senior care needs and individual preferences. The truth is that until there is a wide range of senior living options in every city available for LGBTQ, you may need to critically evaluate each senior living facility to determine if they have an LGBTQ friendly environment that meets your specialized needs. It is also essential to assess the policies of the facility regarding LGBTQ. That way, you know what you are in for before you make the optimal choice for you. Here are some questions to ask an LGBTQ assisted living community during a typical tour.
Has there been any conflict between staff and residents related to LGBTQ care?
It is essential to ask this question because most times, the facility might have ongoing cases of LGBTQ elder abuse or neglect. Find out if they have such cases on their records. Possibly, scan through the facility's record yourself to be sure there are no such cases. Seniors need to live in a community where they are welcomed and loved. Most times, the facility might uphold a no-neglect and abuse policy for all seniors. But a member of staff might do otherwise. How does the facility handle such a situation?
How many LGBTQ seniors live in the facility?
You do not want to spend your golden years in a facility where the ratio of LGBTQ seniors against those who are straight is minimal and insignificant. You should find a place that is convenient and where you can find many seniors with the same sexual orientation. This will contribute to your happiness and will help you ease the feeling of depression that many face as they age. A facility with an average population of LGBTQ residents offering elderly care for LGBTQ contributes to the feeling of warmth and loving atmosphere that many seniors envision.
Are there any restrictions on cohabitation for elderly LGBTQ adults who are a couple?
It is not enough to assume that the facility has no limits regarding cohabitation. Research has shown that some communities offer quality elderly care for LGBTQ, yet have strict rules on cohabitation. Ensure that you and your aged partner can continue to live together comfortably at the assisted living facility or senior housing you consider.
How does the assisted living community handle complaints about discrimination?
Elderly abuse is not a new phenomenon, especially for LGBTQ seniors. Therefore, it is pertinent to ask the senior living community how they handle cases of discrimination and neglect. Seniors want to feel safe in the hands of their senior caregivers. They want to live in a community that provides an equal level of attention to all residents irrespective of their sexual orientation. Does the facility take proactive measures or reactive measures towards such complaints? Do they research the factors that caused the situation and put measures in place to prevent its future occurrence? Or do they simply brush it off as a mere incident that can be resolved amicably? You should evaluate whatever response you get from the facility staff during the tour to make your assisted living facility decision.
Does the assisted living facility train staff to better understand and respect LGBTQ elderly residents?
Some assisted living communities may offer only general care training to their staff while neglecting the individual needs of LGBTQ residents. These seniors are scared that they might be indirectly or directly discriminated, ostracized, abused, or neglected. What training has the assisted living community provided for its staff to ensure they respect and understand the unique needs and preferences of LGBTQ residents? Also, ask if there are any punishments against any staff in the facility that abuse the elderly because of their sexual orientation.
Double Checking Senior Living Facilities for LGBTQ-friendliness
What if you ask all the above questions and get perfect answers from each community you visit, how can you ensure you are not getting misleading information?
Check online reviews
The online reviews will enable you to review feedback from LGBTQ seniors who once lived or are currently residing in the facility. Ask your health care provider if they have any recommendations. You may also ask friends, neighbors, colleagues, and relatives if they have had any dealings with the assisted living facility community in the past.
Certifications
A duly certified LGBTQ friendly facility must have received the appropriate training. For example, consider whether your assited living facility participated in programs such as LGBTQ Elders (SAGE) training for senior care and housing providers. Such LGBTQ caregiver training programs offer intensive in-person and online training for frontline caregivers and upper management. The topics range from elder abuse, transgender aging, and bias reduction while administering care to LGBTQ. The certification is awarded to the community after the successful completion of the program. The SAGECare certification and training reminds caregivers to be sensitive to the needs of these seniors and avoid giving preferential treatment to some residents over others.
LGBTQ Assisted Living Costs
If you are looking for local LGBTQ assisted living communities, you should note that top housing options for LGBTQ are similar to other senior homes across all communities. The charges are mostly the same irrespective of your sexual orientation. The amount paid monthly is based on the level of care needed, location of the facility, apartment size, and the amenities offered. If you are searching for affordable assisted living for LGBTQ elderly adults, you should understand that options vary and depend mostly on the location of the facility. But if the community can provide a prejudice-free and friendly facility where all residents feel a sense of belonging, you should be able to find many reasons to call it home and age in place.
Some LGBTQ Friendly Cities to Consider to Age In Place
Some of the most LGBTQ friendly cities in the United States host an array of senior living communities that respect LGBTQ rights to enjoy their golden years in retirement as they age in place. These cities include:
Austin is one of the best foodie cities in the nation and honors an annual gay pride festival that attracts thousands of visitors each year. Several Austin organizations endorse and propel the rights of LGBTQ seniors, such as the Austin Prime Timers and the Austin LGBTQ Coalition on Aging. LGBTQ seniors make up about 5% of the population. The overall cost of living in Austin is low compared to the national average, but the cost of senior health care is higher than the national average.
Tempe is an affordable city known for its beautiful desert, museums, and the gay festivals the city endorses. Elderly adults comprise 10% of the city's population, and from this percentage, LGBTQ seniors are about 5% of the community.
Tucson is one of the best places for LGBTQ seniors to retire. It is known for its sumptuous Mexican cuisine, warm weather, and affordable senior health care options. Tuscon was also the first city to pass an anti-discrimination law that protected the rights of gay, lesbian, and transgender elderly residents of the United States.
A short stay in the beautiful city of Alexandria will leave you speechless, and you will fall in love with the warm weather, abundant outdoor spaces, and several LGBTQ friendly senior living communities. The population of seniors in the city is 13%, while LGBTQ elderly adults comprise about 4% of the entire population. One other unique aspect of Alexandria is that it has non-discriminative laws that protect the rights of LGBTQ adults with regard to employment, social benefits, and senior care. Elderly care does, however, cost more in Alexandria than compared to the national average.
The city of Fort Lauderdale is popularly known as the gay capital city of Florida due to the vast number of gay locals residing in the city. More so, those searching for local LGBTQ assisted living facilities within the confines of the city will enjoy impressive results due to the variety of options available.
Fortunately, the state of Florida is among the states that enforce local ordinances that protect the right of LGBTQ in employment, housing, and other cases were seniors could be subjected to discrimination. In Fort Lauderdale, there are several LGBTQ organizations, so you would not have to worry about alleviation when you retire in this lovely city. However, the overall cost of living in Fort Lauderdale is high compared to the national average.
Dayton is perfect for LGBTQ seniors who are outdoor enthusiasts due to its abundance of parks and other recreational centers. The Ohio city also has several organizations that listen to the complaints and cater to the needs of all LGBTQ seniors in the Buckeye State. There is an ordinance for non-discrimination based on employment, housing, senior care needs, and sexual orientation. However, Dayton has the lowest cost of living compared to other cities in Ohio. The city is also one of the top cities in the nation, where people can easily transition into affordable senior LGBTQ assisted living facilities.
West Palm Beach is a city bubbling with a lot of outdoor fun, beautiful beaches, and enjoyable nightlife. There are lots of LGBTQ friendly bars and clubs in the city as well. The city adopted a resolution in 2018 to eliminate all forms of discriminative acts against LGBTQ adults. Senior living care costs in West Palm Beach are lower than the national average. There are also a plethora of senior living options for retirees to explore and enjoy the fun that the beach city brings.
If relocating to another city that is more nationally recognized as LGBTQ friendly, then consider touring your local assisted living facilities. Ensure you ask them about the concerns and questions you may have so that you can identify the best assisted living facility for your LGBTQ and senior care needs. You can easily find the resources you need and get answers to urgent questions using this guide. It is possible to find an assisted living facility or community that will treat you like you are a member of their family.