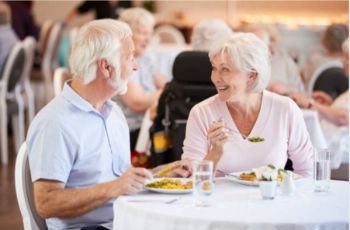 It's easy to find how-to guides to determine the best senior care options to prepare yourself or an aged loved one for a move to an assisted living facility. However, there are not so many guides that focus on placing couples with different needs in an assisted living facility. As a result, you may wonder whether it is truly possible to find a place that feels like home for both parents with different care needs. Couples that plan to move into an assisted living facility together may have a lot of concerns, questions, and doubts. They may be reluctant to transition into an assisted living facility. The options might seem almost impossible, but you are not without help. It brings us to the first question on the lips of many.
Is it possible for couples with different needs to live together in assisted living?
It's only natural for couples that have lived together for decades to seek senior care programs for couples as they age because they want to spend the remaining years of their lives together. As couples are staying longer together and as baby boomers and traditionalists live longer, there is an increasing demand for elderly couples to be able to transition and continue to live together in an assisted living facility. Therefore, many families will need help when trying to find senior care options close by for their elderly parents. So, can a couple with different needs live together in assisted living facility? The answer is – yes.
Helping a Couple Transition into an Assisted Living Facility
Assisted living facilities are one of the senior living options for the elderly. However, if you are planning to move mom and dad into an assisted living so they could enjoy a better quality of life and senior care, or you want to move in with your spouse, it's reasonable to have some doubts and to address your fears before you dare even consider the move. The availability of several senior care programs for couples does not mean they are all a perfect option for you or your aged parents. You may have to deal with some challenges that may surface, and you are encouraged to compare the options to find the best assisted living facility for the two. What if one partner's health decreases and requires special care entirely different from the other partner? How can you ensure that you find the best assisted living facility for couples where the needs of both couples are met? However, despite these concerns and challenges, you will find the entire process easier and smooth when you follow the recommendations discussed below.
Placing Couples in Assisted Living Facilities: Senior Care Recommendations
Start planning ahead of time.
You do not want to get caught up by a drastic health change of your partner or your aged parent, do you? This is why it is safe to start planning for the move ahead of time. Severe health challenges are the primary reason for why many elderly couples seek senior health care programs and care options in their locality. If you start planning early enough and take your time to find the best facility for your aged loved ones, you will enjoy better results and unparalleled satisfaction in the long-run. Do not worry, for if an immediate health emergency surfaces, then you may consider in-home care services as an alternative to assisted living so they may age in place, as you determine whether the transition into an assisted living facility is the best option for you.
Consider future health changes and make the proper arrangements.
Monitoring the health status of your spouse or aged parents, as you determine whether an assisted living facility may be the best option, can be a challenging process - especially when one or both of them are undergoing severe health challenges that demand attention regularly. The process implies that you may have to assume a great deal of responsibility if both aged parents have different care needs. To enable the senior care planning process to become easier, we recommend you familiarize yourself with the assisted living facility's resident retention policy in the case of severe health challenges. However, you may need to decide whether to move your aged parents to an assisted living facility sooner if their health conditions require professional senior care sooner. Take some time to understand the health condition of your spouse or aged loved ones. This will help you to foresee future health challenges and make arrangements for them in time.
Create a financial management plan.
Most families cannot afford to place both parents in an assisted living facility or another retirement home for couples. More so, finding a senior home for couples with different care needs may require a considerable budget. As a result, many families that seek senior care services for their aged loved ones often need to pay a considerable amount out-of-pocket for expenses. If you plan for such senior long-term care, it's vital to have a financial plan in place to cater to the needs of both couples throughout their stay in an assisted living facility.
Research what to expect in your new assisted living facility home.
Even though more couples now live and grow old together, there are more widowers and widows in assisted living facilities than aged couples. Hence, many assisted living facilities may be designed with a single occupant in mind, but some have shared rooms to allow an elderly couple to continue to share a room and live together. If you are planning to move in with your spouse, you may have to do more research to find the perfect assisted living apartment for couples. However, these types of apartments are often more costly than the ones meant for a single occupant. For elderly couples that want to relocate, it is vital to know that, although most assisted living facilities are simply a home far away from home, it cannot be a perfect substitute for your decades-long home. Hence, you must take some time to understand and become aware of the changes you are likely to see in the assisted living facility's environment and to become acquainted with the assisted living facility's staff who may be entering your apartment often to check on you. A good question you may want to ask yourself is, "how prepared are you for the transition"? Are you ready to face the realities of living in another environment other than home? If you are considering an assisted living facility for both of your aged parents, you should be cautious of your decisions and involve each member of the family in the decision-making process to enable you make the right care decision for your aged parents.
Consider the social and health needs of the elderly couple.
Each elderly adult within a couple has different social, physical, and senior care needs. If one member is more independent and healthier, it will help to enhance the quality of living for the couples, especially if the assisted living facility offers recreational activities that are emotionally-fulfilling for the couple. Before you choose a facility to move into with your spouse, ensure these criteria are met. The couple's relationship needs must not be neglected just of a relocation to a different home. The relationship needs are essential to the happiness and bond you share with your spouse. Aside from these factors, individual needs must be met too. Therefore, ensure you research about the kind of amenities and care provided to ensure it matches with your needs as an elderly couple. That way, you will be prepared for a better quality of life with your spouse instead of nursing the fear of the unknown future at an assisted living facility.
Finding the perfect assisted living facility for couples near you can be hard, especially when you do not know where to start. However, you can seek help from a senior living advisor or any other expert that will help you make the right plans for a better future as an elderly couple.
How Much Does Assisted Living for Couples Cost?
While ensuring that an assisted living facility has the amenities and social setting that meets the different needs and expectations of you and your spouse, it is also essential to weave in the financial aspects of your relocation. Remember that financial decision planning should incorporate the level of individual and shared needs of any couple. It's easy to be carried away with other factors and neglect this important financial planning aspect.
Assisted living costs for couples.
Whether you are moving in with your aged spouse or considering the best fit for your aged parents, it is vital to understand how most assisted living facilities work financially. Most of the assisted living homes near you will charge a move-in fee which can be paid monthly or upfront. There may also be varying additional fees which depend on the level of senior care provided and how often the elderly adults need help with activities of daily living.
Before you move in as a couple into an assisted living facility, your care needs, as well as that of your spouse, will be thoroughly evaluated by the appropriate staff. This will be used to calculate the total fee that will accrue monthly during your stay in the facility. The more care you need with daily living, the more costs that you will bear. However, most facilities provide memory care services for seniors with dementia or Alzheimer's disease. If either you or your partner suffers from such conditions, ensure you find out if the assisted living facility will charge extra for care in the case that the conditions progress.
Assisted living costs for couples can also vary depending on whether assisted living apartments for couples are provided or not, since single bedroom apartments are cheaper than 2-bedroom ones and require fewer amenities than those meant for couples.
So how much does an assisted living for couple costs? It depends on the size of the apartments, the community, the state regulation, and the level of individual and shared needs of the couple.
According to a care survey conducted by Genworth, the median costs for an assisted living monthly was estimated to cost about $4,050, and this amounts to a little over $48,500 per year. On average, assisted living facility costs differ by state, and those areas with a high standard of living usually have assisted living facilities that charge expensive rates. Such cities with high assisted living facility rates may include San Jose, New York, San Francisco, Los Angeles, and Boston.
You are recommended to understand the costs of various assisted living facilities near you and to compare the prices against the expected benefits before you make a decision. If the assisted living facility can meet the needs of you and your spouse, there is little to worry about other than cost.
Should you opt for a flat fee or contract-based care?
Most assisted living communities do not charge for the amount of time it takes to render daily services to a couple. Instead, they offer a selection of packages based on the needs of each spouse while others charge a monthly flat rate for senior care services rendered to each resident irrespective of the amount of time it takes to provide such senior care.
Preparing for an assisted living facility tour
Before the tour, you need to understand the care needs of you and your spouse and the primary reason for why you seek such senior care at an assisted living facility. This will prevent you from wasting your time visiting communities whose offer does not tally with your needs as a couple.
Also, expect some questions from the facility during the tour. They would need additional information on the dietary needs, mobility restrictions, and medical needs of you and your spouse, so that they may determine if they have the right resources and staff to support you as a couple during your long-term assisted living facility stay.
What question should you ask an assisted living facility during your tour?
If you are planning to seek elderly care or find the best assisted living facility near you for couples, you may realize the need to map out a careful plan, and put some factors into consideration. The fact is the answers to some questions can only be provided by the facility itself. So, you are encouraged to seek answers to your questions during a typical visit or tour in a facility. The answers to these questions will help you and your spouse understand the quality of care to expect from each assisted living facility you visit to enable you to compare and smoothly transition. Are pets allowed? Is there a private bathroom for each resident? How long are visitors allowed to stay? Is each meal heavily customized according to the nutritional needs of each resident?
Searching for a facility for your aged parents or for you and your spouse can be pretty difficult, especially if both partners have different care needs or are entirely new to the process. There is a variety of options available in every community you tour. Exploring these options with certain needs in mind will make it easier to make a decision. Here are some questions you should ask each facility to determine if it's suitable for assisted living for couples:
Questions about diet.
What are the set times for meals, and how many healthy nutritious meals and snacks are provided each day? Is the menu according to the dietary needs of the couple or it's standard irrespective of their health status? Do you provide a variety of meals so that the food is not the same every day? Can other members of the family dine with the aged couple?
Questions about the quality of senior care services.
Does the facility staff provide medication and chronic disease management? Can residents perform self-medication? Do the senior caregivers frequently and carefully review care plans with each resident to ensure that the care provided is unique and individualized? What action does the community take when they notice a serious health concern? What if a resident is not responding to medications, do they include both couples, family members, and care physician in their plans to change care plans?
Questions about amenities and accommodations.
Is there enough space in the assisted living apartments for couples? Is the outdoor space open enough for residents to enjoy fun moments together? Do you feel confined if you were stuck indoors for many months during the winter seasons? What types of amenities and accommodations does the assisted living community have specifically for couples? Is there a fitness center or a beauty salon? What are the hours that excursions and recreational activities are hosted, and what do they include? Are couples encouraged to participate in certain activities that will contribute to building their relationship?
Questions about resident appointments, outings, and excursions.
How often are residents allowed to go out for trips, excursions, and other fun activities? Does the assisted living facility provide transportation services so that the elderly adults may visit their doctors?
Questions about policy compliance.
Does the assisted living community comply fully with governing local and state regulations and best practice recommendations? Are there any citation or inspection reports against them? Are they duly licensed and insured? Do they have supporting documents to back up their claims? How can you lodge a complaint without fear of retaliation if you feel that either you or your spouse are victims of abuse or neglect within the facility? How do you prevent such elder abuse and neglect?
Questions about daily living.
Does the facility help with activities of daily living and instrumental activities of daily living? Does the facility support with personal hygiene, bathing, and grooming? Does the facility support with financial management and housekeeping? What other services are available that you might need later during your stay, especially if your health condition requires additional support? Does the price change according to changes in the level of care demanded by elderly couples?
Questions about payment.
How can couples pay for their care? Is there any special payment procedure for couples that seek elderly care in an assisted living setting?
These questions will help you to make informed decisions and choose the best assisted living facility whose features tally with your needs as a couple. After evaluating your needs, you should be able to better determine the services which are a must-have and the additional amenities which you think will improve the quality of life for both you and your spouse in the facility.
How Long Can Couples with Different Senior Care Needs Stay in an Assisted Living Facility?
Elderly couples in an assisted living setting may typically stay for an average of three years. Residents enjoy some measure of freedom and independence to do things on their own (if they are able to), but this may be a bit more limited than the independence of aging in place at the comfort of their own homes back home. It is pertinent to know that most elderly couples may opt to receive care in their homes by a paid caregiver. However, health conditions and other factors may prompt such couples to seek additional care in an assisted living facility setting.
According to reports from the National Center for Assisted Living, about 59% of those seeking senior care programs for couples may likely choose to stay in an assisted living community, and a large total of these will eventually relocate to a local nursing home thereafter.
Have you Done Your Homework as a Couple?
Despite your desire to find the ideal assisted living facility that fits into your budget, lifestyle preferences, and care needs, it is possible to make mistakes in your assisted living search without proper planning and thorough research. This is why you need to start the senior care planning process early enough so you can have all the time in the world to decide, un-decide, and modify your preferences, before you actually need to transition as a couple into an assisted living facility.
Couples with different needs have a lot of options prior to relocating to an assisted living community. For those who do not really need assisted living, a retirement community near them may be a better choice. By now, you must have learned what it means to seek care in an assisted living facility as a couple with different health challenges and needs. If you find it difficult to search for the best care home for couples near you, you should talk to a senior care specialist who will be happy to help in this regard. Consider using the various guides on Senior Living Help to make one of the most important decisions of your life as a couple. We are one of the top senior living and care resources, encouraging you to consider important senior care decisions, so that you may take your time to plan, research, decide and act accordingly.