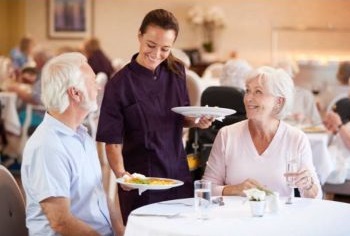 What was the very first question that came to your mind when you were looking for an assisted living facility?
Was it: Do they serve healthy and delicious food that meets my diet habits?
Assisted living facilities' food service programs have recently changed significantly as a result of baby boomers and other senior residents. It has become necessary for assisted living facilities to cater their dining options to accommodate for the various dietary habits of their senior residents.
Focus on Healthy Food Options
Satisfying senior citizens with a three-meals-a-day program, and snacks served throughout the day, is a challenge every assisted living facility has to address. Senior living facilities have to adjust to the flexible expectations of their residents with healthy, nutrient-rich organic vegetables and other ingredients. The elderly adults are interested in restaurant-style dining options with appetizing and tasty food that is easy to swallow and chew. That means that assisted living facilities must provide inspiring menus that offer healthy meat options, vegetarian meals, vegan meals, gluten-free options, kosher meals for Jewish residents, and international cuisine with a variety of colors and flavors.
Chefs at assisted living facilities have to be as flexible and respectful of diverse dietary needs and habits as possible, and offer a variety of different healthy food options.
Residents can be in the mood for a chef's salad, baked potato with cold slaw, lo mein noodles, pizza, crepes, or BLT (Bacon, Lettuce, and Tomato Sandwich). Assisted living facilities insist that their chefs should be willing to make a meal for any elderly resident so long as all ingredients are available in the facility. Dining services are also happy to serve customized food options for elderly adults who are not satisfied with the menu. Assisted living facilities may also have separate cooking stations or utensils in which they cook and serve food. No assisted living facility would want to see their residents starve just because they disliked what was on the menu. In addition to serving meals in the dining room, many assisted living facilities offer room service and will also bring food to the rooms of residents who are ill or experience mobility limitations.
Benefits of Healthy and Fresh Food Options for Elderly Adults
Assisted living facilities understand that healthy and fresh food options help residents of assisted living facilities improve and maintain their healthy lifestyles. Here are a few of many benefits of healthy food options for seniors:
Improved nutrition
Enhanced flavor
Less need for supplements or external vitamins
Reduced risk to ailments and falls
Boosted immunity
Improved wellness and overall lifestyle
Decreased risk of obesity and chronic health-problems
Less chance of feeling lonely due to shared meals
Increased strength and ability to independently perform activities of daily living (ADLs)
The elderly and their family members are becoming vigilant about menu variety, and the quality of food served in assisted living facilities. Residents are interested in freshly cracked eggs, organic milk, freshly brewed coffee and tea, and freshly cut fruits and vegetables. Assisted living facilities also find sharing meals to be a wonderful time for senior socialization as the elderly adults can foster memories over their meals. That is why meals tend to be shared with other residents and the elderly adult's visiting family members and friends.
Dining Together Promotes Elderly Socialization
Older adults are fans of dinner parties, as they are a generation that grew up with social activities, such as sports, graduations, food parties, anniversaries, and birthday celebrations. Naturally, our elderly loved ones expect the same atmosphere to remain even at assisted living facilities. As such, assisted living facilities have resorted to multiple celebration events throughout the year, particularly during holidays. For example, an assisted living facility may host a Holiday Extravaganza and allow senior residents to invite their relatives. Such celebrations enable the elderly adults, families, and staff to mingle and celebrate. Senior residents feel satisfied when given a chance to invite their families to their assisted living home, as this enables them to still feel connected with their community back home. Such resident-centered assisted living facilities would want to take the sting out of the life of the older residents, help them transition into the assisted living facility, and allow them to enjoy their later years to the fullest.
The assisted living facilities also create comfortable dining areas for elderly adults to enjoy dining with their friends, so the visitors may enjoy an occasional cup of tea or share a meal to spend quality time with their aging parents. Assisted living facilities can support bistro-style dining options, and some may support up-scale dining options that can offer a friendly, fun, and classy environment that has no restrictions.
Availability of Food and Snacks at Any Time
Snack programs have evolved to include a variety of healthy options that promote flexibility. Dinner at 5 PM, snack at 10 PM, breakfast at 8 AM, mid-afternoon snack at 2 PM, and evening snack at 7 PM no longer fit the lifestyle of the typical senior resident at an assisted living facility. Instead, the elderly adults prefer to have tasty food available around-the-clock so that they can eat at any time. The assisted living facilities' seniors may be searching for fruits, mini muffins, fresh-baked cookies, or pastries made by the chef in the exhibition style. Other seniors may prefer their favorite branded coffee, such as New England coffee, Green Mountain coffee, Dunkin Donuts, or Starbucks.
An elderly parent may prefer to have a full-stocked pantry so they may put together a bowl of cereal or make a sandwich. The assisted living facility's caregivers can also help the elderly prepare their meals.
When you search for the best assisted living facility near you, ensure that the assisted living facilities do not prescribe to the philosophy of one-size-fits-all. Instead, the assisted living facility should accommodate the needs and requests of all of the seniors, so that all seniors are satisfied. The caregivers of the assisted living facility should keenly listen to and observe the behaviors of its senior residents to better understand the preferences. The assisted living facility's caregivers and dining staff should closely communicate in order to cater to the needs and preferences of all of the senior residents. The puzzle of serving food options at an assisted living facility comprises an array of pieces that have to be pieced together for an enhanced dining experience for all residents.
Interest in Organic Locally Produced Foods
Assisted living residents and their families may rest assured knowing that their foods are being outsourced from nearby producers and farms. Ensure that the assisted living facility you are considering has purchase arrangements with local farmers as this will not only save on their cost but result in healthier and fresher food options. When the maintenance costs are lower, then the assisted living fees may be more affordable. This will also help your elderly loved one continue to enjoy the fruits, vegetables, coffees, and pastries from the nearby café or farm that they enjoyed for decades. A transition into an assisted living facility should be a continuation and a transition, not a halt and an end to the favorite past times and lifestyle habits.
Assisted Living Facility Dining Value-Added Services
Assisted living facility's dining options can help attract residents. An assisted living facility should be engaged and committed to satisfying their senior resident's unique needs and preferences. Those assisted living facilities should always supervise and execute their dining services so that the residents are never hungry or only have limited food options. Every staff member in a senior living facility should be experienced in their role, so that all assisted living facility team members may ensure proper food handling. As a result, dining services can run effectively, efficiently, and on time with superb quality.
Dining services were not an area where the elderly would focus on considering when searching for an assisted living facility. However, dining services have become an essential aspect for the incoming residents. Given the elderly adults' social activities and passion for food, senior living facilities need a professionally managed dining service to set themselves above the other assisted living facilities, so that the senior citizens and their families are confident in the decision of selecting a particular assisted living facility for the elderly adult to age in place.
Why Eating Together is Crucial for Seniors
Do you want your elderly parents to eat fresh, local, cooked food in the company of their generational cohort peers? Consider taking them to an assisted living facility. Senior retirement communities were once known for bland, institutional fare, but that has now changed. Instead, these assisted living facilities now take pride in their restaurant-like dining experiences.
You may be wondering why you should help your elderly loved one relocate to an assisted living facility when dining together could provide families with an opportunity to discuss the events of the day and gather together while enjoying a home-cooked meal. However, recent studies have shown that families rarely have a meal together. If meals are missed, then your elderly loved one may be subjected to elderly neglect – even if that happens accidentally. Also, do not allow your elderly loved one to experience isolation by eating alone. Malnutrition among the elderly can lead to a decline in their health status, weakness, dizziness, fatigue, depression, increased falls, and unintentional loss of weight.
Your body undergoes a cycle of changes as you age. Your metabolism rate will probably decline as you age, and so does your level of activities. After all, an older adult does not need as many calories as he or she needed before. As a result, their appetite may decrease, and they may forget to eat. Senior residents are at a greater risk of developing chronic conditions and needing medications. The medicines cannot be effective if the elderly adults are not eating healthy nutritious meals. Swallowing and chewing challenging foods can be troublesome for seniors with dentures and oral problems. However, it is still crucial for senior residents to consume at least three healthy meals daily to ward off malnutrition and ensure their optimal health.
As discussed, one way to promote healthy eating for the elderly who live alone is to encourage them to eat together with their friends and family. After all, humans are naturally known to make better food choices and eat more healthily when they are eating with others. Seniors who stay alone may decide to not cook a healthy meal for themselves. That great effort may seem unrealistic, too challenging, or pointless to them, especially if they are not hungry, so they may resort to frozen or pre-packaged foods. Some may even opt to skip meals altogether.
Studies have revealed that most seniors feel lonely when they are left to have breakfast, lunch, or dinner alone. They may be unable to drive to visit their children, or their relatives and friends may live too far away to join for a lunch meal. Due to the nutritional value and quality time together, elderly parents believe that having a conversation with a friend or relative during a meal is essential.
Assisted living facilities prepare meals, help with feeding, and ensure that elderly adults are continuously eating healthy nutritious meals, without overeating. The elderly adults would consume their snacks and meals in the company of the companion caregivers and the other senior citizens. The assisted living facilities also ensure that the aged adults are well hydrated. The elderly will create memories together and reflect on memories of years past as they converse over meals.
Specialized Food Services
Assisted living facilities can integrate the expertise of an accomplished third-party dining service provider with their portfolio of service into the assisted living facility's dining services. Once a month, the assisted living facility can host an opportunity for the elderly to enjoy a lavish catered meal.
Also, some assisted living facilities may lack the culinary talent, talented chefs, and in-house regulatory requirements that are necessary to prepare well-rounded dining services in-house. Such assisted living facilities may find it more cost-effective to partner with a third-party source for daily dining services. By outsourcing the food management, the assisted living facilities may allow the senior residents to enjoy tastier and higher quality meals.
Questions to Ask about Food and Dining Services in an Assisted Living Facility
When you tour assisted living facilities, ask if you can taste the food and visit the dining areas. Consider asking the assisted living facility the following questions during your tour so you may select the assisted living facility with the food options and dining services that are most preferred by your elderly adult.:
What kind of different meals are prepared?
Who prepares the meals?
How many meals are served?
Are there any special food services for medical conditions, such as obesity, diabetes, inflammatory diseases, and other health issues? Are kosher and vegetarian meals cooked and served separately from meat dishes?
Are there culture-specific or religious-specific cuisines that would still include a variety of options?
Does the assisted living facility ask seniors about their food choices, and cater to those preferences?
If able to, can the elderly adults cook their own food or access a kitchen?
Are there healthy snacks available throughout the day and night?
Will the senior caregivers offer support with feeding residents who have limited ability to perform activities of daily living?
Will the assisted living facility serve food in the dining rooms, community areas, outdoors, and in resident rooms?
Are there any other questions you or your elderly loved one may have about food options or dining services? Write down your questions and ask about them during your assisted living facility tour. Consider all these questions because healthy eating leads to a healthy lifestyle. The answers to these questions will help you identify the best assisted living facility for your elderly adult to age comfortably.
Assisted living facilities should invest in dining management strategies to best cater to the unique needs and preferences of their senior residents. Assisted living facility staff, senior caregivers, and dining services teams should comply with local and federal dietary regulations, food quality standards, sanitation requirements, and dietary choice recommendations. It is important the meals served at the assisted living facility include the proper ratios of carbohydrates, proteins, milk and dairy products, fruits and vegetables, whole-grains, and healthy oils. The assisted living facility may be able to connect the elderly adult with a nutritionist who would be able to educate him or her about the best meal plan according to his or her specific needs, preferences, and chronic conditions.
A Tasty Note to Remember About Food and Dining Services at Assisted Living Facilities
Healthy and tasty food options may be one of the first questions and concerns that come to your mind when searching for an assisted living facility for elderly parents. Food affects all other qualities of a senior's life. A balanced diet offers elderly people the necessary nutrition and nourishment so they may have the defenses to fight falling ill from acute and chronic illness. However, if the food lacks taste or appearance, then the senior residents would not be interested to eat. It is important you identify assisted living facilities in your area that hire chefs and dining service teams to provide a variety of food options with aspiring tastes, colors, and flavors. Two elderly adults in a relationship who live together at an assisted living facility may even prefer different meals, so it is important the assisted living facility is able to cater to the needs and preferences of each resident. Assisted living facilities that prioritize fresh and organic produce from local vendors create memorable meals that can be shared together to promote elderly socialization.