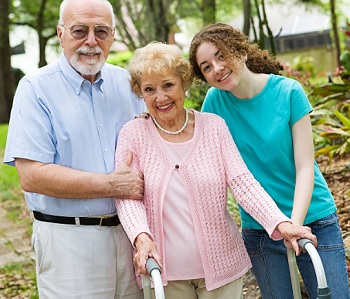 Each elderly adult in a senior living community embraces his or her own unique religion, dietary, and culture habits. This is why there are diverse religious options in senior living communities. A senior living community may also be a melting pot of individuals from different countries and states, and require a community designed to meet their varying and personalized needs. There may be senior living communities near you that tend to the religious practice needs of various religions, and then there are those that are more focused on creating a senior community to best support individuals who practice a particular faith.
In this article, we will discuss Jewish assisted living options.
What are Jewish Assisted Living Facilities?
Jewish assisted facilities or senior communities mainly focus on the needs of Jews who practice Judaism, while still supporting the needs of other elder adults who may wish to maintain and practice an alternative belief. All seniors living in the Jewish assisted living communities are fully encouraged to practice their traditions and beliefs.
While practicing Jewish practices and traditions, the following core values are considered.:
Caring for the sick
Respect
Repairing the world
Compassion and truth
Righteous acts
Love and peace
How Is Jewish Assisted Living Unique?
Jewish assisted living facilities take into that account Judaism is not just a religion, it is a lifestyle.
As with most faith-based senior living communities, Jewish senior living facilities are commonly managed by a non-profit society and a board of directors, which may include rabbis. The non-profit organization and board of directors ensure that the mission and values of the Jewish assisted living facility is carried out so that senior residents are cared for in a suitable way.
All of the money collected from Jewish assisted living facilities may be devoted towards ensuring the best quality of care for all their residents, including their Jewish and non-Jewish residents. Religious Jewish education is also provided to the residents by rabbis or other staff members. Sometimes, one of the senior community members may lead a Torah and Siddur study session. Usually, the staff at these facilities will also lead Jewish religious study sessions during the week, so that residents can consistently practice their faith. This great focus tending to the Jewish lifestyle encourages elderly adults to practice their faith daily, and not just during certain days of the week or special occasions. Additionally, the facility may provide a bus to transport the residents to a synagogue or another local Jewish place of worship and service. For those who would instead worship at the assisted living home, services are often offered on-site. Often, a rabbi may also come to worship, religiously educate, and bless the residents. There is also an effort to bring spiritual music into these amenities. Some Jewish assisted living facility may partner with religious Jewish schools, and host Jewish performances for the Jewish senior adults to enjoy.
What to Expect from a Jewish Assisted Living Facility?
Religion affairs do not have an impact on the cost value of eldercare. The level of care and design of the room are usually the deciding factors. For instance, a private room at an assisted living facility will cost more than a shared room. Specialized care, such as Alzheimer's care also factors into the cost as memory care services are often more expensive than other units of an assisted living facility. Typically, Medicare does not cover assisted living facility costs, but some states may have Medicaid services that do cover such costs. Some Jewish elders also are eligible for veterans' paybacks that can be useful towards the expense of care. On most occasions, the cost of assisted living facilities is an out-of-pocket expense for many seniors.
Judaism is more than a religious conviction; it is a culture. The Jewish lifestyles, traditions, rituals, and beliefs are essential to the identity of the Jewish elderly adults. Thus, many Jewish assisted living facilities endorse the opportunity for Jewish seniors to integrate Judaism into their assisted living facility lifestyles, in the way that they choose.
Since many Jewish elderly adults follow strict kosher dietary guidelines, they are happy to indulge with other people who comprehend and enjoy kosher meals. Kosher foods are offered according to halakha, so that Jewish elders can preserve the diets they may have been practicing at their home. Some assisted living homes may advertise Kosher-only food, which is enticing to many Jewish senior residents. This is one of the many vital factors to select a Jewish assisted living center instead of non-religious senior living facility, as this will ensure that the Jewish assisted living facility provides a variety of kosher options that are appetizing to you. Perhaps, ask the Jewish assisted living residence for a complimentary meal during your tour, as the staff and administrators will understand how important healthy and tasty kosher meals are to you. They are proud to comprehend and cater to all of your kosher dietary needs so that Jewish elderly adults may continue to eat healthy kosher meals.
All the nourishing meals are well planned and usually served in a communal dining room to promote senior socialization. Seniors receive optimal quality senior care, and these critical relationships are what make an excellent Jewish assisted living facility enjoyable, and create a feeling of safety and trust. It is essential to devote some time visiting various Jewish care centers, requesting references, and vetting your Jewish assisted living facility options before settling on the conclusion. Ask about special dietary needs, such as gluten-free and low salt diets. Also, it is important to involve your senior in the assisted living facility search process as they may be reluctant to consider the transition at first. However, by incorporating your elderly adult's suggestions and requesting they join you on the assisted living facility tours, you will be able to help ease their reluctancy. It is important that your elderly loved one feels most comfortable and continues to live peacefully in their new assisted living facility residence.
Also, one of the essential aspects to search for during your assisted living facility tour includes a review of the activities and top amenities. Exercise programs, the dreidel game, card and board games, enjoyment of hobbies, and the ability to learn new skills and activities make the involvement enticing. How sensational it is for a Jewish elder to be capable of continuing celebrating Hanukah, Shabbat, Yom Kippur, Rosh Hashana, and other Jewish holidays and traditions that are essential to their Jewish practices and lifestyle.
There may be a number of Jewish assisted living centers available near you. Families who may be unable to reside within a close proximity to their elderly loved one will be rest assured knowing that they have helped their elderly loved one transition into a renowned lifestyle at the most elegant possible place, where they will receive exceptional senior Jewish care. This choice can often be fearsome to most families as they trust others to care for their elderly loved one, but once the elderly adult has transitioned and settled into their new home, they may realize the excitement with a new chapter of their life as part of their Jewish journey. In fact, most elderly adults tend to reflect and wonder how they may have enjoyed their later years even more if they had transitioned sooner into their new assisted living residence. Jewish seniors are encouraged to socialize and practice religious traditions with their fellow generational cohort members. They enjoy living life to its fullest, maintaining their utmost level of independence, and receiving support with activities of daily living and instrumental activities of daily living from skilled senior caregivers.
What Services are Provided in Jewish Assisted Living Facilities?
Jewish assisted living facilities focus on attending to the health needs and interests of our Jewish senior loved ones. As we have discussed, it is well known that Jewish senior citizens mainly focus on their Judaism beliefs and traditional practices. This will also include their kosher dietary and meal programs. Let us further consider the various Jewish services you may expect to find in a Jewish assisted living facility or senior living community:
Jewish assisted living facilities are known to provide their residents with long-term care services to support with activities of daily living and instrumental activities of daily living. The Jewish assisted living facilities only employ skilled senior caregivers to assist and care for your loved ones. Their exceptional staff are sure to provide the care, compassion, and excellent senior care that you would expect of a caregiver for your elderly loved one.
If your elderly loved one experiences mobility limitations and finds it difficult to visit synagogues, then the assisted living facility will provide the necessary support. The Jewish assisted living facility may offer transportation services, so as to enable your loved ones to attend services at the synagogues, or will schedule appointments for the rabbi to visit and practice Shacharit with your Jewish elderly loved one.
Many Jewish elderly adults follow a specific kosher dietary and meal program, meaning they have restriction to follow. Jewish assisted living facilities are known to take into account these restrictions and maintain meal program that seniors are used to.
When it comes to consumption of meat, Jewish seniors who are only eating kosher can only consume meat from sheep, cows, goats, and other animals with cloven hooves and chew cud. Certain foods, like camel meat and pork, are forbidden. Since the Jewish assisted living facility is open to all religion practices, they may offer a special kosher-only kitchen for their practicing Jewish seniors. This kitchen is only used to cook and store kosher foods.
Jewish assisted living facilities offer comforting care for those elderly adults who experience chronic illnesses, who need companion services, or memory care services. Such Jewish senior living communities provide high quality emotional, social, and spiritual support.
Qualified and experienced staff ensure that your loved one is in good hands to provide the best senior care. Ask the facility to share certification documents concerning their staff members and proof of the facility passing audit and inspection checks.
Shabbat service. This is a holiday program or service, where older adults living in the Jewish senior facilities participate together as a community by saying meaningful new prayers and poetry. Shabbat visiting was intended for those senior members who were not able to attend synagogue services.
Visits from friends and family are very important to the residents as this allows for the residents to still feel a part of their communities back home. Volunteers and sponsors are also welcomed to visit the facility, and may engage with the elderly adults and participate in crafts, games, Torah and Siddur study sessions, and conversations to promote senior socialization.
Tour Questions for Visits to a Jewish Assisted Living Facility
Before you embark on your tour to transition into a Jewish assisted living facility, first schedule a tour so you can decide whether the community is the right one for you or your senior loved one.
Consider the following 12 questions during your tour of Jewish senior living community or assisted living home:
What services would the Jewish assisted living facility offer? Different facilities offer different activities and amenities, but all should support seniors with their activities of daily living and instrumental activities of daily living. Some assisted living facilities choose to provide limited services to their residents, so as to lower the cost of stay, while others provide more services so as to increase their residents' activity performance. When it comes to services provided by the Jewish senior living facility, here are some detailed questions you should consider.
Will their aged seniors have access to religious services, for example the Shabbat service?
Does the facility offer religious clubs for example, the Association of Jewish Aging Club?
Will you be provided laundry and housekeeping services?
Does the facility offer transportation services to the elderly residents?
What are the available Jewish accommodations? If your loved one is fully into Jewish practices and traditions, here are certain things they might need to practice to maintain their faith. As an individual, you need check the following
Will your loved one comfortably practice their religion with the available facilities?
Will the available facilities enable you or your loved one to easily move around?
Will the facilities accommodate seniors using walkers and wheelchairs?
How much will the assisted living facility cost? Quality Jewish assisted living facilities can never be cheap. This question will enable you to plan ahead financially and develop a plan for how to finance the assisted living stay. Additionally, when it comes to the cost of stay, some financial questions to consider may include:
Are the costs flexible?
Would Jewish practices be costly?
Does the cost increase at some point?
Exactly what do the fees cover?
How do caregivers relate to their residents? Do the staff members believe or practice the Jewish way of life? Consider asking the following questions during your Jewish assisted living facility tour.:
Are the staff member aware of the residents' Jewish religious ways, beliefs, and practices?
What services do the staff members provide to support the Jewish residents with maintaining their Jewish religious practices?
Does the assisted living facility provide Torahs and Siddurs to residents?
How are the staff members interacting with the residents?
Dietary and meals programs. As stated earlier, the Jewish religion has a very strict kosher dietary program which must be followed. Therefore, while searching for a Jewish assisted living facility, you have to make sure that what you require is available or can be easily accessed. Meal questions you should ask the Jewish assisted living facility may include:
Does the facility provide a kosher kitchen?
Can non-residents visit during meal times?
Can visitors bring food into the facility?
How does the assisted living facility ensure a variety of health kosher nutritious meals are provided?
How does the facility offer senior care support? Most seniors move into assisted living homes as they may require extra support to be able to live as independently as possible. Health care considerations are a major necessity to look into. Consider the following questions.:
Can one still access their care specialist while in that facility?
What kind of patients are currently in the facility?
How are medications handled?
How are health emergencies handled?
Where is the facility located? If your loved one practices Judaism, maybe you would consider a facility that is close to a synagogue. The location and accessibility of the Jewish assisted living facility is very important. Also, a closer connected facility will ensure better connection with family members and friends.
If you are happy with your tour and would be interested in the transition, ask about the application process. Look into their financial and medical application, but most importantly, make sure that their health evaluation process is done by a professional.
In summary, your goal should be focused on how you can provide your Jewish elderly loved ones with the highest quality of senior care possible. Allow the Jewish assisted living facility to continue feeding the soul of your loved ones and to support your elderly loved one to maintain consistency with their Jewish values and traditions during their retirement.