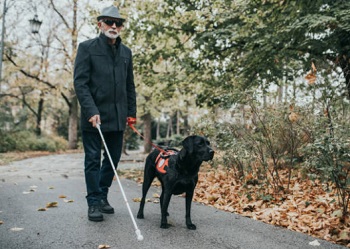 Aging comes with different challenges; for some, it is memory loss, depression, or even vision impairments. Seniors who have become visually impaired or blind may feel unsafe as they are not able to engage in most activities as before. Most times, the condition that led to such disability is mostly out of their control as it is sometimes age-related. As people lose their sight, they may feel lonely as they isolate themselves; they think they are no longer useful to either themselves or the society. Most blind seniors do not even believe that they can still live a happy, independent, and purpose-filled life.
As we age, our vision abilities may decrease. Millions of Americans above the age of 65 live with one kind of visual impairment or another. Some may already be acquainted with the limitations of their disability and may have adopted workarounds, while others may have recently become visually impaired and are starting to find the best ways to make the most of their lives despite their vision changes. Assisted living facilities understand these challenges, and the senior caregivers are available to assist with activities of daily living, companion care, and emotional and physical support. If these seniors have access to quality senior care services provided by assisted living facilities, the quality of their lives will be significantly improved. As a result, they will once again be able to find a new meaning and purpose for their lives.
The senior caregivers of assisted living facilities are trained to provide care to seniors with disabilities as tailored to their condition, needs, lifestyle preferences, and unique situations. Assisted living communities for the blind and visually impaired present various care options to enable the elderly adults to feel safe, independent, and happy for as long as they age in place. Vision loss can make daily living a constant struggle. Activities such as climbing, walking, preparing meals, and even self-care with proper hygiene can become almost impossible as a result of the disabilities. Fortunately, as seniors transition into an assisted living community that caters to the blind and visually impaired, they will enjoy assistance for their daily living alongside personalized care and support.
Can Blind Older Adults Live Independently in Assisted Living Communities?
You must have thought about this question several times as you research assisted living options near you for your visually impaired older adult. The need for assisted living vision care for the elderly is in high demand. It is essential to ask the assisted living facilities about the services they provide for blind and visually impaired. You may have found that searching for senior care options for the blind elderly may be a stressful, and time-consuming process for many families.
Which Common Elderly Vision Challenges Does Assisted Living Support?
Even if you were extremely cautious about your health when you were younger, there is a high possibility of developing visual impairment as you age. Different kinds of vision loss and impairment may affect the eyes of the elderly. Fortunately, most conditions can be managed or treated with time. Some of the common elderly vision challenges with which elderly adults seek assisted living may include:
Cataracts make you feel as though you were staring through a fog. This vision impairment impacts the quality of your vision by creating a cloudy substance in the eyes. This leads to a perpetually fuzzy vision that can only be corrected using surgery.
Age-related macular degeneration
This is an eye disease that can cause extreme blurriness in most seniors. It causes the inability to distinguish colors effectively. And it can even make it difficult to tell the difference between two or more objects. This is because it impacts the central vision.
Seniors suffering from this condition have a diminished ability to process all types of contrast. It causes severe damage to the optic nerve of the eye. As a result, peripheral vision is lost, and the sufferer cannot distinguish between contrast.
A dry eye is mostly triggered by prolonged dehydration. If you fail to drink enough water as you grow older, your body may suffer from dehydration, which eventually causes a dry eye. This vision impairment causes the eyeballs to become itchy because the tear duct is unable to produce enough liquid due to the body's dehydration. When the eye is dry and itchy, an elderly individual might not be able to participate in a range of daily activities such as driving, cooking, and reading without taking some time in between to rest and relax the eyes.
Seniors who have diabetes have a higher chance of developing diabetes-induced eye disease such as diabetic retinopathy. Such a condition is naturally triggered by diabetes. The disease damages the blood vessels in the retina. As a result, the individual experiences partial or full visual blackouts throughout the day.
This is caused by an increased level of intraocular pressure in the eye, which is triggered by the build-up of too much fluid inside the eye. When this pressure continues to build up over a long time, it becomes too elevated and leads to glaucoma.
The consequences of low vision vary among the elderly. For some, it causes too much sensitivity to light, high susceptibility to glares, and inability to see even during the day. A sufferer may see things differently from another person. And the ability to tell the difference between objects may be impacted. Whether your elderly loved one is suffering from cataracts, age-related macular degeneration, ocular hypertension, diabetic eye disease, dry eye, glaucoma or any other form of a visual impairment, trained caregivers at assisted living facilities are able to provide proper care.
Common Daily Challenges Faced by Seniors with Poor Vision
The process of vision loss can be gradual or instant, depending on the circumstance or condition that caused it. Millions of seniors globally are suffering from this condition, and they struggle to deal with it daily. There is more to vision loss and impairment than it seems, and seniors with vision loss or blindness deserve quality assistance with daily living that they can receive at assisted living communities. Most visually disabled, elderly adults may find it difficult to adjust their new lifestyle, and may feel as though they are a burden to their family caregivers who are trying to support them. Here are some of the typical daily challenges seniors with vision loss suffer as they age, which may indicate it is time to seek an assisted living facility that will help with these challenges:
Inability to drive: This is a common problem for anyone who has a visual impairment. Older adults with such conditions may not be able to interpret road signs, follow simple driving rules, and obey traffic while driving. A blind-friendly assisted living facility understands these needs and provides for them as needed.
Mobility problems: seniors with vision loss may face difficulties moving from one place to another. For instance, they might need assistance getting dressed, bathing, and doing laundry.
Lack of independence: Older adults who have vision loss can attest that the most cherished aspect of their lives that they lost without knowing is their privacy and autonomy. A visually impaired or blind person always needs assistance to do almost everything he or she is already used to doing all by himself. However, the assisted living facility will strive for the older adult to maintain their feeling of self-pride and dignity. Thus, the assisted living facility caregivers will guide the older adults to perform their daily activities while still being mindful and respectful.
Factors to Search for When Touring Assisted Living Facilities for Visually Impaired or Blind
As you know, seniors experiencing vision loss need specialized care and attention. Most times, it takes twice the care effort offered to those without vision loss to cater to and provide quality care for those with vision impairments. Therefore, the assisted living facility that you decide to move your aging loved one into must be able to support these specific needs and provide a place for your older adult to feel safe and comfortable as they age in place.
Whether you are embarking on an assisted living facility tour soon, or you want to consult a senior living advisor to assist you with the best blind-friendly assisted living community; you need to watch out for some factors on your own and consider various factors to enable you to find a safe place for your aged mom or dad. Here are some factors to consider as you search for the best assisted living facility for the blind near you.
Here is the most critical aspect of securing a safe place for seniors with vision loss. The assisted care facility must have well-trained staff that are not just professionals but understand the core needs of these visually impaired seniors. The senior caregiver staff must have a lot of patience, tolerance, and compassion. These qualities are highly essential when caring for those with vision loss. In addition, the caregivers must have excellent communication skills, emotional intelligence skills, and must be able to understand the needs of the elderly even if they are unable to communicate effectively. When an elderly adult with vision impairment is showing signs of progression, the caregiver must be able to recognize these changes and adjust their care plans to meet the older adult's changing senior care needs.
Blind friendly environment
An assisted living facility that is dedicated to the blind and visually impaired is easily recognized during the first visit. Families searching for local assisted living facilities near them need to consider factors such as lighting, flooring, and walking distance. The floors shouldn't be too slippery; neither should they be too rough for seniors living with such disability. Also, check the kind of lighting in the apartments and the amount of space available. These factors are essential to the quality of life seniors with vision loss will be exposed to in their new home.
Dinning and common areas set up
The dining room must be blind friendly with appropriate escort services and support. It doesn't need to be clogged or too narrow so that seniors can easily navigate and stay safe. The walking distance from the apartment to the dining needs to be short and easy to navigate as well.
How Assisted Living Communities Help Seniors with Vision Loss and Impairment Adjust to Their New Life
Many families would like to know the various senior care benefits their loved one will get from a care facility when they seek senior care options for the blind. Seniors need to understand that vision loss and blindness does not signify an end to life. Fortunately, many assisted living facilities that provide vision care for the elderly also offer visual rehabilitation therapy and counseling for seniors to enable them to relive their best lives once again. These assisted facilities have low-vision therapists that are trained to help older adults with a variety of tasks, such as changing the lighting in their room, maintaining some level of independence, learning how to perform basic tasks, and using magnification devices.
There are also orientation and mobility therapists that help elderly adults navigate their environment safely. Aside from these, assisted living facilities that are blind-friendly provide mental health, emotional, and social support to the visually impaired. The assisted living facilities will also offer transportation services so that the elderly adult may continue to visit their healthcare providers and ophthalmologist.
How Much Do Assisted Living Services Cost for Visually Impaired Adults?
The answer to this question is entirely dependent on each assisted living facility. With the average nationwide assisted living cost at around $4,000 per month, cost varies based on geographical location, amount of senior care services provided, and the amenities available in the assisted living facility. You may consider looking into the supplemental funding sources available to you to help you cover the costs of assisted living services.
There are several payment options for an assisted living for the blind and visually impaired. They include:
Medicare: You may consider whether your elderly loved one is eligible for the Program for All-inclusive Care for the Elderly (PACE).
Medicaid: Seniors who qualify may receive financial aid that covers expenses concerning full time assisted living.
Social security: The Optional State Supplements (OSS) assists with blind senior care for qualified individuals.
Health Insurance: Seniors who have access to long term care insurance may have the bulk of their senior care costs covered.
Self-Payment: Relying on savings or retirement accounts, cashing out from long term investments, and selling a house are other payment options for paying for assisted living for the blind. Many seniors rely entirely on these options when they have exhausted other local or national resources and assistance.
Questions to Ask Blind-Friendly Assisted Living Facilities
When searching for an assisted living facility that caters to blind or visually challenged seniors, you must ask the appropriate questions when you visit the community. Before you begin your tour, it is best to prepare a list of questions you plan to ask and to consider the services and preferences that matter most to you. You should strive to leave each assisted living facility with a good understanding of how they operate and the specific care options they provide to the blind and visually impaired. As a result, you will be able to compare among the assisted living facilities and select the assisted living facility that is best for you. Here are some questions that we recommend you ask any the assisted living facilities your tour:
Questions about staff training
You must ask if the caregiving team at the assisted living facility has been duly trained to enable them to understand the needs of seniors with vision disabilities. Also, the caregivers should be able to communicate in a manner the elderly loved one feels is comfortable and appropriate. Do the caregivers understand the various type of vision loss and how to relate with seniors who feel depressed as a result of their low vision?
Questions about the environment
Do you find the setting appropriate and accommodating for an ideal assisted living for the blind? You should tour the assisted living facility and find out if your aged loved one can easily navigate their way around. Is the environment free from the clutter that could cause the elderly adult to fall? Also, ask if there are enough coverings on the windows to minimize glare. Is the text on the signs in the community large enough for seniors with low vision to comprehend easily?
Questions about amenities and services
What kind of amenities and senior care services are provided for residents with low vision in the community? Does the assisted living facility provide escort services from the apartment to the dining room? Do they provide mental support and rehabilitation programs for blind seniors? Are there specific programs or amenities designed to help seniors with low vision improve on their sight and socialize with others within their environment? It is vital to understand the facility's plan to provide care for your aged loved one and consider if they will help meet with the specific needs of the blind.
When considering assisted living facilities, it is also important to ensure that the caregivers will continue to encourage socialization so that the elderly do not feel isolated and depressed. It is important to assess the steps the assisted living facility is taking to ensure they engage seniors with low vision. Are the residents exposed to wellness and fitness classes? Are there any clubs or informal gatherings, specially designed for the blind and visually impaired? Blind seniors do not just need physical care; they also need emotional support, encouragement, and monitoring to enable them to get the best out of life and find a safe place to call home. When it comes to assisted living for the blind, you must ensure that the assisted living facility provides the specialized care by compassionate, expert senior caregivers.