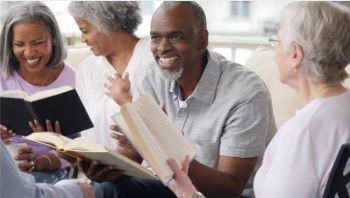 When the time for retirement draws near, it is time to consider your senior care living options, such as which assisted living facility would be best for you? It is better to start planning for this important stage of your life early so you may consider your needs and preferences, have more options available to more thoroughly review, tour the assisted living facilities, research each of your options, and feel confident about your choice when the right time comes for your transition into an assisted living facility. The more information you have about the existing assisted living facilities, the better you will be able to find the best assisted living facility.
The senior assisted living facilities offer an array of services depending on your religion and belief, culture, daily needs, and lifestyle preferences. While finding the best assisted living facility near you may not seem to be a walk in the park, considering the information in this article will help you identify the Christian senior living and assisted living facility that is right for you.
Our faith and belief may help form our identity and lifestyle. It can be that faith that has provided you with sustenance all through the decades, leading you to live a holy and spiritual life. Then, at an older age tends, your priorities take you on a different path as you turn the page and enter your 70's or 80s. This is the most perfect time for you to connect with your senior friends of the same faith and share both life and Biblical experiences.
What is Christian Senior Living and Assisted Living?
Christian senior living and assisted living facilities are senior homes that offer services that are particularly to support with senior care, especially for those elderly who prescribe to Christian beliefs and faith. The various senior residential recreational activities that take place in Christian senior living facilities tend to be centered on Christian values like love, compassion, and respect for individuals within the facility. Every individual is treated specially as the caretakers believe they serve God through serving the elders. This is a fundamental Christian belief that Christ exists within his people, so when you treat someone right, you are serving God. These kinds of beliefs are integrated into Christian senior living and assisted living facilities.
What to Expect from a Christian Senior Living Facility?
When you are a religious Christian elderly adult who has been associating with church services from an early age, it is essential for you to be able to continue your involvement with church matters even in the old age. Christian senior living and assisted living facilities accommodate senior citizens of various faiths. However, there is a common non-secular belief that the Christian elderly adults would continue to worship according to the doctrines of the Bible and praise the Highest.
The senior caregivers at Christian assisted living facilities genuinely care for each of their senior residents. The senior caregivers offer the elderly adults companionship care, encourage senior socialization, and offer great support with various activities of daily living.
In a Christian faith-based senior living or assisted living facility, you may find a pastor right on staff who has duties like evangelizing for believers during the Biblical Sabbath, helping with matters of counseling, standing during marriages and renewal of marriage vows for elderly senior couples of assisted living facilities, or presides over the funeral ceremonies and during memorials. The pastor also helps lead prayer groups, offers Bible studies, and provides guidance with other calls of duty which may include providing support for church missions locally and abroad. The Christian senior living communities may provide transportation services to churches and church-based volunteer services, and the priest would also come to visit the elderly adults. This would help Christian elderly with limited mobility who may be unable to join for the Christian excursions and church trips, but would still greatly value the opportunity to continue to practice their Christianity.
Another distinctive aspect of Christian senior living facilities and assisted living homes is that they are affordable due to support received from churches and Christian non-profit organizations. Christian senior living facilities frequently receive support from members of the denomination and as a result are able to keep the costs low in order to accommodate and provide senior care services to a number of elderly Christian believers.
Differences Between Christian Assisted Living and Non-Faith Based Senior Care Facilities
Christian assisted living facilities and other religious-based senior care facilities, such as Jewish senior living homes, centrally aim to provide senior care services to help individuals reclaim, maintain, and improve their connection with God. These religious-based elderly care and assisted living facilities strive to care for the soul, mind, and body of the elderly adults; and such religious services are not offered in non-faith based elderly care facilities.
The Christian religious-based programs may include attending church services, hearing sermons, visits from pastors, reading Bible during prayer sessions, and singing hymns. Non-faith based elderly care facilities are more concerned with the non-secular health-related conditions of their residents and matters of Christianity and other religions and faiths are not provided as much concentration and integration. However, senior caregivers at non-faith based elderly care facilities continue to integrate the elderly's lifestyle choices, culture, and faith into each individual's care planning in order to create personalized care plans that are based on the holistic biopsychosocial circumstances of each elderly adult.
It is also important to remember that you do not need to be a devout Christian, or even follow Christianity, in order to be welcomed and cared for at Christian senior living home. Such religious-based eldercare and assisted living facilities welcome and accommodate the needs of elderly adults of all faiths.
Who Administrates Christian-Based Facilities for Elderly Care?
This question may at some point come across your minds. A good number of the Christian-based facilities for elderly senior care that you may have heard about are mostly managed by non-profit organizations. The Christian-based elderly care facilities receive most of their profit from the registration of new elder members, and the monetary and material goods donations from churches and Christian non-profit organizations. The profits from the residents and Christian well-wishers are then typically reinvested into the senior care facilities and are used to enhance the senior care services.
Christian-based eldercare facilities and assisted living facilities are often mission-oriented organizations which try to accommodate members of diverse faiths with an array of lifestyle preferences, while carrying out the doctrines of the Christian faith. In most cases, you will find the board members as the church's leaders and directors of Christian non-profit organizations. These board members oversee the management, various activities, and services of the Christian-based senior care facilities and assisted living homes. As a result, they are able to coordinate times for the church to come in to lend a hand in outreach programs and volunteer services for spending time with the elderly residents, for example, offering healthcare screenings, offering food, playing games and socializing, and providing other extra care to seniors living within the Christian-based senior care setting.
How to Find the Right Christian Assisted Living Facility for You?
It is important to remember that although Christian assisted living facilities may share their focus of integrating Christian beliefs into the culture of the assisted living facilities, each assisted living facility is unique. Thus, the preferred Christian assisted living facility may be different for Christians according to their lifestyle preferences, the locations, the needs the assisted living facilities can meet, the bond with the caregivers and staff members, and where each elderly adult feels they would be most comfortable with a quality life during their golden years.
In order to identify the right Christian assisted living facility for you, you are encouraged to utilize as many resources as possible to locate the right senior care that will meet all of your spiritual, emotional, psychological, and physical senior care needs. The Christian assisted living facility search process requires energy to access these facilities one by one and to ask questions about the services they offer. It would be greatly beneficial to visit and tour the assisted living facilities, and to consult the residents about how they feel they are treated within the facility. At this point, you will have to do the necessary research to collect enough information to help guide you with the transition into a Christian assisted living community. You may also consider consulting your church pastor and other church members who may have ideas to help guide you with locating the best Christian eldercare homes and assisted living facilities within your locality that would be right for you.
You may find that you may encounter a member of your church who may personally have an idea of someone that has significant information or themselves have had a great experience with a perfect senior care center for Christians. Living a Christian life denotes that you are living a particular way of life, which includes embracing a love for your neighbor, and caring and sharing for those less fortunate. This is the reason why Christian assisted living facilities create a perfect environment for those elderly seniors who seek to continue living their Christian lives while enjoying a bit of extra support with their daily needs. These special senior care homes are accommodating and accepting environments based on Christian values to continue to spend the latter days of your beautiful Christian lives. Please also consider that it may be beneficial to start searching for Christian assisted living facilities that are near family or loved ones, as there is nothing quite like continuing to spend time with our loved ones. Also, as we age, there may be changes with our memory, so spending time with our loved ones can also help us recollect our memories, while continuing to feel like we are important members of our Christian assisted living facility community, the Christian society, and our community back home.
You can also be sure that these Christian-based senior care facilities still abide by all the decrees, and the senior caregivers go above and beyond the rules to ensure that the senior residents have the best quality of life, praiseworthy of the devout Christian life if they may so choose.
Many religious-based senior care facilities include ongoing senior residential activity programs, offer at least three healthy and nutritious meals with snacks, routine 24-hour caregiver assistance, excellent senior care services, and other Christian-based scheduled activities. Most Christian assisted living facilities offer frequent prayer services, and small groups Bible studies to enable the Christian elderly residents to continue to regularly worship and pray even on days which are not holiday or normal Sabbath days. The facilities also host opportunities to continue to make new friends, learn new hobbies, play golf or a card game, and enjoy celebrations and festivities.
You will feel the love and companionship from other residents, and form bonds with those whom you share religious beliefs and values, while also interacting and getting to know individuals with different beliefs, perspectives, and lifestyle preferences than your own. This socialization can significantly boost the quality of life you will have within the care facility, and eliminate any worries you may have about being lonely or isolated in senior years.
Also, as every Christian assisted living facility administrator has a distinct set of Christian morals, this can create a change of how the facility is run. It is important you select the facility with the Christian morals and Christian culture that aligns with your morals and beliefs. Living in a senior care facility surrounded by senior care experts and other members of your generational cohort will give you almost the same feeling of care, and the loving atmosphere as you enjoyed for decades in your home surrounded by your family and friends.
What is the Cost of Christian Assisted Living Care?
As much as cost is a very important concern to look into, we recommend that you first look into what the facility offers before concluding whether you should pay for the facility or not. Religious-based senior care is generally more affordable compared to other assisted living, but the cost factor will still come in. Christian senior living and assisted living facilities may cost from $2,000 to $5,000 a month depending on the room allocated to you in the Christian eldercare facility, such as whether it is a one-bedroom apartment or just a private room, and the state in which the Christian senior care home is located. The price will also depend on whether you are looking for independent Christian senior living or if assisted living services are required.
It is important to consider future care needs, as health conditions may develop and progress and additional care may be needed during a later stage. For example, a senior with slight memory challenges may be diagnosed with dementia or Alzheimer's, and then would require a dedicated memory care facility, which is more specialized and costly than other assisted living facility accommodations.
It is important to financially plan early so that you are well prepared. It is also important to consider additional sources that may be able to support with the cost burden, such as churches, other Christian non-profit organizations, Medicaid, and the Veterans Affairs. You may be fortunate to receive community donations, which may subsidize the prices of your out-of-pocket expenses.
Why Should You Consider Christian Assisted Living Facilities?
Living a religious life at an old age is very crucial for ourselves or for our loving elder persons as we transition into a later chapter of our lives and may need additional support for our daily needs. If you ask most Christian assisted living residents, they may share several reasons about why they feel it is important to be able to live as independently as possible, practice their Christian beliefs and traditions, and receive support with their activities of daily living and instrumental activities of daily living from the senior caregivers. They will also share how much they enjoy the residential recreational activities and the opportunities to socialize, continue to learn, and enjoy new hobbies.
It is an absolute advantage to the elderly Christian seniors to be able to maintain their connections with the community's church members. Here are a few reasons for why Christian senior living facilities strive to form and maintain close relationships with churches:
1. Attending church helps reduce loneliness
Many of us may experience the feeling of pain of loneliness once in a while, but for the elders, loneliness can become an everyday theme if not addressed. The worst-case scenario can be a situation where the family friends are so busy with their own lives as they are juggling multiple priorities that the elderly adult is abused, neglected, and does not have the proper senior care they require for a quality life. As we age, many individuals may become secluded and drift away from having close friends. Such reasons for elderly loneliness and isolation may include close friends moving away as they retire, inability to perform hobbies that were once enjoyed with friends, medical complications, mobility concerns that limit our ability to visit friends, emotional distress due to changing health status, inability to continue performing the activities we used to be able to, feeling like we are a burden to our loved ones, or if a closed loved one passes away. However, Christian senior living and assisted living communities understand the importance of arranging weekly trips to church to help the senior citizens socialize and pray with other community church worshipers. Singing hymns, reading Bible verses, volunteering together, and participating in church group activities will absolutely help you better enjoy your later life stage and assisted living facility days.
2. Praying works and improves health
There is a great connection between leading a Godly life and the need for living a good lifestyle. Prayers lifts our spirits, alleviate our worries, help us feel connected to a higher spirit, appreciate our blessings, and better consider the occurrences of the world around us. Prayers will help improve our wellness, reduce the bad effects of loneliness, mind and body stresses.
Though you can easily pray within the comfort and the privacy of the confines of your assisted living facility apartment or room, attending church gathering with your fellow members in the assisted living facility is often a great and powerful and peaceful experience that seniors should consider.
Sharing and praying with people of your similar faith at a convenient gathering is a great idea. You will learn new prayers, deeply meditate about your concerns, and learn from the challenges and successes of fellow church members. Together, you can help each other solve problems and form special bonds and connections. Join the assisted living facility's church events, become involved in serious payers in the church and worship, ask your sins to be forgiven and enemies to be pardoned, and ask for better days ahead after your physical days come to an end.
3. Going to church requires physical movement
Attending Church services or getting involved in physical activities in senior care homes is very important to all senior citizens. As you become older and wiser, you may experience more challenges with regularly exercising, walking to church, or driving to church. However, assisted living facilities transport their elderly to the church so that they may enjoy the walks around the Church and stand during prayers.
Senior age comes with an array of health complication and an elderly adult may be at risk for developing serious conditions, such as Alzheimer's disease, Parkinson's disease, high blood pressure, or osteoporosis. By getting involved in the physical activities involved with church prayer and Christian volunteer services, you can help improve your health and wellness. Leaving your bed and assisted living facility to visit church during an early Sunday morning or joining an assisted living facility excursion to watch the Nutcracker or the Nativity scene, will also help you improve your mind, body, and spiritual health and wellness.
4. Worshiping creates a peace of mind
There will come a time when our senior loved ones will come to face the reality that their days on the earth are limited. At this point, they may think about a lot of issues from personal aspects like the people they will leave behind, and financial management issues like the wealth they had acquired during the younger ages and how to allocate their will and estate. Christian assisted living facilities facilitate opportunities for Christian worships as the caregiver understand that worship creates an inner peace and provides a peace of mind.
Christian-based senior care services and churches provide a wonderful outlet for seniors missing their grandchildren, worrying about a spouse's health status, or their own deteriorating health condition. When in this kind of situation, try to sing with the choristers and allow the hymns to distract you as you focus on paying attention to the reading of the scriptures. Allow the holy spirit to help you find peace in your mind and soul. You can also give free expression to clergymen when service comes to an end, and share all of your worries and concerns, repent your sins, and allow the pastors to help guide you.
Christian Senior Living: Bottom Line
In some extreme situations, many elder citizens for different reasons may find it difficult to leave their assisted living facility and attend church services every Sunday. This should not, however, translate to their total inability to attend the church services for they should still try to join as possible, and participate in the Christian services that are offered on-site at their Christian assisted living facility, so that you may still continue to socialize and connect with God through praying and worshiping with other members of the same faith.
In summary, religious-based senior care homes and Christian assisted living facilities are a perfect place for elderly adults to come together and live in an environment that embraces Christian values. Share your later years with compassionate and loving senior citizens who share the same traditions and beliefs as you. Although finding the best facility that offers the services of your needs and interest may be a frightening adventure, it is always a pleasure to belong to a community with people who care for you and cherish you. It is even more pleasing that you can incorporate your religious values into making a senior care decision that would truly help you improve the quality of your life. Living a Christian life in a comfortable assisted facility is a fantastic solution that will transform your later days to become even more lively and interesting as you rekindle the flame with God and your other Christian worshipers.