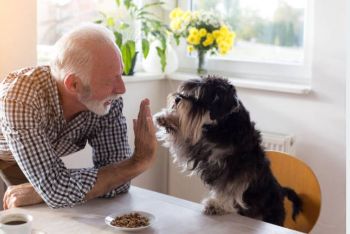 Pet owners cherish their pets and may find many reasons to include them in their daily activities. Seniors are especially fond of their furry friends. Pets help seniors stay active, provide companionship, encourage a sense of purpose, and feel loved and wanted. Pets can also help elderly adults reduce stress as they navigate their chronic conditions. Previously, pet therapy was not a significant focus in assisted living facilities and senior housing residences. And when it was time to move to a nearby senior care facility, the seniors had no option than to part with their cherished furry companions. Such departures were distressing for both the pet and the elderly adult. But these today, it does not have to be so. Over the years, many senior living communities have restructured their policy and expanded their services to allow seniors who want to move in with their pets. These senior caregivers have come to realize that pets contribute to the emotional and psychological well-being of the older residents as they age.
Senior Living and Pet Care Options
When it comes to pet care in assisted living communities, one of the biggest concerns is that a pet-friendly assisted living facility needs to ensure that they provide a program that caters not just for the needs of the elderly, but that of the pet too. The assisted living facilities also have to keep the health needs of pets under check to ensure they stay healthy throughout their stay. Most senior citizens would want their pet to be around them anywhere they go in search of long-term quality senior care.
However, as we age and dementia progresses into Alzheimer's disease, we tend to become more forgetful. Pets require care and grooming, but this may challenging for an elderly adult who also requires additional support with their own care and daily living. Even if they remember to care for their pets, the elderly adult might not be able to do so correctly due to disability or illness. Therefore, assisted living facilities need to ensure that these pets are adequately groomed and catered for by expert caregivers to ensure the happiness and health of both seniors and their pets.
Are you searching for pet-friendly assisted living facilities near you? It is essential to consider several factors and understand the needs of your pet before making your decision. Remember that in addition to your own needs, you also need to consider the needs of your pet. Fortunately, pet-friendly assisted living communities are prepared to provide such pet care services. Some assisted living facilities also have a Pet Care Coordinator to ensure all pets receive adequate veterinary care, attention, and vaccination. Such pet care services may include feeding, walking, and grooming the pet in circumstances when the senior owner cannot perform such responsibilities.
Benefits of Pet Care for Assisted Living Facility Senior Residents
In today's modern medicine, there is an increased focus on identifying alternative care strategies to help seniors with their biopsychosocial and spiritual needs. For seniors battling with age-related sickness, owning a pet might be the right medication that will remedy the health condition. Having a pet can help to lower blood pressure and cholesterol level in the body and reduce stress. Pets encourage healthy activities such as walking and grooming. Owning a pet might be just another medical booster the senior needs in his or her journey towards better health.
As a result, many senior living communities have realized that pets can be just the "right medicine" for seniors living with various health care needs. There are various age-related illnesses for which the symptoms can be minimized and managed effectively with this pet care strategy. The logic is that when seniors see their furry friends accompanying them, then they often tend to respond faster to medication, require fewer medications, maintain a balanced view of life, are continuing to exercise for that vital flexibility, and are less lonely and depressed. Having a pet to look down on and caress regularly can be one of the best motivators and responsibilities to look forward to as you age in place at your assisted living facility during your golden years. Here are some of the benefits of having pets in a senior living or assisted living community.
Pets helps seniors stay active
Just like anyone else, seniors need to stay active during their golden years. Physical activity and exercise help contribute to their overall well-being and health so they may prevent falls. Even if you do not want to go on a brisk walk, the fact that your dog needs a walk will motivate you to accompany him or her. Brisk walking is also an excellent form of exercise, so having a pet should encourage seniors to become fit and live healthily.
Pets help seniors fight loneliness
Studies have shown that owning a pet (especially for seniors) can diminish the adverse effects of loneliness. Animals have potent effects on people. Anyone who has spent some time with a cat or dog can attest to this fact. Pets can help seniors improve their mental and psychological well-being, and this includes helping to curb loneliness and isolation. Pets may especially be the case for seniors with limited mobility who may no longer be able to interact with others as they once used to. The seniors would not feel lonely or isolated if their furry friends always accompanied them. As you interact with your pet daily, you are unconsciously building a feeling of self-dignity and happiness. It is hard to be idle for a day when you have a pet around, as the pet will always keep you busy with a few activities. Owning a pet can also help you to meet new people and make new friends as your neighbors engage you in a conversation and admire your pet. Such a discussion might lead to a new friendship that will last for years to come.
Pets help seniors overcome depression
Chances are you were already used to the busy daily schedules when you were younger. As you age and retire, it may become difficult to adjust as you struggle to maintain your sense of purpose. At such times, having a pet can help seniors fight depression and create a new meaning and purpose for their life.
Interacting with a pet each day does not just help the elderly to stay active, but also increases their socialization skills. You will come across several pet-related issues to research and talk about each day. By talking to a fellow senior pet owner or a pet therapist, you can increase your social skills unknowingly and make new friends.
Pets help provide seniors a layer of protection
Pets provide an added layer of protection and help most seniors feel more comfortable and secure as though someone is always around to watch over them. When a stranger approaches them, the pet will notify the elderly adult, so they are cautious of their environment. Pets can also help guide senior citizens if they become disoriented and forget their way around.
Pets help seniors have a better medical status
Research has shown that seniors with pets are less likely to require additional medications, feel lonely, or experience feelings of intense stress. More so, seniors can quickly recover from illness faster than those elderly adults without pets. Spending quality time with a pet each day triggers some hormonal changes in the brain that reduces stress level and high blood pressure.
Pets help seniors increase self-confidence
As seniors require additional support with their activities of daily living, they may experience a range of age-related illnesses that leave them feeling less confident about their abilities. The feeling of worthlessness is what leads to depression over time. Domestic animals are uniquely trained to provide pet therapy. Therefore, these pets can help seniors boost their level of self-confidence and self-esteem since they are trained to understand the feelings of humans.
Pets increase senior's ability to show care
Many seniors who have lived alone for a long time may have lost that unique ability to show care to a fellow human or a pet. Suitable pet therapy may help seniors relive these caregiver and nurturer responsibilities once again. As the seniors assume duties of caring for a pet, they begin to learn how to nurture and show concern for others once again.
Pet Therapy for Senior Residents in Senior Living Communities
It is no longer new news that animals have a powerful effect on people. For seniors, owning a pet can bring enormous health benefits to prevent depression, senior isolation, and loneliness, even if they may not be able to care for such pets daily themselves. Pet therapy is the process whereby a pet interacts with seniors to help improve their quality of health and wellbeing. Pet therapy is an essential tool used by most senior care and medical experts to administer specialized care to elderly adults.
Pet therapy is integrated into the senior care services of a range of senior living communities, which include assisted living facilities, retirement homes, senior housing residences, nursing homes, memory care facilities, palliative care units, and hospices. Domesticated cats and dogs are the most used animals for such pet therapy. These friendly animals undergo a specific therapy and obedient course, which makes them become well socialized, familiar with the environment, and able to interact with seniors with particular health challenges. Most pet-friendly assisted living communities might introduce such therapy to a senior with mental or physical disabilities soon after a successful transition into the senior care facility.
Types of Pet Therapy for Elderly Adults in Assisted Living
Visitation therapy is the most common type of pet therapy among seniors in the United States. This pet therapy involves the pet visiting the elderly at scheduled times of the week in their assisted living residence. The visitation therapy can provide the senior residents an event to look forward to.
Ownership therapy is a therapy whereby the senior owns the pet and allows the pet to be trained by an expert so that it can be effectively used for pet therapy. This is particularly useful for seniors who have excellent mobility skills and can care for a pet with minimal support. It's also vital that the senior can pay for veterinary services and groom the pet appropriately daily. However, if the senior does require additional support, then the assisted living facility would have pet caregivers available to support. Thus, assisted living facilities provide seniors with support for activities of daily living and instrumental activities of daily living, including providing pet grooming and care.
Animal-assisted therapy is a slightly different kind of therapy that complements other types of animal therapy available in senior living communities. This type of therapy is mostly recommended for seniors that need intensive rehabilitation. Such animal-assisted therapy may also involve the support of animals, such as horses, pigs, and even dolphins to help seniors build their self-confidence and promote healthy activities.
Do I Need Pet Therapy in My Senior Housing?
It is vital to know if you would benefit from pet therapy before you begin your search for a senior living apartment that is pet-friendly. Some seniors may underestimate the value of a pet in their lives, while others may opt for a pet therapy program where they can transition with their own pets. But how do you know if pet therapy is the best option for you to help you improve your quality of life? In such circumstances, it is best to seek medical advice from your healthcare provider who can help you understand the role of pet therapy in your life. Also, the assisted living or senior housing staff or a trained Pet Coordinator in a senior living community can help you identify the pet therapy that may be best for you. The goal of pet therapy is to help you improve your health condition and quality of life.
How Do I Find A Pet-Friendly Senior Living Community or Assisted Living Facility Near Me?
Have you considered searching "pet-friendly assisted living facilities near me"? Are you concerned whether you may be able to relocate into the assisted living facility with your pet companion?
You do not need to worry, as there are many senior care options throughout the U.S. where you can find a variety of pet-friendly senior facilities. Consider searching online for pet-friendly senior care facilities in the state you reside in or in any other state you plan to transition to in the nearest future.
Most senior care facilities have different policies regarding pet care. Some do not accept certain breeds of dogs or cats; some may have specific age limits and sizes of the pet they allow within the facility, while others may accept pets such as fish, pigs, and birds. Some facilities may only accept small dogs, while others may allow medium and large dogs too. So how do you know if your pet fits the standards of an assisted living facility? The best way is to ask them specific questions when you pay a typical visit to the facility. It is essential that the assisted living facility also provides daily support to your pet. If you do not have a pet but are interested in pet therapy, then ask the assisted living facility about the type of pet therapy services they may provide.
Questions to Ask a Pet-Friendly Senior Living or Assisted Living Community
What kind of pets do you accept and allow seniors to bring?
It is vital to understand the policy of the senior care facility regarding pet ownership therapy. It is essential to know if the assisted living facility or senior care residence prohibits particular pets. Ask the assisted living facility about the reasons for such prohibition. If your pet is not permitted, do not be discouraged, for you will likely find another senior care facility that welcomes your lovely furry companion.
How much is your pet fee?
It is crucial to ask assisted living facilities about their fees for pets and if there are any variances in the prices. Understand if the costs may increase in the future. Ask the assisted living facility about the pet care services they provide for you and your pet. It is also essential to ask about the mode of payment for such pet fees and if there would be an initial deposit. What if you do not plan to move into the assisted living facility with your pet but plan to care for your own pet shortly?
What is your weight limit on dogs?
Dogs typically have more weight than cats; therefore, most facilities place a weight limit on dogs. Endeavor to find out the weight limit if you have a dog that you are considering taking to the senior care facility with you. If the facility does not permit the weight of your dog, you may likely find another care facility within the same region that has a more favorable weight policy for dogs.
What rules do you have regarding pets?
Here is another important question you may want to ask the senior housing residence staff during a typical tour. You must understand the pet rules of every assisted living facility you visit. Imagine if your favorite assisted living facility would not allow you to bring your pet and does not provide pet therapy services? Perhaps, the pet rules of a particular senior living facility might be too rigid for your comfort. Limiting pet rules can create a frustrating experience for anyone. It is vital to understand all pet rules of the senior living community you intend to transition into in the future.
What are the pet-related services and accommodations they provide?
Are they going to be responsible for the grooming and caring of your pet if you can no longer continue to handle such responsibilities? Do they have pet-walking areas and offer pet walking services as well? Do they have pet salons within the facility? What other additional pet services do they provide on request? Do they charge extra fees to provide certain pet services?
It is recommended you make a list of the pet-related services offered by each assisted living community you visit so you may compare them. After that, you may choose the senior care facility with pet-related services that best align with the overall care needs of your pet.
Guidelines for Senior Citizens Moving into a Pet-Friendly Senior Care Facility
Moving into an assisted living community is stressful for many seniors, especially when they are doing so with a pet alongside for companionship. It is normal to entertain some level of doubt or fear. Below are some tips to help you ensure a smooth transition with your pet into your new senior home:
Most assisted living communities that are pet-friendly are wary about accepting untrained pets into their facility. Therefore, before you move in, it is vital to ensure that your pet has received proper obedience training.
Think about the needs of your pet in his or her new senior care home. What are those factors that will likely affect a smooth transition for the pet?
Allow your pet a week or two to adapt to the new environment before introducing them to other pets or people. Just like humans, animals need some time to settle into their new home.
Do not overreact or become scared when your pet falls sick shortly after relocating to a senior living community. Ensure you seek professional veterinary care and groom the pet appropriately to full recovery.
There are plenty of options to choose from when it comes to pet-friendly assisted living and senior housing options. Ensure you ask the assisted living and senior living facilities about the pet care factors that matter most to you so that you may meet both your own needs and the needs of your pet.