Faith is perceived as an important influencer of the way that many people live their lives. When the senior citizens approach their later years, it is even more important that they are able to join the faith-based senior living and assisted living facilities that are associated with their faith. As a result, many Catholic seniors and their family members give priority to Christian-based senior care homes.
The Catholic faith believes in providing great care to parents when they grow older. Catholicism values the importance of proper senior care for senior citizens as they advance in age. Catholic senior living and assisted living facilities cater to the seniors' holistic needs, biopsychosocial and spiritual needs. Elderly adults may need support with aspects of their daily lives so they may continue to live independently and flexibly as possible. Catholic senior assisted living facilities honor the dignity of all residents and allow them freedom and independence by providing great support care when needed.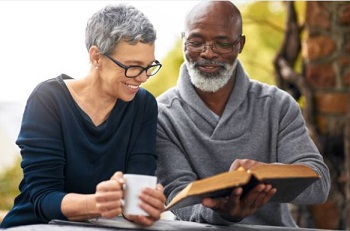 In non-secular senior care facilities, faith is not given much weight within the senior care facility and the residential programs offered do not center about the culture of the faith. This is the reason why many Catholic seniors prefer assisted living homes. Catholic assisted living homes make faith an active part of the culture as the caregivers understand the Catholic faith affects the Catholic seniors' spirit, mind, body, and daily lives. Catholic elders who prefer a Catholic-based senior living experience can gain several physical and spiritual benefits by transitioning into Catholic senior living communities.
Amenities and Accommodations in Catholic Senior Living and Assisted Living Facilities
In many cases, Catholic senior care homes and Catholic assisted living facilities try to follow strict Catholic religious missions when providing care to the residents' physical and emotional needs. It could be perplexing to decide which best Catholic assisted living homes would perfectly suit your exact individual needs and the financial budget allocated, and this is the especially the case if you are searching for assisted living facilities for an elderly couple with different senior care needs. It is important to ensure the assisted living facilities have the expert and experienced senior caregivers who are best equipped to attend to your senior care needs, even if you require additional support at a later time. If you have been diagnosed with the onset of dementia and if your doctor has shared with you that you are at risk for Alzheimer's disease, then it is important that you search for an assisted living facility with a memory care unit so that you may continue to age in place.
Primarily, Catholic elder citizens should seek out a Catholic assisted living facility that encourages engagement and interaction with others who share their religious faith, while centrally keeping the spiritual atmosphere. Consider whether your Catholic assisted living facility offers the following Catholic services.:
Regular access to a Catholic church or occasional in-house worship
Regular pastoral visits
Rosary groups
Confessional opportunities
Catholic-based newspapers
Church-related outings
Occasional Bible studies
Catholic assisted living facilities provide an amicable atmosphere that is very beneficial for long-lasting Catholic accommodations. Apart from the regular care by the senior caregivers, the Catholic assisted living homes provide a spiritual environment where senior residents will have easy and convenient access to a Catholic Church. As an individual beneficiary, you will have greater privacy and freedom to be able to enjoy a diverse mixture of access to prayers, daily mass, and confessionals. In most cases, the Catholic-based assisted living communities will be associated with local parishes. Thus, Bishops or priests from the local parish will visit the residents of the assisted living facilities. Such a Catholic assisted living facility service would be particularly beneficial for residents with a physical or mental disability, and who may be unable to join for the assisted living facility's excursions to the local parish. The facilities would also host an array of fantastic recreational activities and senior care services.
Like other senior care homes, Catholic assisted living facilities offer a diverse choice of services and programs for their Catholic residents. This primarily depends on the resident's requirements, specific needs, and budgets. Catholic residents can freely enjoy the amenities of the assisted living facility, such as dining rooms, craft rooms, salons, libraries well fitted with religious Catholic scriptures, a place of worship, and fitness centers. The facilities also offer religious-based amenities, for example, spiritual shops, confessionals, chapels, and daily mass within the senior living facility.
Selecting the Best Catholic Senior Care Home or Assisted Living Facility for You
It is important to search for the Catholic assisted living facility that can cater to your desired preferences and senior care needs. As assisted living facilities are long-term senior housing and living options, it is important to find the Catholic assisted living facility where you will feel most comfortable and at home. When beginning your Catholic assisted living facility search, do not rush into choosing a home that may be low cost or simply because it is near your home. There are quite a number of aspects to take into consideration when choosing a Catholic senior living and assisted facility. In order to ensure that the Catholic senior home that you select can cater to your specific needs and preferences, consider whether the services provided reflect the budget, the safety, the expertise and experience of the senior caregivers, and how well the staff and caregivers treat the residents. The right assisted living facility for you should feel like home.
Cost of Catholic Senior Living and Assisted Living
The price for religious-based senior living or assisted living home is a key factor to consider and plan for. Catholic assisted living facilities benefit from donations provided by the local parish and Catholic non-profit organizations. The donations subsidize the costs of assisted living facilities for the residents. The amount you will spend in the assisted home primarily depends on the level of care you or your elder loved one will need. It is important to ensure that the services offered in these senior care homes are top-notch and worth spending your golden years, as you connect strongly with your Catholic faith with your fellow assisted living facility senior residents.
How to Find Catholic Assisted Living Near You
As one of the fundamentals of living a good life, belief is a great source of comfort and power, especially during the time of transition. Such a transition may include moving from your home into a Catholic assisted living facility. The time and effort invested in looking for the best Catholic assisted living facility will help you ensure that you select the right place with Catholic care programs that will fulfill your spiritual needs.
Ask Your Spiritual Network
Ask your pastor or Catholic priests in your local Catholic church, and consult your active worship groups about recommendations for Catholic assisted living facilities near you. By asking those you trust who share the same Catholic faith, you will be able to gather the right information about the Catholic services offered, quality of senior care, and how the residents are treated and regarded.
Conduct an Online Search and Consider Online Reviews
Research "Best Catholic assisted living near me" on Google, Bing or Yahoo and you will receive a list of Catholic senior living options, customer reviews, and ratings. However, do not allow this online search to be your one-stop-shop. It is also important that you visit the facilities you are considering. Make a personal appearance and tour the Catholic senior living or assisted living facility. At times, what you see online may not be the real or the full picture. Considering the fact that this is a place where you will age in place for years to come, it is important that you do your due diligence and tour the facilities thoroughly. Tour the second time if you really loved a specific facility, just to be sure it is as good as you think.
Ask Catholic Senior Living Communities Questions
During your Catholic assisted living facility tour, ask questions to help you narrow your search and to ensure the senior care facility offers the services you need and prefer. It is also important that you ask the assisted living facilities about Catholic-related services. Some facilities may offer interreligious services to suit the needs of a diverse array of residents so if there are particular needs you have as a Catholic senior citizen, then be sure to ask. For example, consider asking the facility about the following Catholic services:
Does the senior care community have a worship center, chapel or meditation room within the facility?
Which religious services are offered? Do they conduct daily masses, Bible study, small worship groups, confessionals, and other opportunities for Catholics to embrace their Catholicism faith?
Does the facility have a vicar who perfectly understands different faiths?
What kinds of meals do they provide?
Does the community observe particular Catholic holidays, such as Ash Wednesday, Holy Thursday, Palm Sunday, Easter Sunday, or Christmas? How does the community observe such Catholic occasions?
If your sacred faith forbids you from being cared for by caregivers of the opposite sex, can the staff meet your needs?
Receiving the right answers to these important senior Catholic lifestyle questions will help you understand how the facility works, the services they offer, and how well your faith would be supported if you move in. Visiting the facility and discussing with the administrators, caregivers, and residents will help you gather the concrete information you need to decide about the best Catholic assisted living facility for you.
Use Your Creativity to Help You Search for the Catholic Senior Living Option That is Best for You
If you live in an area with limited Catholic senior living options, then it is time to get creative by using both networking and collaboration skills. For example, in a place where there are few or no Catholic assisted living facilities, there may be other faith-based senior care options within your area. Would you consider a Protestant or a Christian senior living facility? Visit your local senior living and assisted living facilities and ask if they would be willing to accommodate a Catholic resident. Would they be willing to help you connect with a local clergyman, pastor or member from your religious group who can teach the caregivers about how best to support the needs of Catholic seniors? Would they be willing to transport you to your Catholic church and arrange for a Bishop to visit you?
If there are a plethora of Catholic assisted living facilities in your area, then take your time to ensure you select the Catholic assisted living facility that is best for you. For example, consider Catholic assisted living facilities that are close to the home of friends and family so that you may still continue to connect with your loved ones back home. Your family may also want to observe the care you are receiving to make sure you are enjoying a quality senior lifestyle and are receiving the best possible senior care.
Catholic assisted living facilities provide all the comforts of living at home without the hassle. Knowing that senior caregivers are available 24-hours a day is great for families who live a long distance from elderly relatives. Enjoy a peace of mind as you trust your caregivers to provide the best senior care to your elderly loved one.
Some Things to Remember About Catholic Assisted Living Facilities
The Church may be where you feel that you will receive all of the answers. Your Catholic senior living or assisted living facility understands this and will not only attend to your daily care needs to support with activities of daily living and instrumental activities of daily living, but the Catholic senior home will also support you as you continue to embrace and practice Catholicism. Catholic assisted senior living facilities understand how important your Catholic faith, beliefs, lifestyle, and tradition are to you. Your Catholic assisted living facility will be based on Catholic fundamentals as you celebrate your Catholic faith with other senior residents. You will transition into your assisted care facility and this will be your home away from home as you age in place. You will create new memories with the other senior residents you socialize with as you pray together and partake in the residential recreational activities.
As the saying goes, "The family which prays together stays together''. As an elder adult who believes in the Catholic faith, you may prefer an assisted living family where Catholicism is integrated into the services, culture, and daily life. Families who share a faith, while welcoming members of other faiths, are indeed stronger and happier. The other residents of your Catholic assisted living facility will become your new family as you enjoy your golden years and maintain relationships with your loved ones back home. Your assisted living facility may even provide transportation services to the local Catholic parish for you to pray with your fellow assisted living facility Catholic residents, your friends and family, and your other Catholic community members.